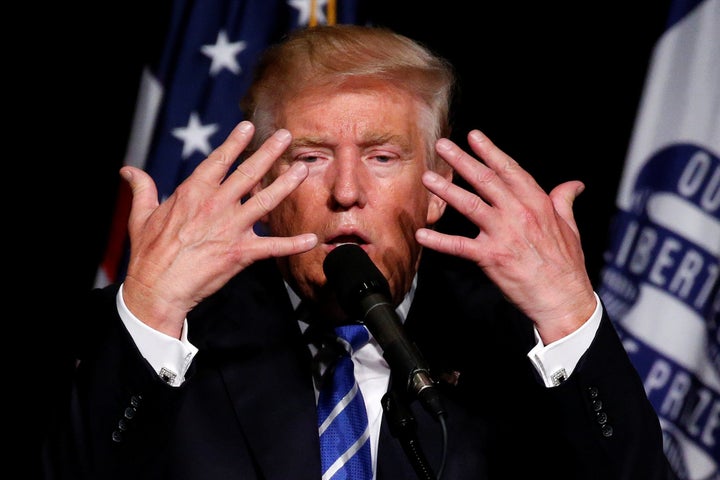 Trump, who spoke Friday afternoon at UCCS, certainly has a right to speak on campus and at other public venues, the professors said in a letter, but "we strongly condemn the content and tone of much of the rhetoric that Mr. Trump has used since announcing his bid for Presidency."
"Mr. Trump has repeatedly stated that crime in the United States is rising and that we live in a society that is growing more dangerous," the letter stated. "A preponderance of evidence at the nationwide level contradicts that claim; but more importantly, Trump then uses such specious reasoning to fuel fear of certain minority groups.
"Second, Mr. Trump's unsubstantiated statements have been used to impugn entire groups of people, including Muslims, Mexicans, women, and disabled people," the letter continued. "We contend that his divisive language prevents the kind of civil discourse that is the life blood of a democratic society. Mr. Trump's claim that the majority of immigrants from Mexico are criminals, including murderers and rapists, is contradicted by documented evidence. Similarly, Mr. Trump's call for the use of torture would contravene the United Nations Convention against Torture."
"This event underscores more than ever the need for inclusion and respect. UCCS has a legal obligation to lease space to Mr. Trump," Shockley-Zalabak said. "Mr. Trump has a legal right to speak. Others have a legal right to express disagreement. But this is not solely about legal issues. The UCCS core value of inclusion and respect is front and center. This event, or any other event, must not let us waver in our commitment to inclusion and respect for all. I am confident UCCS, its students, faculty, and staff, and our community will approach Friday in a manner that demonstrates our shared commitment to free expression, inclusion, safety, political choice, and the democratic virtues that has served us for generations."
Calling all HuffPost superfans!
Sign up for membership to become a founding member and help shape HuffPost's next chapter