 WASHINGTON -- The first recall election in Colorado's history will determine on Tuesday the fate of two Democratic lawmakers, Senate President John Morse and state Sen. Angela Giron (Pueblo), who stand to lose their seats after voting for stricter gun laws earlier this year.
But while national attention has focused on both recall fights as a referendum on gun control, anti-recall operatives say they're battling an entirely different issue: Voting laws.
Morse and Giron became the target of recall efforts after they supported a comprehensive gun control package that passed the state legislature in March. The reforms included background checks for all firearms purchases and a ban on high-capacity magazines that hold more than 15 rounds. Gun rights advocates, bolstered by the National Rifle Association, initially sought to recall four Democrats but only collected the required signatures to challenge Morse and Giron.
But as the recall fight reaches an end, several Democrats working on the ground told The Huffington Post that if either Morse or Giron is defeated, it will be because their opponents were able to suppress voter turnout by making it difficult for constituents to cast their ballots. Turnout is typically low in recall elections, but one Democratic official estimated turnout of less than 15 percent across both counties.
"That's just astronomically low," the official said. "It's a race made up of an endless number of things that will just confuse voters and have an effect on the election itself."
Much of the confusion stems from a decision that prohibited voting by mail, even though Colorado voters have overwhelmingly relied on mail-in ballots in the past. District Judge Robert McGahey ruled against the use of mail-in ballots last month, even though a state law passed earlier this year guaranteed a ballot by mail to every registered voter in Colorado, including in a recall election.
Ellen Dumm, an anti-recall operative stationed in Pueblo, said it wasn't until about 10 days ago that the decision was overturned to allow some voters to cast their ballots by mail. But at that point, the deadline to apply for a mail-in ballot was just four days away, which made it difficult to educate most of the public on the process.
The wrangling over voting by mail presents more of a problem for Morse, whose recall is in conservative-leaning El Paso County. Early voting shows registered Republican turnout well ahead of Democratic voters in Morse's district.
Giron is in a better position in Pueblo County, which is reliably Democratic. Turnout has also been higher for Giron because the county clerk kept voting open over the weekend and on Labor Day, and opened more than 10 locations for early voting last week.
Dumm complained that the clerk in El Paso County failed to open enough polling centers and only extended voting hours when faced with long lines.
Supporters of the recall have denied that casting a ballot has been a problem. Some, like conservative analyst Jon Caldara, have argued that the state's new voting laws are well in effect and, if anything, make it too easy, giving more opportunities for voter fraud: Caldara cast a blank ballot in El Paso County after changing his registration to try and demonstrate this. Supporters of the law have disputed that argument, noting the bill didn't change the process by which people register to vote. Caldara's ploy received a harsh rebuke from Gov. John Hickenlooper (D), who issued a statement condemning attempts to manipulate voting laws.
"We are hearing disturbing reports that some people are being encouraged to go to the polls, not to legitimately vote, but to disrupt the process," Hickenlooper said. "That would be unlawful and makes a mockery of the democratic process."
Meanwhile, spending has reached unprecedented levels for a race that began with a low profile. The National Rifle Association has spent at least $360,000 on the recall effort, while the Koch brothers' nonprofit Americans For Prosperity has funneled unspecified dollars into taking down Morse and Giron.
On the other side, New York City Mayor Michael Bloomberg, a vocal advocate for stricter gun laws, donated $350,000 to the two Democrats. The Denver Post reported Monday that those supporting the lawmakers have collected nearly $3 million, while proponents of the recall have raised about $540,000.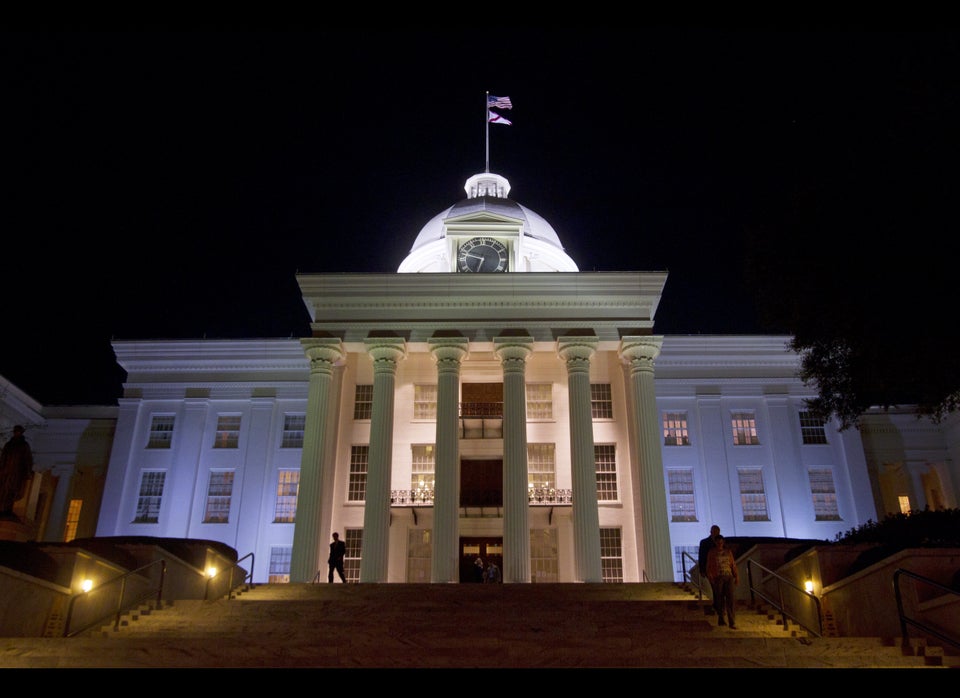 U.S. State Capitol Buildings