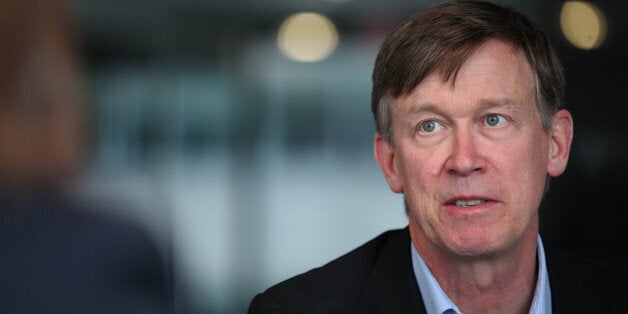 Gun rights activists and the National Rifle Association scored a major victory in yesterday's historic recall election in Colorado -- the first ever recall election in state history -- with the ouster of both Senate President John Morse (D-Colorado Springs) and Sen. Angela Giron (D-Pueblo) over their support of strict new gun laws in the state.
Emboldened by the stunning victory, Colorado Republicans are now setting their sites on a bigger target in 2014: the defeat of Democratic Gov. John Hickenlooper.
Two high-profile Republicans have already entered the gubernatorial race -- conservative firebrand and former Congressman Tom Tancredo and gun-loving state Sen. Greg Brophy. A third, Colorado Secretary of State Scott Gessler, has been mulling a potential run for governor and may formally announce his run next week.
The Denver Post reports that three other Republicans are considering a run: Arapahoe County District Attorney George Brauchler, El Paso County Sheriff Terry Maketa and former state Senate Minority Leader Mike Kopp of Jefferson County.
Hickenlooper resided over a legislature that passed some of the most progressive laws in recent state history including the strict gun law package that cost Giron and Morse their seats, recreational marijuana legalization, same-sex civil unions and more. The Colorado governor has also made waves with his support for fracking and decision to block the execution of convicted killer Nathan Dunlap as long as he remains governor.
However, although clearly controversial to some, the new gun laws in Colorado were popular amongst a majority of voters in the state, according to polling at the time.
So does the total recall of Sens. Morse and Giron signal a shift in the state's politics and spell certain doom for Hickenlooper in 2014?
It's not entirely clear. The Colorado Independent's Mike Littwin breaks down the Morse/Giron voting and provides some clarity. In Morse's Colorado Springs district, he got 49 percent of the vote last night. In 2010, he got 48 percent, so Morse actually got a higher percentage to turn out for him for supporting gun laws in the statehouse. And in Tuesday night's recall election, only 20 percent of registered voters turned out, with no mail-in ballots and only four days of early voting. Morse ended up losing his seat by only 343 votes.
"There was no revolution in Colorado Springs," Littwin writes, "it was more of a temper tantrum.
But the results in Pueblo seem to tell a different story. Democrats outnumber Republicans in both Morse and Giron's districts, but especially in Giron's Pueblo district. Giron lost last night by 12 points to George Rivera, a political newbie, in a district that turned out twice as many voters than Morse's and with thousands more registered Democrats who came out to vote.
"No one could remember when this seat wasn't Democratic," Littwin writes of Giron's district. "Which is why it's the Pueblo vote that no one, from either party, will forget."
A new poll from Public Policy Polling points to similar problems for Democrats in Pueblo, including Hickenlooper. PPP did a poll last weekend in Giron's district and found that voters intended to recall the senator by a 12-point margin. PPP, thinking that their poll could not be accurate in a district that President Barack Obama won by 20 points, did not release the results until today when, in fact, Giron lost by 12 points.
The PPP poll also found something else alarming for Hickenlooper: He is tied at 42 percent with Republican Tom Tancredo in a hypothetical match-up that PPP asked of those surveyed.
Hickenlooper won that same district overwhelmingly in 2010 and has also enjoyed high approval ratings while in office, however that trend appears to be changing. In an April poll, also from PPP, Hickenlooper remained popular with a 53 percent approval rating, down from 55 percent, but with a 44 percent disapproval rating -- that disapproval rating spiked from just 26 percent when PPP polled the state just five months before in November.
PPP also found that, at least in April, Hickenlooper was still in the lead over all hypothetical Republicans tested, most of whom have not announced a run for governor, but of those who did, Hickenlooper outperformed the conservatives by either 10 or 11 points -- 50/40 over Gessler and 52/41 over Tancredo.
But a more recent Quinnipiac poll shows Hickenlooper with a lackluster approval rating and locked in a too-close-to-call gubernatorial race in 2014. Colorado voters disapprove 48-27 percent of the way Hickenlooper handled the Dunlop death penalty and 52-35 percent of the way he handled gun policy. And only 45 percent of voters surveyed say Hickenlooper deserves to be reelected, with 48 percent saying he does not.
Mark Glaze, a spokesman for Bloomberg's anti-gun violence group Mayors Against Illegal Guns, cautioned against applying too many conclusions from Colorado to the broader gun debate.
"There's an understandable impulse to extrapolate the Colorado results into a national trend. The only trend here is the NRA wasn't able to defeat as many legislators as it went after," Glaze told The Huffington Post in an interview. "A national coalition against gun violence provided counterweight to the NRA in these recalls for the first time. The NRA cherry-picked the most vulnerable legislators in Colorado, including a Senate president who represents one of the most conservative congressional districts in the country."
A statement put out by the National Rifle Association Political Victory Fund lauded Morse's defeat as "historic."
The people of Colorado Springs sent a clear message to the Senate leader that his primary job was to defend their rights and freedoms and that he is ultimately accountable to them -- his constituents, and not to the dollars or social engineering agendas of anti-gun billionaires.
Late Tuesday night, Hickenlooper released a statement about the recall elections saying he was "certainly disappointed by the outcome of the recall elections" and when asked during a Wednesday morning press conference if he felt the outcome would affect his prospects of reelection, the governor cited wide support for universal background checks, a measure he signed into law this year, that he has seen in the state.
"About a month ago, I did a tour down the eastern plains, across southern Colorado and did six townhall meetings -- guns we're brought up in five out of the six stops," Hickenlooper said Wednesday. "But, in those five cases, we talked about universal background checks and I laid out the facts. Again, we're not trying to take guns away from anyone or in any way limit someone's Second Amendment rights -- we want to try to keep the guns out of the hands of dangerous people. When I said that, there were a lot of heads nodding."
But Hickenlooper did appear to soften on the ammunition magazines limit, another new law in the Colorado Democrats' gun control package, saying he was "never as fired up" about the magazine limit bill as he was about universal background checks. "It is an imposition, I'm not denying that it's an inconvenience to people when they're going out to the shooting range," Hickenlooper said. "That was a tough one."
There is still a lot of time before the 2014 election and so much can change, but there is no doubt that the stunning defeat of both Democrats has sent shockwaves across the state and nation. Whether or not it points to the beginning of a shift in the politics of Colorado, a state which has a history of being more red than blue, remains to be seen.
Calling all HuffPost superfans!
Sign up for membership to become a founding member and help shape HuffPost's next chapter