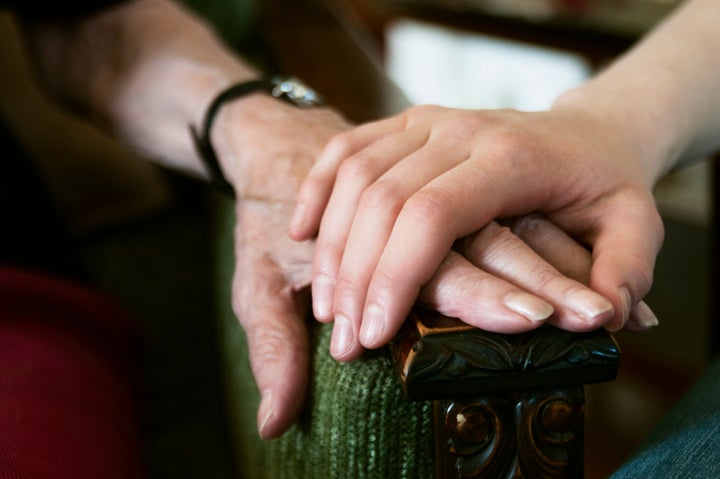 Colorado voters approved a ballot measure on Tuesday that will give some terminally ill patients in the state the option to seek life-ending medication from a doctor.
Under Proposition 106, a so-called "right-to-die" initiative, two physicians must agree that an adult has a terminal illness, has six months or less to live and is mentally competent. A doctor may then prescribe an approved patient the drug secobarbital, a prescription sleeping aid medication that can cause death in higher doses, which the patient must self-administer.
The measure will go into effect sometime in the next month, making Colorado the sixth state to give individuals similar end-of-life options. California, Montana, Oregon, Vermont and Washington have all passed "right-to-die" or "death with dignity" laws. The Washington, D.C. city council is currently considering legislation that would allow terminally ill residents to seek physician-assisted death, and may approve it as soon as this month.
The debate in Colorado pitted religious groups and disability rights advocates against a coalition of high-profile statepoliticians, civil rights groups and medical organizations. Opponents were concerned that the initiative was overly broad, and would open the door for doctors to make errors in determining whether or not a patient was truly a candidate for life-ending medication.
Others were concerned that the measure could lead insurance companies and doctors to decide that ending a patient's life would be more cost-effective than attempting to prolong or improve their life with advanced palliative or hospice care.
But supporters said it was a necessary move to give dying individuals the power to make deeply personal decisions about how to end their lives. Proponents included Dan Diaz, husband of Brittany Maynard, the 29-year-old who spent the final months of her life campaigning for "death with dignity" legislation in California before succumbing to brain cancer in 2014. Her advocacy was successful, and in 2015, a California law gave residents the choice of ending their own lives with the aid of their physician.
"Brittany and I went to the extraordinary lengths of leaving our home in California and moved to Oregon in order for Brittany to have the option of a gentle passing afforded by medical aid in dying," wrote Diaz in a blog post in support of Proposition 106.
"We were fortunate to have the resources to relocate in order to ensure Brittany could make that personal decision. But many do not have the ability, financially or personally, to move to another state – nor should they have to do so," he continued. "Coloradans deserve better."
Calling all HuffPost superfans!
Sign up for membership to become a founding member and help shape HuffPost's next chapter