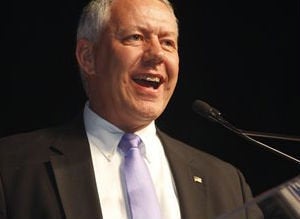 Tea Party-backed contender Ken Buck, who's facing-off against Jane Norton in Colorado's GOP Senate primary says he firmly opposes abortion rights and doesn't "believe in the exceptions of rape or incest."
Greg Sargent at the Washington Post relays how Buck explained his staunch pro-life stance to a constituent of the Centennial State on Monday:
"I am pro-life, and I'll answer the next question. I don't believe in the exceptions of rape or incest. I believe that the only exception, I guess, is life of the mother. And that is only if it's truly life of the mother.

To me, you can't say you're pro-life and say -- if there is, and it's a very rare situation where one life would have to cease for the other life to exist. But in that very rare situation, we may have to take the life of the child to save the life of the mother.

In that rare situation, I am in favor of that exception. But other than that I have no exceptions in my position."
Nevada GOP Senate candidate Sharron Angle recently made headlines for articulating a similar hard-line view on the abortion issue. HuffPost's Sam Stein reports:
In a radio interview Angle did in late June, the Tea Party favorite re-affirmed her pro-life sensibilities (rigid, as they are, even within Republican circles), when she insisted that a young girl raped by her father should know that "two wrongs don't make a right." Much good can come from a horrific situation like that, Angle added. Lemons can be made into lemonade.
A survey released this week by Rasmussen Reports shows Buck is the current frontrunner in Colorado's Republican Senate primary with the state's August 10 election less than a week away. Buck's ability to lock-up voter support has appeared uninhibited by any of a number of gaffes he's made along the way.
Watch video of Buck defining his pro-life position on abortion here.
Calling all HuffPost superfans!
Sign up for membership to become a founding member and help shape HuffPost's next chapter