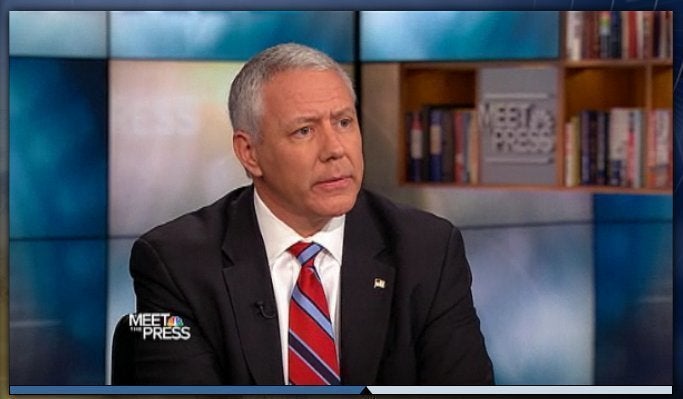 Colorado Senate candidates Michael Bennet and Ken Buck appeared on NBC's "Meet the Press" on Sunday, where they challenged each other on their past statements and were called to account for controversial comments they have made.
Republican Ken Buck denied that he was out of the mainstream, clarifying his position on the 17th Amendment and saying that he has often been misinterpreted. However, he gave a strange answer when host David Gregory pressed him to explain his views on homosexuality. In the past, for example, he has said he supports Don't Ask, Don't Tell because the military should be "as homogeneous as possible."
On Sunday, Buck made clear that he believes being gay is a choice, although he said that birth may have some "influence" over it -- such as with alcoholism:
GREGORY: Do you believe that being gay is a choice?

BUCK: I do.

GREGORY: Based on what?

BUCK: Based on what? I guess you can choose who your partner is.

GREGORY: You don't think it's something that's determined at birth?

BUCK: I think that birth has an influence over it, like alcoholism and some other things, but I think that basically, you have a choice.
Gregory also pressed Buck about his refusal to follow up on rape allegations involving a University of North Colorado student in 2005, while he was Weld County District Attorney. Buck declined to file criminal charges against the alleged victim's attacker on the belief that not enough evidence existed to win the case, a conclusion that is not entirely rare with such delicate cases.
On "Meet the Press" on Sunday, Buck said he had no regrets over what he told the victim, saying she needed a dose of "reality":
GREGORY: Do you regret using those words, and whether you think women should give some weight to those issues in deciding to vote for you?

BUCK: I think women, as well as men, are concerned about jobs and the economy and spending and other issues. ... Rape case came into our office, it was reviewed by an attorney -- a prosecutor -- with 30 years prosecutorial experience who's now on the Colorado Court of Appeals. He declined to prosecute. Two female chief deputies reviewed the case, talked witnesses -- they declined to prosecute. Case went to another chief deputy who had handled many of the high-profile rape cases in the Denver metro area. He declined to prosecute. I met with this young lady, explained the circumstances. I then sent the case to the Boulder County District Attorney's office for Boulder County because they had a lot of experience with date rape as a result of the University of Colorado being in that county. They declined to prosecute and told me the case couldn't be prosecuted. It was after the young lady made this case public that I had to explain to the newspaper exactly --

GREGORY: But you regret either the way you talked to her or talked about the case??

BUCK: I don't regret the way I talked to her. I think it is important a prosecutor approach a victim with a certain amount of reality, and that's what I tried to do with this victim. I didn't blame her at all.

GREGORY: So what about what you told The Greeley Tribune?

BUCK: What I told The Greeley Tribune -- I gave them five or six reasons why I thought a jury could decline these. One of the reasons was the fact that she had regretted this relationship. She had buyer's remorse as a result of the relationship that she had with this young man. That is something that I think, when someone decides to make a case public, the public has to understand why.
Related
Popular in the Community