Aurora Police Chief Dan Oates, in a briefing with reporters on Friday afternoon, said that 71 people had been shot in total and 12 had been killed during shootings at an area movie theater early Friday morning. Two of the victims died at area hospitals, while 10 were killed at the scene of the crime.
Oates confirmed that the suspected shooter was James Eagan Holmes, who entered the theater during a screening of "The Dark Knight Rises" dressed in all black and with heavy body armor. He is believed to have used three weapons and had four with him in total. An assault rifle, a shotgun, and a .40-caliber Glock were found in the theater. Another handgun was found in Holmes' car, which was parked at the back of the theater.
According to Oates, Holmes allegedly set off two devices to distract the crowd. The devices let out an "irritant or smoke." He then started shooting. Some rounds, according to Oates, penetrated "into an adjoining theater" and hit one person.
The first call of a shooting came in 39 minutes after midnight, and police were on the scene between one and one-and-a-half minutes. Oates estimated 25 officers in total responded. Holmes was arrested in the back of the theater and "surrendered without any significant incident for our officers," Oates said.
"We are not looking for any other suspects," he said. "We are confident that he acted alone."
Oates declined repeatedly to speculate on motive. He noted that Holmes had no prior criminal record, save a speeding ticket. He said the department had already conducted 200 interviews. He also said he could not answer a question about the legality of the weapons involved.
"I know we are working up the investigation of those weapons but I don't know what their legal status is," he said.
Jim Yacone of the FBI said the agency has about 100 people on scene working with local police to investigate the shooting. The FBI is working to look at links outside the state, he said. "At this point we do not see a nexus to terrorism," he said, but it is being investigated.
Oates declined to comment on recent statements from NYPD police commissioner Ray Kelly on details of the shooting, including whether the suspect was dressed as the "Joker" and had dyed his hair red. The Aurora police chief said he had received a call from the NYPD.
Oates also said he had never seen anything like the traps set at Holmes' apartment, and that bomb squads are working to remove incendiary and chemical devices set there. "We are not sure what we're dealing with in the home," he said.
About 50 victim advocates are on hand to work with families of those affected, who are now being housed near the theater, Oates said. He urged reporters to respect their privacy during the difficult time. "We'd appreciate if you gave us some space," he said.
Another update from police will be given this evening around 7 p.m. MST.
Before You Go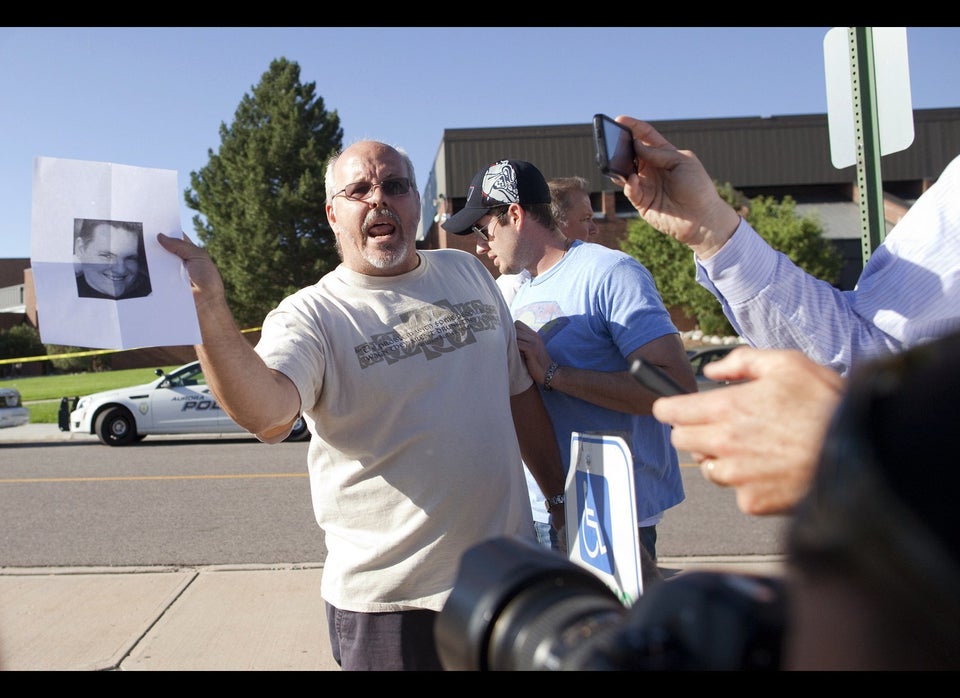 Batman Premiere Shooting At Century 16 Cinema
Popular in the Community