Law enforcement officials described the "mind-boggling" scene inside James Holmes' Colorado apartment during a press conference Saturday afternoon.
Holmes, 24, was arrested early Friday outside an Aurora movie theater after witnesses say he unleashed tear gas and gunfire on a crowd of moviegoers watching the midnight showing of the new Batman film "The Dark Knight Rises." Aurora Police Chief Dan Oates provided details of Holmes' booby-trapped apartment at the press conference, noting the apartment was designed "to kill whoever entered it."
"It was an extremely dangerous environment," Oates said. "If a neighbor or an unassuming pedestrian would've walked in that door, or God forbid a first responder, they would've sustained significant injuries and/or lost their life."
"It was going to be a police officer," Oates continued. "We sure as hell are angry."
Oates said officials set off two devices in Holmes' apartment Saturday afternoon. He noted evidence recovery in the apartment "will continue to take some time."
Police are still unsure if Holmes illegally obtained any of the materials used to create the devices. Oates said there is no evidence that the shooting suspect had access to "dangerous materials" at University of Colorado-Denver Medical School, where he was enrolled until June 2012.
Authorities on Saturday began disarming trip wires and explosive devices "set up to kill" inside the apartment of the suspect in the deadly Colorado movie theater shooting, hoping to find clues to his motive without destroying key evidence in a blast.

Federal authorities detonated one small explosive and disarmed another inside James Holmes' suburban Denver apartment with a device that emits a shock wave and water, a law enforcement official told The Associated Press. The official spoke on condition of anonymity, citing the ongoing investigation into the shooting rampage that killed 12 people and wounded 58.

Holmes' apartment appears to have three types of explosives – jars filled with accelerants, chemicals that would explode when mixed together and more than 30 "improvised grenades," the official said.
Click here for the latest updates on the Colorado shooting.
Below, images of the scene around James Holmes' apartment: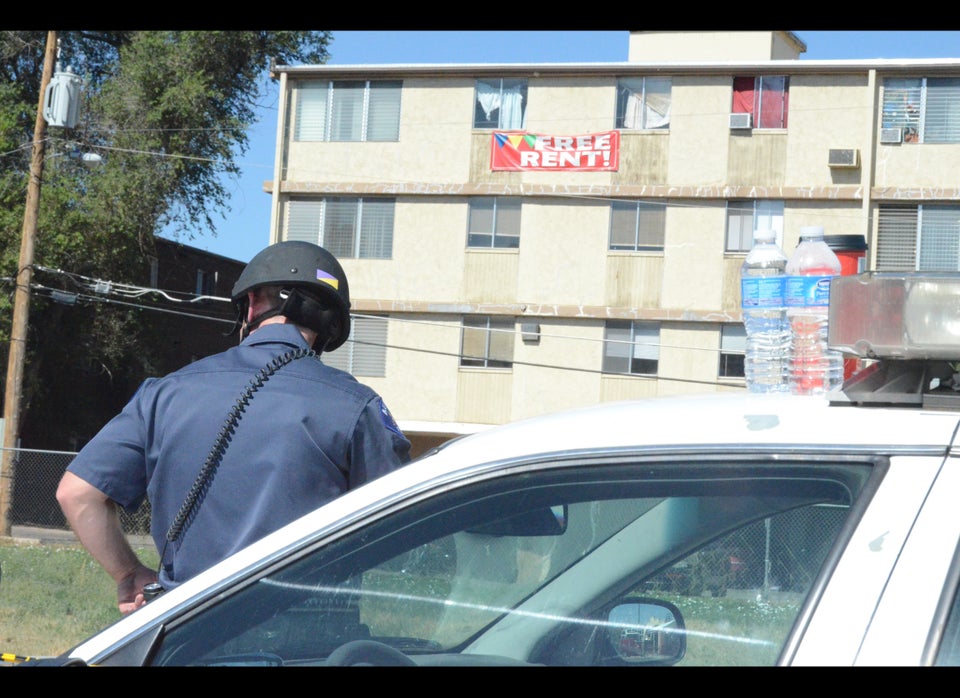 Photos From Outside James Holmes Apartment In Aurora
Popular in the Community