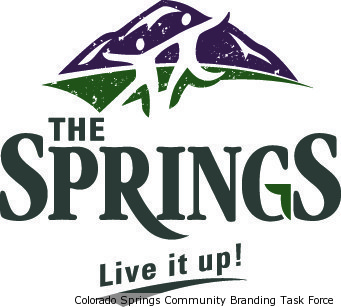 A recent Colorado Springs campaign to re-brand the city concluded yesterday after seven months, $111,000, and the coordination of hundreds of people. The result? Colorado Springs's new tagline is "Live it up!"
The Colorado Springs Convention and Visitors Bureau has determined that "after mixed community feedback" following the brand launch, they will begin a new logo design process. A Dec. 9 press release makes clear the "Live it up!" tagline will remain, but the associated logo will not. Residents of El Paso, Teller and Fremont Counties are invited to submit concepts according to specific guidelines. Submissions must be in by noon, January 6, 2012.
Tucker Wannamaker and Marcus Haggard, the two behind "Rebrand The Springs," a Facebook page opposed to the original "Live it up!" concept, told The Gazette they supported the new plan. "I think it's an incredible step and I'm excited to see what we're able to come up with," Wannamaker said.
The project was paid for by the Colorado Springs Convention and Visitors Bureau (CVB) in an attempt to appeal to residents, businesses, and visitors. Stone Mantel, an 'insights consultancy' in Castle Rock, Colorado, spearheaded the project.
"Everybody wants our city and region to be successful and this brand expresses that," said Mayor Steve Bach to the Colorado Springs Business Journal.
Added Doug Quimby, chairman of the Colorado Springs Regional Economic Development Corp, "We've never really tried to brand ourselves before. Others have created it for us, and some of those were negative." The Gazette reports another tagline option was "Spring into..." but "Live it up!" tested better with focus groups.
In contrast to the fanfare surrounding the brand launch, some have been less than impressed. A Facebook group titled "Rebrand the Springs" asks the CVB to bring in local designers to replace the new logo. The group, which applauds CVB's efforts, states:
We don't doubt [the branding exercise] was valuable, but most everyone is in agreement - the logo sucks. It doesn't reflect what Colorado Springs is, unless we're all playing little league baseball circa 1993.
Horrible design, horrible writing and generic to the bone. A quick search of tourism slogans finds at least 7 other cities with the tag "Live it up." Apparently, this is what happens when someone in government "knows a guy" who can develop a "brand." There's gotta be a more skilled group down there that could have done this thing some justice.
CORRECTION: A previous version of this article misidentified Haggard as "Marcus Howard." We regret the error.
Calling all HuffPost superfans!
Sign up for membership to become a founding member and help shape HuffPost's next chapter