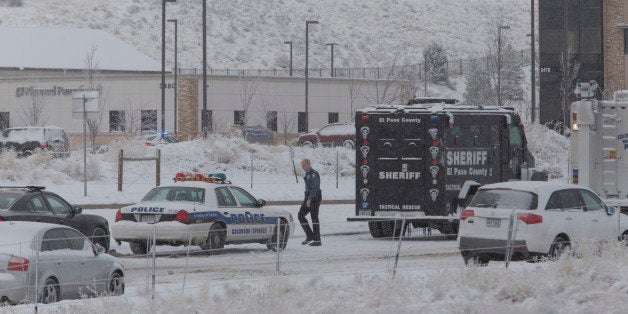 In my book Home Free: An American Road Trip, I devote most of a chapter to Colorado Springs. As with my similar decision to devote the book's entire first chapter to Wisconsin, I did it for a blend of personal and topical reasons. I didn't grow up in Colorado Springs -- I don't call it home -- but my parents have lived there since 1986, when I was 21 years old. That means that, as I put it in Home Free, Colorado Springs has been exasperating me from afar for more than half my life.
So I trust you'll understand when I say that I take Friday's attack on the Planned Parenthood clinic there personally. We can, and maybe should, debate the morality and politics of abortion, but we've been doing that ad nauseam for decades. Of more immediate concern to me is that, when I called my mother on Friday to make sure she was safe, she told me that she sometimes shops at the nearby King Sooper supermarket where people took shelter during the Planned Parenthood attack. So in addition to concerning myself as a citizen with public issues like abortion and gun control, and as a writer with understanding what's becoming of American society, I have to worry about the physical safety of my aging parents. I resent that.
My parents are not helpless. They're both resourceful people, and they've done a good job taking care of themselves for nearly 80 years and of each other for 55. But how safe are any of us from some guy with a rifle and an axe to grind? I'm sickened that three people died on Friday in Colorado Springs, especially so because, at the same time, I'm relieved that none of the three was one of my parents.
Also sickening, and telling, is how Planned Parenthood has already been forced partially to retract its initial forthright statement that "extremists are creating a poisonous environment that feeds domestic terrorism in this country." Republican congressman Adam Kinzinger of Illinois told CNN that the statement was "very premature" and that he "would fully expect an apology" if it turned out -- implausibly -- that the gunman was not targeting Planned Parenthood. He surely was, but so what if he wasn't? Three people are still dead.
Planned Parenthood has amended the phrase "domestic terrorism" to "acts of violence," but I wish they hadn't. Every time something like this happens, we have the same non-debate about what counts as terrorism, and Muslims -- many of whom are my friends, so I hear it directly from them -- point out how they are forced to live in a state of perpetual apology for who they are, whereas white American terrorists are always dismissed as lone wolves. That double standard exposes an extremely volatile fault line within a deeply dishonest body politic.
And Colorado Springs is one of the front lines of that fault line. Right-wing extremists have been bullying and browbeating the rest of the community ever since my parents moved there. I don't say that lightly or from partisan motives. I know whereof I speak, because my mother has been deeply involved in the city's civic life all along, including a stint as president of the public library board, and was principal of two elementary schools in one of the most socially and politically conservative parts of town.
In Colorado Springs' political life, there are three distinct breeds of Republican: the old-fashioned Herbert Hoover-type pro-business breed that underpins many cities' local establishments; a distinctively Western libertarian strain whose largely admirable genuine core motivation is to live and let live; and power-mongering ideologues whose agenda is driven by the fundamentalist Christian right. Anyone who knows Colorado Springs knows that it has been a mecca for the third category since about 1980.
It's fair enough for Republicans to say that they as an American faction should not be collectively blamed for extremist violence like Friday's attack (just as Muslims should not be collectively blamed for events like the Paris attacks). But, if we insist on requiring Muslims to disavow Islamist violence, it's fair also to ask conservative Americans to be honest and self-critical about the connections between our country's poisonous environment and domestic extremist violence. Congressman Kinzinger's words on CNN are an evasion. So is Colorado Springs mayor John Suthers calling the attack a "terrible tragedy." It is that, to be sure, but we'll get nowhere as a society until we call it the other thing that it clearly was: a terrorist attack.
Popular in the Community