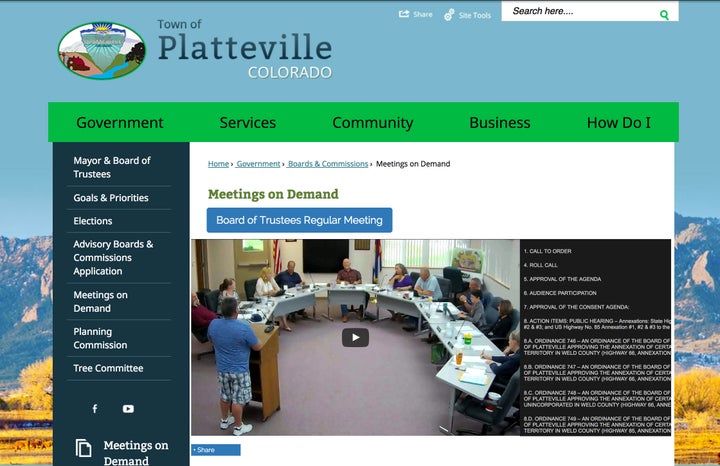 Ten years ago, the Colorado House of Representatives began an experiment to provide a new level of transparency and accessibility for State Government in Colorado with coloradochannel.net, a transparency portal providing searchable archives of the sessions of the Colorado House of Representatives. Soon after, the Colorado State Senate followed-suit and today, over a dozen state and local governments are using the software built for the Colorado Channel by Denver-based Open Media Foundation (OMF). Last month, OMF launched a new free version of this software, the Open Media Project (http://open.media), aimed at small governments. This new release allows communities as small as Platteville, CO (population 2,608) to launch a transparency portal rivaling that of the Colorado House and Senate at no cost.
"After our Cable Channels were cancelled, we looked for a long time for an affordable system that would allow us to re-broadcast our Board Meetings," said Mary Lee, Platteville's town administrator. "OMF's software is a great resource for smaller communities who want to have the same level of quality that larger municipalities have. OMP was more than we could have asked for," added Lee.
"It's important for governments to meet voters where they're at, and the Colorado Channel provides transparency and accountability by giving the people of Colorado a direct line into the daily work of the Colorado Legislature, without a trip to the capitol", said State Representative Kevin VanWinkle, chair of the Colorado Channel Authority Board, which oversees the Colorado Channel and its work with Open Media Foundation. "We're so happy that the increased engagement we've seen at the state level can now help expand transparency and engagement in small, local governments across Colorado", added VanWinkle.
This month, OMF is launching a joint fundraising Campaign to support new features of their Open Media Project software. Part of their push includes integration of their software with Open States, which compiles vote data from all 50 states, plus Puerto Rico and Washington DC. Open Media Foundation picked up the project from the Sunlight Foundation after 4 years of support. In late 2015 the Knight Foundation funded the development of a prototype website that combines voting data with searchable video excerpts. That prototype can be seen at prototype.open.media
Tony Shawcross, Founder and Executive Director of the Open Media Foundation will be presenting the Open Media Project software in Breckenridge on Friday, June 23rd as part of the Colorado Municipal League Conference at the Beaver Run Resort and Conference Center.