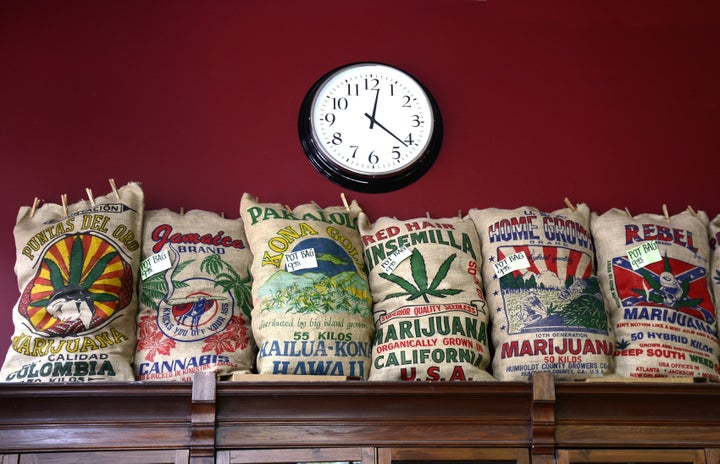 Colorado residents can buy recreational pot mostly tax-free Wednesday, thanks to a confluence of state laws and higher-than-expected overall tax revenues. 
The state is suspending the 10 percent sales tax and 15 percent excise tax on recreational marijuana on Sept. 16, although some other fees, including local taxes and a regular 2.9 percent sales tax, still apply. The tax break amounts to about a $20 discount off an ounce of mid-grade pot in Denver, according to the Associated Press.
Dispensaries across the state are advertising sales and hoping for a big turnout.
"I think the holiday sort of sells itself," Caitlin Murphy, the director of marketing for pot dispensary Emerald Fields, told Fox 21 News.
The president of the Colorado Cannabis Chamber of Commerce, Tyler Henson, told the Denver Post that pot shops have been "setting up, doing their advertisements and telling their customers to come on down for special deals."
"I would hope that we see long lines at stores, but it's kind of up in the air right now," he said.
The day of mostly tax-free pot allows Colorado to comply with a complicated provision in the state's constitutional Taxpayer Bill of Rights. While the state's tax on the drug didn't bring in quite as much money as projected, overall tax revenue was higher than expected. That means Colorado has to refund the money from any new tax -- like the one on pot -- and revert that tax to zero. While the status of the refund depends on a vote later this year, legislators are dealing with the latter requirement by designating Sept. 16, the day after last fiscal year's records are finalized, a tax holiday. It could cost the state about $3 to $4 million.
"We figured we needed a celebration -- just kidding," Colorado Gov. John Hickenlooper (D) told the alt-weekly Westword last week. "The tax on recreational marijuana will go off for a day because the language of the constitutional amendment tied to [Colorado's Taxpayer Bill of Rights] calls for a second reauthorization. ... I don't think anyone outside of four people understands this."
Hickenlooper, who opposed the 2012 measure legalizing recreational marijuana, stressed the challenges of building a regulatory framework around a substance that remains outlawed at the federal level, was cautiously optimistic in his conversation with Westword.
"If I'd had a magic wand the day after, I probably would have reversed the vote," he said. "Now I look at how far we've come, and I think there's a real possibility that we'll have a system that works."
Colorado received more revenue from marijuana taxes than from alcohol taxes between July 2014 and June 2015, according to the Marijuana Policy Project, a pot advocacy group.
"Marijuana taxes have been incredibly productive over the past year, so this tax holiday is a much-deserved day off,"  Mason Tvert, the group's director of communications, said in a statement Tuesday.
Calling all HuffPost superfans!
Sign up for membership to become a founding member and help shape HuffPost's next chapter