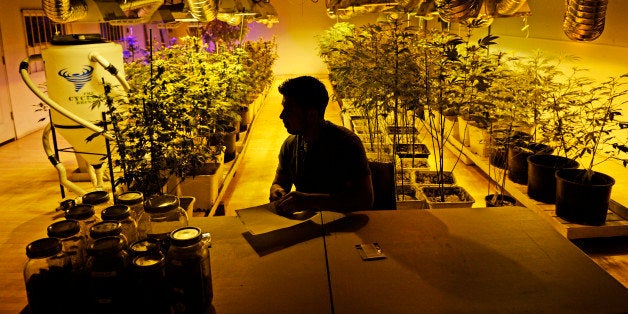 Managing a marijuana store isn't that different from running a Subway sandwich shop. It basically comes down to keeping track of the green.
"You have to really keep an inventory of all the lettuce that comes into your store when you're a manager of Subway," David Martinez, the general manager at 3D Cannabis Center in Denver and a former Subway manager, told The Huffington Post. "It's the same thing here, you have to keep the inventory of all the marijuana that comes through the store."
A job at a pot shop hardly fulfills some stoner fantasy out of a Cheech & Chong flick, but that hasn't stopped dozens of eager job candidates in Colorado, which legalized recreational marijuana on Jan. 1, from trying to get one. The newly launched industry is expected to add $359 million to the state's economy by the end of the year, according to a report from Arcview Market Research. Some black- and grey-market jobs are turning legitimate as the underground industry legalizes, noted Jeffrey Miron, a Harvard economist who has studied the economic impacts of legalization. And employers are desperate to fill positions.
3D Cannabis, where Martinez works, has been selling medical marijuana since 2010 but is rapidly expanding to accommodate the new clientele. The shop employed six workers during Christmas, but expects to have 30 staffers by the end of January. "My employees are just going to fall down," said Toni Fox, the owner of 3D.
Pot dispensaries pay modestly. Though you can earn in the range of $20 to $25 per hour for more specialized work, most jobs pay somewhere between minimum wage and $15 an hour, insiders say. Workers are tasked with the drudgery typical of any store employee -- maintaining inventory and working the cash register. Still, that hasn't stopped enthusiastic job applicants, according to Shannon Foreman, who runs HempTemps, which helps staff pot shops, growing facilities and tour companies. Foreman said that since Jan. 1, she's received countless phone calls and emails from job seekers looking to work in the industry.
Jordan Arnold, 22, paid $5 to post his resume on a website called Cannajobs.com, and hopes to get into the industry any way he can. "I'm just basically a typical kid that is interested in marijuana, but not just for smoking," he said.
Like many his age, Arnold's struggled to find a job that could lead to a career and has held a series of temporary gigs. Most recently, he worked as a customer service representative helping Americans sign up for health coverage on Healthcare.gov, the Obamacare website.
For some workers, a more personal connection brought them into the industry. Twenty-seven-year-old Megan Page's first brush with pot was as a teenager looking for a way to treat her depression and unhealthy small appetite. "It was a miracle," she said. Smoking pot in backyards in conservative Texas, Page said she remembers wondering how she could turn weed into a career. That day came in 2010, when she was working as an assistant for a local entrepreneur who wanted to open a dispensary and asked her to run the front desk. "That was probably the best day ever," Page said.
Page has since worked as a bud tender in dispensaries, as a "trimmer," or someone who cuts raw marijuana leaves so they can be turned into buds, and at a lab that tests different marijuana products to determine which strains they're using. These days she works for my420tours, which takes visitors on cannabis-themed trips across Colorado. She also runs a cleaning business on the side and has been filling in at dispensaries to make ends meet.
"It really is a career," she said. "You can't just roll in out of bed stoned. You have to be able to work the whole day."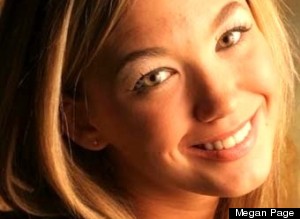 Megan Page worked in Colorado's marijuana industry for years before recreational pot was legal.
Like Page, Brianne Bartz got into the marijuana industry after weed helped calm the pain and nausea that she experiences from Crohn's Disease. She moved to Colorado in September 2009, during the recession and a dismal time for finding a job. Despite her college degree, experience working in a car dealership's accounting office, and other customer service jobs, Bartz said she was having trouble landing a gig. So she decided to take a chance working at Patients Choice of Colorado, a marijuana dispensary, where she was receiving her treatment.
"I thought, 'What the heck, this could be something I could tell my grandkids about,'" she said.
Bartz's job is pretty "regular," she said. She's moved up the ladder at Patient's Choice and is now in charge of payroll, human resources and other company operations. As part of her role, Bartz spearheaded an initiative to provide company employees with health, dental and vision coverage a year before the company would be required to offer it under Obamacare's employer mandate.
"We decided that it's just another way to legitimize our company," she said. "There's always been a stigma. Now we're just coming out in the open."
Calling all HuffPost superfans!
Sign up for membership to become a founding member and help shape HuffPost's next chapter
BEFORE YOU GO
PHOTO GALLERY
16 Facts About Marijuana And The U.S. Economy