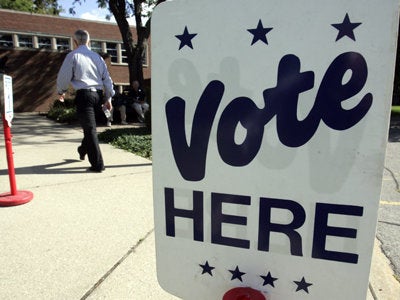 My home state of Colorado, as anyone following the election campaign knows, is a major presidential battleground state. Both John McCain and Barack Obama have visited the state multiple times, including in recent/coming days. Though a new poll shows Obama taking a commanding 12-point lead, everyone expects both the presidential and U.S. Senate race here to be very close. That's why the Secretary of State Mike Coffman's (R) moves should worry everyone in Colorado and elsewhere. We've got our own Katherine Harris here -- and a careful look at the news suggests he's moving to game this election in a state that could be the Florida of 2008.
I say "careful look" because Coffman's behavior -- while outrageous and potentially election-throwing -- has received coverage mostly in the back pages of local newspapers (and similarly little attention from the national media). But if you bother to dig down, you will see what I'm talking about -- and it's scary.
Here's page 21 of Saturday's Rocky Mountain News:
The story on the left describes Coffman's efforts to invalidate roughly 5,000 registrations (depending on which source you ask). Here's the crux of what's going on:
"5,000 Coloradans whose voter status is in limbo because of [a] controversial check box...The registration form asks for a driver's license or state ID number. If applicants don't have that, they're supposed to check a box and then put down at least the last four digits of their Social Security numbers. But thousands of people didn't check the box. According to a policy adopted last year by Secretary of State Mike Coffman, these applications are supposed to be listed as incomplete...National and local voting-rights organizations criticize Coffman's policy, saying it violates other federal laws. They say Coffman is unfairly putting up barriers for people who are eligible to vote and want him to change his policy."
The check box is "controversial" because you are asked to check it on the form if you don't "have" a driver's license or ID card. Here's what it looks like on the form (which you can download and see yourself here):
So, here's the thing -- what's the definition of "have?" I may have one at my house or in my car, but not with me at the very moment I am filling out the registration form. In that case, it would be logical - and, in fact, honest -- for me to not check that box, while also putting down the last four digits of my social security number as my selected method of verifying my registration. Alternately, for whatever reason (privacy, etc.), I may simply feel more comfortable listing the last 4 digits of my social security number, rather than my entire driver's license number. So therefore, I might have listed my social security number and not checked the box.
And yet, if you made any of those logical choices -- if you gave all the social security information required by law, but simply didn't check the box - Coffman is attempting to use that choice to potentially invalidate your registration and prevent you from voting.
In case you think Coffman's move isn't extreme or motivated by partisanship, consider the fact that two big Republican counties are doing exactly the opposite of Coffman. As the Rocky Mountain News notes, "Election officials in Jefferson and Larimer counties also disagree with Coffman, saying they are weighing in on the side of the voter and won't disqualify people because of what they call a technicality." The Denver Post reports that Coffman reacted by sending a letter to other counties telling them they cannot follow suit, meaning two Republican counties are registering these voters, but others are not.
Thus, it isn't surprising that the Rocky Mountain News notes that "the largest number [of registrations affected by Coffman's edict] are Democrats, followed closely by unaffiliated voters," and "hundreds live in predominately minority neighborhoods in Denver and Aurora" (ie. traditionally Democratic constituencies).
Remember, Coffman is an up-and-coming Republican "star" -- he's simultaneously Secretary of State and running to replace Colorado U.S. Rep. Tom Tancredo (R). So he's not some nonpartisan election observer -- as I said before, he's positioning himself to be Katherine Harris, who also went on to use her notoriety as an election thief to win a seat in Congress.
And Mike Coffman in particular understands that 5,000 Democratic votes is no small number in a place like Colorado. A 12,000 vote switch from Republican to Democrat in 2006 would have cost him his election to the Secretary of State's office.
To be sure, there are going to be a lot of election-day shenanigans all over the country, much of it in the shadows. But what we're seeing here in Colorado is a very public attempt to use Republican-controlled offices to potentially disenfranchise thousands and rig the election. Indeed, the Denver Post now reports that Coffman has asked his fellow Republican crony, state Attorney General John Suthers (R), to validate his moves with an official legal opinion so as to trip up potential pre- and post-election legal challenges to the disenfranchisement. This isn't a conspiracy theory - it's happening all right out in the open for everyone to see.
It all adds up to the kind of coordinated Republican scheme we've seen in the last two elections. And once again, that scheme could throw a national election.
REAL LIFE. REAL NEWS. REAL VOICES.
Help us tell more of the stories that matter from voices that too often remain unheard.