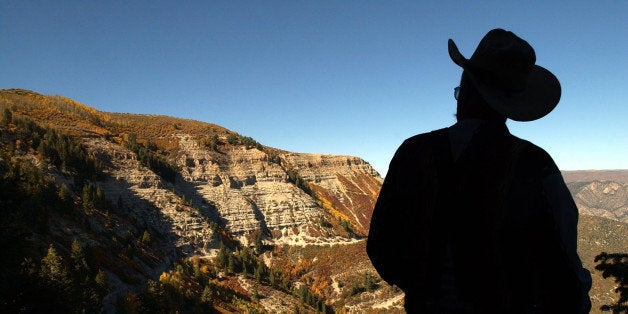 Can we work together to preserve our nation's bio diverse and increasingly threatened wilderness, and still extract the energy we need to power our economy? If we cling to today's prevailing notions that if you're on the left, you're an environmentalist, and if I'm on the right, I'm a gas driller. Then the answer to this question is quite obvious.
That is why we are stuck in the mud as a nation: Our attitude of division in our politics and, more importantly, our energy and conservation policies, is hurting our influence on the global stage and our country's overall stability. How will we ever create a renewable energy economy in America when we can't even agree on how to provide for the insatiable energy needs of today?
In Colorado, we've proven that people with radically different ideas about environmental protection and energy development can come together and find common ground. Yes, we can preserve our nation's environmental treasures and still get the power we need today for our nation to thrive.
This past month, several conservation and outdoor organizations -- Earthjustice, Rock the Earth, Conservation Colorado, the Wilderness Society, Trout Unlimited and the Sierra Club -- gas drillers, and federal, state and local politicos of all stripes came together to develop a balanced approach to energy development and environmental protection in Colorado's Roan Plateau.
Located in northwestern Colorado near the small city of Rifle, the Roan Plateau is one of the country's most sublime lands, truly a hidden gem.
Lush aspen abound, streams cut through mountain-carved valleys and undulating hills fan out like ribs over thousands of acres of undisturbed land. Bear, elk and mountain lions roam freely on terrain that rises and falls from 9,000 feet to 5,000 feet, filled with rich forest of sagebrush, meadows and Douglas fir. Along the bottom of crystal-clear creeks, a rare breed of genetically pure native Colorado trout, the cutthroat trout, skirts between fly fishers' boots.
While the Rocky Mountains are the most recognized landmarks in Colorado, Roan Plateau is deserving of similar environmental protections and development restrictions that are extended to much of America's most iconic mountain range.
But a few years ago, the U.S. Bureau of Land Management (BLM) leased 55,000 acres of public land in the Roan Plateau for natural gas development. This would have allowed unrestricted drilling on top of the plateau and throughout most of its uncorrupted terrain.
Their decision spurred my organization's involvement; the scales of environmental protection and smart natural resource development were tipped way out of balance. BLM's management plan for natural gas development in the plateau was too large in scale and too unfettered in a place that deserves better.
Their plan would have opened the door to drilling atop a wide sweep of pristine land, one of the most biologically rich areas of Colorado, an area that has found to be on par with Rocky Mountain National Park.
Rock the Earth and other organizations took BLM's plan to federal court in 2008. We won a major victory in 2012 when U.S. District Judge Marcia S. Krieger ruled in favor of our arguments and kicked BLM's management plan back to the agency for further review.
However, this month after extensive negotiations, all parties involved -- environmentalists and gas drillers alike -- reached a landmark settlement that will protect the environmental integrity of the Roan Plateau and allow for a more prudent, and limited, approach to gas extraction. As a result of the settlement, a majority of the leases BLM granted to gas companies atop the plateau have been cancelled.
This settlement will press the reset button for the vast majority of the Roan, protecting tens of thousands of acres for the species that reside there, while at the same time allowing for millions of dollars to be returned to local coffers through hunting, fishing and wildlife recreation, as well as from the limited gas drilling that will remain.
BLM must also consider an alternate management plan that restricts new energy development leases atop the plateau and allows for limited energy development subject to strict environmental restrictions on the remaining leases.

Yes, we had to use the courts to get here. We had to sue. We had to fight. We had to mobilize a movement. But at the end of the day, we all sat around the bargaining table and hammered out an agreement that tipped the scales of environmental protection and natural resource development back in balance.
The bottom line is we were willing to negotiate, to see the other side of the story, to see beyond division, to see beyond beliefs and to ponder the question: Can we find a common sense and common ground approach that balances the needs of environmental protection and the energy needs of our nation?
Yes. And if we don't take this approach as a nation, either nothing will get done or one party will prevail to the misfortune of another. We have already seen this happen in the valley below the plateau where virtually unrestricted gas development turned the land into a spider web of interconnected pads, pipes and waste pits. Industrial-scale gas development in environmentally sensitive, naturally important areas, or for that matter unfettered drilling anywhere, must be avoided.
Many of us are under the impression, and rightly so, that political and ideological divides cannot be bridged because too many bridges have been burned, too many promises ended up becoming empty words. Compromise is for the weak, some claim. And some say we must stampede ahead with our convictions because the "other side" only wants to trample upon us.
Perhaps. But it doesn't have to be this way.
Responsible energy development and responsible environmental policy begins with the bargaining table and the intersection of our needs as a nation and as a people, so that a reasonable outcome is achieved. It begins with compromise. It begins with being open to all possibilities. And the only way for us as a nation to move forward with renewable energy -- and slowly wean ourselves off of fossil fuel -- will be through negotiation and compromise, in which all parties win so we move in an environmentally and economically beneficial direction together.
What we've managed to achieve on Colorado's Roan Plateau could serve as a model, bridging political and environmental divides all over the country, if replicated. Otherwise, division will paralyze our nation, our economy, our energy needs and our communities. Common sense and common good must prevail.
REAL LIFE. REAL NEWS. REAL VOICES.
Help us tell more of the stories that matter from voices that too often remain unheard.