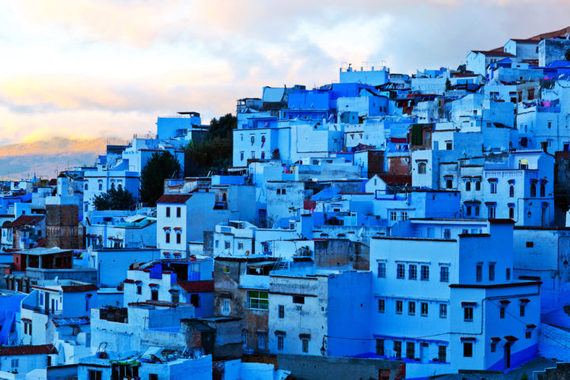 Images Courtesy of Shutterstock

It's been almost a year since we experienced a blue moon, when Earthlings are treated to two full moons in one month, and the astronomical rarity reappear in the night sky this month. The second full moon comes on Saturday, May 21. Although NASA has reminded us these moons aren't exactly blue in hue, we've rounded up a list of the destinations around the world that are known for their stunning shades from cerulean to indigo.
Kim Kardashian made a splash when she visited Iceland's geothermal spa in April, but the Blue Lagoon has been Iceland's top tourist attraction for years. The milky teal waters are rich in sulfur and silica, which exfoliate the skin and help people with skin diseases such as psoriasis. Temperatures in some corners of the lagoon reach 104 degrees, and it is open all year despite freezing conditions above the water. The spa has been developed to include restaurants, a rooftop lookout with steam rooms, a spa with floating mattresses, a bar and piping-hot waterfalls.
The Sultan Ahmet Mosque, nicknamed for the thousands of blue Iznik tiles adorning its interior, was built during the rule of Ahmed I, early in the 17th century. While a popular landmark for Istanbul's visitors, it is still an active place of worship and is closed during the five daily prayers. To get the best views, approach from the west side toward the Hippodrome, also the only entrance for non-Muslims.
Founded as a fortress in 1471 to fight off Portuguese invaders, the Moroccan town is built into a steep hillside overlooking the ocean. Jewish refugees who settled there when fleeing the Spanish Inquisition are said to have painted the buildings blue to mirror the sky and remind them of God's presence on earth. Today a blue rinse still covers the city's homes, temples, public squares and even trash cans.
The breathtaking backdrop for Daenerys and Drogo's wedding in Game of Thrones, the Azure Window is a natural limestone arch on the Maltese island of Gozo, near the tourist village of Dwejra. A hot spot with scuba divers, the dazzling blue waters are home to exotic marine life, such as octopi, fireworms and sea horses. The conditions are suitable for swimming and boating, but cliff diving from the 328-foot summit, which has become popular recently, is illegal.
Off Belize's coast in the center of Lighthouse Reef is an underwater sinkhole, believed to be the largest of its kind. Almost perfectly circular, nearly 1,000 feet across and over 400 feet deep, the Great Blue Hole was formed as a limestone cave during the last ice age, approximately 12,000 years ago, before collapsing in on itself. Jacques Cousteau is responsible for the site's worldwide fame after declaring it one of the top 10 diving destinations in the world when he visited in 1971. Surrounded by turquoise waters of the reef, the midnight blue sphere is visible from space.
Inhabited for thousands of years, first by aboriginal tribes and later by European settlers, the Blue Mountains of New South Wales, Australia, are densely packed with eucalyptus trees. It is believed that when hot sunlight hits the leaves, a fine mist of oil is emitted, refracting the light and creating a blue haze that can be seen as far away as Sydney (about 40 miles). Made up of one million hectares of sandstone cliffs, bushland, waterfalls and forest, the area was named a World Heritage Area by UNESCO in 2000.

Elisabeth Barker is a deal expert at Travelzoo and based in New York. Travelzoo has 250 deal experts from around the world who rigorously research, evaluate and test thousands of deals to find those with true value.