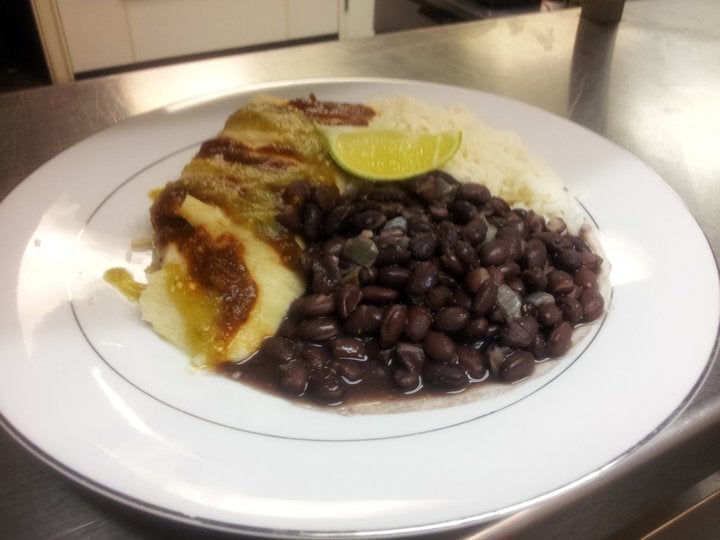 COLORS-Detroit, a restaurant that emphasizes ethics, social justice and workers rights as much as fine dining, held its grand opening Tuesday.
The downtown eatery offers patrons creative multicultural cuisine like achiote crusted pork loin and sweet potato-leek soup made with a variety of local ingredients. For staff members, it offers training opportunities and advice on how to create cooperative food industry startups.
Organizers from the New York-based non-profit group Restaurant Opportunities Center (ROC) cooked up the idea for the enterprise, which is part culinary institute and part business incubator.
ROC is a non-union organization that tries to improve working conditions and advancement opportunities for workers in the food service industry. It has over 800 members working in Michigan's food industry and nearly 9,000 members nationwide.
According to ROC-Michigan coordinator Minsu Longiaru, the group believes its restaurant training initiative will help "develop formal career ladders for low-wage workers seeking to advance in the fine dining industry."
While the idea of an incubator for self-managed cooperatives might seem out of the ordinary, Longiaru had no trouble breaking down the concept.
"Imagine a worker-owned COLORS salsa company with salsa made with fresh Detroit tomatoes and sold in our restaurant and in local stores," she explained. "Or a worker-owned COLORS catering company that builds financial stability and security for its worker owners, and generates jobs from the local farms that source them."
Longiaru said COLORS staff members are currently developing these projects -- with more on the way. Staff have been training at the restaurant since September, and COLORS aims to train 150 people per year.
The COLORS restaurant concept got its start five years ago in downtown Manhattan. ROC members employed at Windows on the World, the restaurant at the top of the World Trade Center, created their own restaurant after losing their livelihoods in the aftermath of the Sept. 11 attacks.
Longiaru said New York ROC members felt a connection with the hard times Detroiters have experienced, leading the organization to start a Detroit chapter.
Local organizers have adapted the COLORS restaurant model to Detroit by working with to the city's urban agriculture and food sovereignty movements to incorporate locally grown food into the menu.

Longiaru said this activism combined with the area's strong labor history makes the enterprise a perfect fit for the city.
"Detroit has such a rich movement-building tradition in both of these areas -- workers organizing and food justice," she said. "What better city for COLORS-Detroit?"
COLORS spokeswoman Kameya Shows said she was pleased with the restaurant's opening night. The crowd "was not overwhelming, but it was steady."
COLORS-Detroit is located at 311 East Grand River, Detroit, MI 48206. Its current hours are lunch-only, 11 a.m. - 4 p.m Monday - Friday. For more info visit their Facebook page.
Related
Popular in the Community