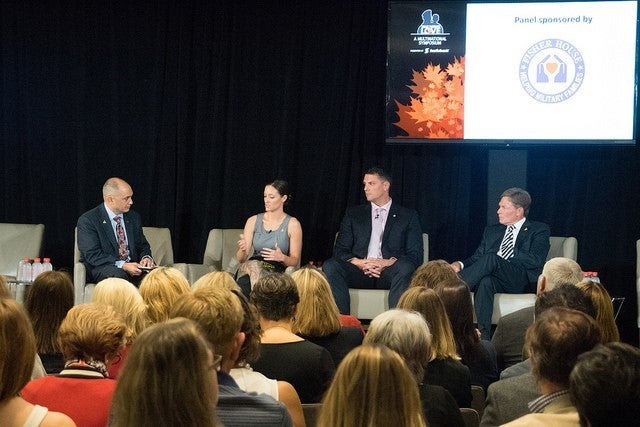 At over six and a half feet tall, Army Captain Mason Heibel is a mountain of a man., while wearing his full combat equipment he weighed in at over 400 pounds. To the Soldiers he led in support of Army Special Forces across eastern Afghanistan he is Colossus. To Elizabeth "Ellie" Marks, Colossus is also her caregiver.
Ellie, an Army medic and world class athlete, was severely wounded in Iraq in 2010 and nearly lost her life. In 2014 while attending the Invictus Games in London she became severely ill, again nearly losing her life. Ellie recovered and came back to win four golds in 2016 at the Invictus Games in Orlando, giving one of her gold medals back to Prince Harry to give to the medical staff of Papworth hospital as a token of appreciation for saving her life with their innovative ECMO treatment during the London Games. She then went on to compete at the Paralympics in Rio De Janeiro and won gold. Last year, she was honored at the ESPYs with the Pat Tillman Courage award.
A combat medic, wounded warrior, and world class athlete - Ellie is a real world Wonder Woman. In June of this year, due to medical complications stemming from her initial injuries, subsequent illnesses, and their treatment, Ellie was forced to make the difficult decision to amputate her left leg. Her story is the story that many of the wounded, ill, and injured warriors face.
Along the way, at each phase of that journey, Ellie has been sustained by a network of military government, private sector, and non-profit services and support. But, most important to her recoveries has been the support of her family and caregivers. Her family, like all families, accompany our warriors on this lifetime challenge, most often as caregivers, but sometimes in need of care and sustainment themselves.
Like most post-9/11 caregivers, Mason provides assistance to Ellie with health management and maintenance, and navigating the bureaucracy of healthcare. He provides support to daily living requirements from transportation, to basic household and living maintenance, to providing mental and emotional support during setbacks and difficult times. He does all of this while working full time in the Army, and working through his own civilian job search and transition out of the military.
A comprehensive RAND study found there are 1.1 million volunteer caregivers providing support to our veterans of the post-9/11 wars in Iraq and Afghanistan. If they were professional caregivers their service would be valued at $3 billion a year. These post 9/11 caregivers are much different than the 4.4 million pre-9/11 and civilian caregivers. They are much younger (37 percent are 30 years old and younger), 76 percent are employed, and far more likely to be male (40 percent). Spouses comprise 33 percent of post-9/11 caregivers, parents 25 percent, and almost 25 percent are unrelated friends and neighbors.
Ellie met Mason on her "Alive Day," the anniversary of the day she was wounded and nearly lost her life in combat. A mutual friend had asked Ellie if she would train Mason in the pool as a part of his own physical recovery. Mason also sustained injuries during his service and had his femur replaced. He also contends with the invisible wounds of war to include traumatic brain injury and post-traumatic stress. Not only does Mason fit the profile of a typical post-9/11 caregiver, he is also a wounded warrior himself. Colossus and Wonder Woman are caregivers to each other.
Unlike the movie-comic book superheroes, Mason and Ellie are real life heroes. They were heroes as warriors ensuring our freedoms and security. They are heroes as wounded warriors inspiring us with their strength and resilience in their recovery, and are also hidden heroes as caregivers. Their challenges are a lifetime journey. Their families are on that same journey, as caregivers, and sometimes, in need of "care" themselves.
All of our nation's hidden heroes – military and veteran caregivers – need our support. And so we as a nation have the same responsibility to our caregivers as to our warriors. We must leverage the entire capability of our nation, not just military and government, but the private, non-profit, faith based and philanthropic communities to better serve and support all of our hidden real life super heroes on their journey.