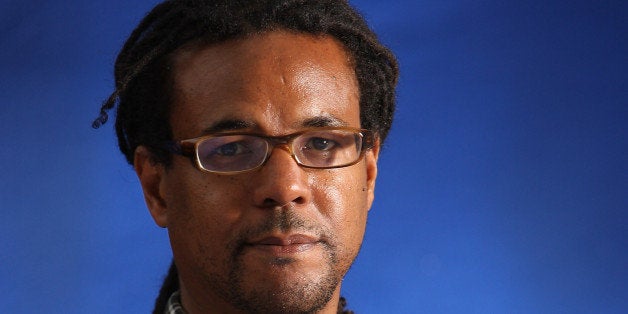 Brief Interviews is a series in which writers discuss language, literature, and a handful of Proustian personality questions.
Colson Whitehead is the author of a number of fiction and nonfiction books, including John Henry Days, which was a finalist for the Pulitzer Prize in 2001, and Sag Harbor, which was a finalist for the PEN/Faulkner Award for Fiction in 2009. His most recent novel, Zone One, has been described as a genre-bending zombie story. His latest book, The Noble Hustle: Poker, Beef Jerky & Death [Doubleday, $24.95], chronicles his participation in the World Series of Poker.
You're primarily a fiction writer -- how did you find the experience of writing a more journalistic book?
Well, I worked at a newspaper for nine years, at the Village Voice, where I was a fact checker and critic. For me, choosing between fiction and nonfiction is really only about picking the right tool for the job. So Sag Harbor, for example, had autobiographical elements, but it wasn't a memoir. I wanted to be able to make things up.
Here, I wanted to let loose, hopefully in a very humorous style, about the World Series of Poker. The main difference for me in using my own voice was deliberation, and making a lot of weird jokes, and having fun with the material.
And that definitely comes across in the book. I saw you read at the National Book Festival when Zone One came out, and it was one of the funnier readings I've been to. What value, in your opinion, does humor add to storytelling?
I think a joke is a form of truth-telling. A good joke that's absurd contains elements of our daily darkness, and also a possibility to escape that darkness. So, for me humor is an attempt to capture everyday tragedy and everyday hopeful moments that we experience all of the time.
What other elements are essential to a great story?
Sometimes its language, sometimes its plot. I think you read Jurassic Park and A Visit from the Goon Squad for different reasons. One's more plot-heavy, one's a more textured exploration of character and possibility. I think it depends on what kind of reader you are. Life's pretty short, and you should read the kind of books you like.
You have some experience with poker, albeit less formal. What about the game appeals to you?
I've always had a love of cards, ever since I was a little kid. I think poker as a system describes the chaos of the world. Our sudden reversals, our freak streaks of fortune. The belief that the next hand can save you, and the inevitable failure of the next hand to save you. I think that describes my worldview pretty well.
You play a semi-regular game with other Brooklyn writers. How'd that start up?
Really, I was just chatting with Myla Goldberg, author of Bee Season, and we wanted a way to see more of each other, so we proposed this monthly game, and it lasted about 12 years. Now we have kids and various work obligations, so we meet maybe every three months. We work at home now, we aren't hanging out in cafes. We're pretty serious people, so it's a good way to be social before retreating back into our hermit holes.
How did you find that competitive play compared with playing with friends?
Anxiety-inducing. If I was going to write about it, I couldn't flame out in the first two hands. I really had to read the books, and spend more time on the road, going to Atlantic City, competing in real tournaments. I was basically a nervous wreck until I washed out, when finally the incredible agony I was holding in my shoulders and neck dissipated.
Where do you like to read?
On my couch, in my house. Trains and planes and automobiles. That's also where I like to write -- in my home office, or when I'm traveling. There's nothing like looking out the window onto a familiar landscape to get the mind going.
What's your favorite word, or, a word you encountered and enjoyed while writing your most recent book?
I guess the word for Noble Hustle would be disaster. Maybe it's not my favorite, but it's definitely familiar.
What's the first book you remember loving?
Probably Night Shift by Stephen King. I loved horror movies and science fiction at that point. It's his early collection of horror short stories. I would just read it and re-read it as I worked my way up to reading longer fiction.
Stephen King in general, as well as films of the apocalypse from the 70s, had a big influence on Zone One.
Which classic have you not read yet, and do you intend to read it?
I never read The Red and the Black by Stendhal. And yes, quite possibly.
Do you prefer print or ebooks?
Two thirds print, one third ebooks. For travel, I prefer ebooks because of my lack of upper body strength.
What's the last ebook you read?
Random Family: Love, Drugs, Trouble, and Coming of Age in the Bronx by Adrian Nicole LeBlanc
What's in your to-read pile?
Authority by Jeff Vandermeer, and Joshua Ferris's new book, To Rise Again at a Decent Hour
Related
Popular in the Community