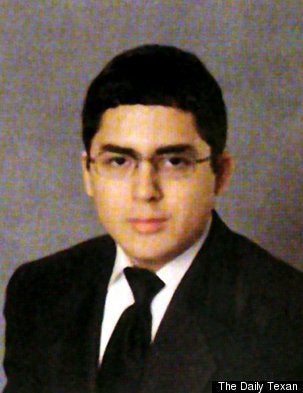 Answers have been hard to come by. Austin Police Chief Art Acevedo told the Austin American-Statesman that Tooley "was not on [their] radar for any reason." A search of Tooley's South Austin home revealed no telling evidence.
According to the Daily Texan, Tooley once described himself as "socially detached." He had a cell phone that he "used to check the time." He refrained from having a Facebook profile.
Some clues about Tooley's interests lie in his class work. The Texan obtained several documents written by Tooley that reveal an inquisitive mind captivated by gun control policy:
In Fall 2009, his first semester at UT, Tooley wrote a proposal for a research paper in an introductory rhetoric course that said arguments between his parents over the issue only piqued his interest in the firearm debate.

"I've grown up in a household where my mother is absolutely appalled by guns, and my dad grew up with them out in rural Oklahoma and sees them as an extraordinary part of life," Tooley wrote in the proposal.
Tooley also wrote that he had been to gun shows and was relatively well-versed on gun control, having read various books and viewed Michael Moore's "Bowling For Columbine."
"It just kind of reminded me that there are a lot of people that don't have hope," she told the Texan. "I wanted to be here to just pray for those people for healing."
"Colton, I wish I could have talked with you," one poster wrote.
WATCH: UT Students Heal Through Prayer (
report)
Related
Popular in the Community