Today's New York Times blunders alongside President Barack Obama, keeping step with his erroneous statements that have nothing to do with fact: "In a speech in Berlin last week, Mr. Obama called climate change the global threat of our time and promised swift action to avert it." (John M. Broder, June 25, 2013)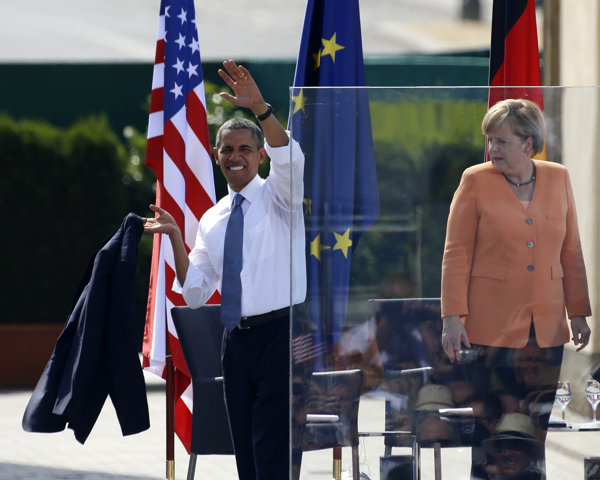 "No wall can stand against the yearning of justice, yearnings for freedom, the yearnings for peace that burns in the human heart." Applause from the crowd.
Germany is "renowned as a land of poets and thinkers. Among them, Emmanuel Kant who taught us that freedom is the unoriginated birthright of man, and it belongs to him by force of his humanity." In the case of climate change, we are definitely fettered.
President Obama spoke of a global middle class that will consume increasing amounts of energy in an immediate future characterized by more severe storms, famine and floods, coastlines that vanish, and rising oceans: "This is the future we must avert. Our generation must move toward a global compact to confront a changing climate before it is too late. That is our job!"
Obama says it's a moral obligation. But he doesn't seem to know that it is too late right now to stop a problematic melt of Greenland. Climate change can't be averted, Mr. President. We have emitted our emissions and the CO2 is what it is -- a done deal. If we stopped all emissions today, right now, we would still have the same coming extreme weather, the same coming rise in oceans, the same coming glacier melt in the Arctic, and the same coastlines that vanish. Impossible to avert, Mr. President.
Why? We have no freedom unoriginated or otherwise in the matter of climate change because the time scales involved in these processes are enormous. It took a long time to cause the changes. It's a cumulative thing. Now there is nothing we can do to stop change -- we are in the soup -- but the decisions that we make from here on out can lessen or worsen calamity. It would be like calling off a tidal wave. We've already got the wave on the way; it will wash over us no matter what -- the processes of climate change are initialized and coming our way.
Extreme weather patterns are wilder, more furious: It's getting curiouser and curiouser out here, and that's all folks!. Alice in Wonderland and Looney Tunes it will be, if we can't come to some sort of agreement on how to look at the effects of climate change, with all of the inherent uncertainties. The confusion we generate by denial and procrastination may seem cartoonish now, but when big events in weather occur, the fear factor crushes everything else. We will all be afraid. Now is the time to make some sense of the mess we've made and to enact mitigation policies so that our future is survivable in the best way possible, for everybody. But just saying that we are going to stop emissions is silly and unhelpful. The big picture is far more complex.
Dear Mr. President, I voted for you in 2008 and was chosen as one of your Organizing Fellows during the campaign. Alumni love you here at Columbia. We do. But propagating misinformation about climate change is a no-no.
It's akin to when Hillary said during the Japanese nuclear plant crisis in April 2011 that we here in the USA would be flying out "more coolant," no worries. Tossing coolant onto a nuclear power plant meltdown isn't a solution. We direly need our political leaders to gain some degree of scientific understanding. They don't seem to know what they are talking about. And climate change remains rife with misunderstandings and miscommunications.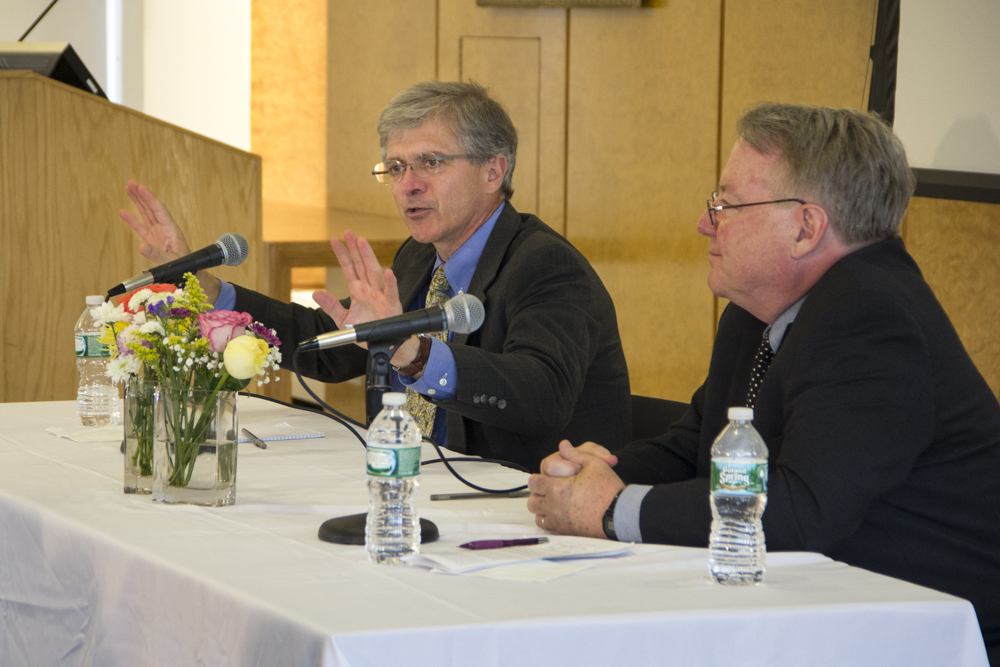 Hertog Global Strategy Initiative, Summer 2013, Columbia University in the City of New York
June 20, 2013: Tonight's discussion revolved around the process of communicating information. How is the knowledge gathered by scientists passed on to policy-making experts and to the general public? How do scientists and experts come to any sort of consensus about something as complex and far-reaching as climate change?
Anthony Janetos, director of the Pardee Center for the Study of the Longer-Range Future at Boston University, is our speaker. He points out the unique approach taken in climate change has from the start been that the studies have always been commissioned and/or overseen by policy audiences. The very people who will create laws governing climate policy are the people who request the research studies. And since even the brightest scientists can't say with certainty what will happen, blow by blow, the policy makers use this degree of uncertainty as a reason to hem and haw, delaying action altogether. This foolhardy tactic allows for a trajectory of inertia where governments do nothing and the public perceives this doing of nothing to mean that it's all a hoax. People deny that climate change exists.
A cause of polarization among audiences has been the dramatic change in various presidential administrations' approach to environmental issues. Janetos suggests that "scientists felt like deer in the headlights," and "the stakes are really high." There is "ongoing, virulent policy debate" about what to do.
Janetos says that the world is "now in the sixth major extinction event of flora and fauna -- 1,000 times higher now than the recent background." This is not a sustainable pattern. People need to understand possible responses and with broad appreciation of the magnitude of changes involved. "The big challenge is if people want the information," Janetos remarks: "We fail at the long-term challenges." Do people want to listen?
"What can be done to mitigate emissions of greenhouse gases? What are the implications of different energy choices?" Janetos tells us: "The menu of choices needs to be clear." A national, even local, audience is critically important in coping with climate change and making policy decisions, "because the international community is not sufficiently strong."
The need to characterize what is known and unknown is still a challenge. Understanding consequences turns out to be quite difficult. Water shortages could limit power plant electricity production, for example. Temperature change in bodies of water can alter species composition in aquatic ecosystems.
We don't know how to feed the cities of the future, Janetos explains. We've got to "deal with uncertainty but decide anyway." Physical and cultural changes will happen for decades to come. The greenhouse effect is beyond serious question. "It helps to be honest."
(Barack Obama in Berlin, PA Photo by Permission; Columbia University Hertog Panel with Anthony Janetos and James Fleming, Photo by Lindsey Weaver)
REAL LIFE. REAL NEWS. REAL VOICES.
Help us tell more of the stories that matter from voices that too often remain unheard.