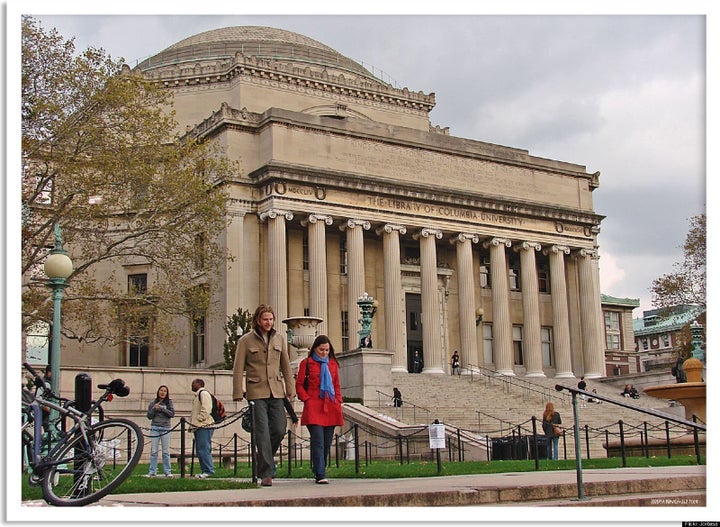 Five Columbia University students were arrested Tuesday morning for selling drugs on campus, according to DNA Info.
Chris Coles, Harrison David, Adam Klein, Joseph Stephen Perez, all 22, and Michael Wymbs, 20 were caught selling LSD, marijuana, cocaine, Adderall and powdered ecstasy in a sting operation called "Operation Ivy League." Also arrested were the students' three suppliers -- Roberto Lagares, 30, Megan Asper, 22 and Miron Sarzynski, 24 -- who are unaffiliated with the university.

Since July, undercover officers purchased more than $11,000 worth of narcotics from the five implicated students. The drug deals mostly took place at Alpha Epsilon Pi, Psi Upsilon and Pi Kappa Alpha's fraternity houses, and some allegedly occurred at the students' campus dorms.
A police press release revealed that during a raid on the students' rooms the police uncovered a bottle of LSD, 50 MDMA capsules, 15 Adderall pills, at least half a pound of marijuana and around $2,000.
Special Narcotics Prosecutor Bridget Brennan told the New York Post that "The students arrested today supplied dangerous substances to their friends and other students to turn a quick profit, but subjected themselves to risks, of which they were either ignorant or in denial. These students were playing with fire."
According to the Post, Miron Sarzynski has also been charged for trying to kidnap two cocaine-selling competitors whom he thought had stolen from him. Authorities said Sarzynski wanted to "torture them by forcibly administering a heavy dose of LSD."
Perez, who also goes by Stephan Vincenzo, gained campus notoriety as a party fiend on Facebook even before he got to Columbia, and was featured as a "campus character" on Columbia blog Bwog in April. According to the Columbia Daily Spectator, Vincenzo is a Gates Millenium Scholar.
According to Bwog, a national Psi Upsilon rep refused to give the blog an official comment, but said he would cooperate with university officials to "get to the bottom of this." Bwog also reports that sororities have been instructed to remove fliers promoting a joint event between Theta and Pike and to take down any Facebook photos of themselves taken inside the implicated houses.
The students will be arraigned in Manhattan Criminal Court today.

REAL LIFE. REAL NEWS. REAL VOICES.
Help us tell more of the stories that matter from voices that too often remain unheard.