A group of Columbia University students on Monday dumped a mattress designed to look like a check at the school president's office, protesting a fee the school charged them after an anti-rape campus demonstration several weeks ago.
After the most recent demonstration, on Oct. 29, students dumped 28 mattresses at Columbia President Lee Bollinger's home. The university is charging the students $471 for cleaning up and disposing of the mattresses.
"This is not a clean up fee, but a punishment for speaking out and it will go into the bank account of a University that has silenced us," the students said in a prepared statement, which was provided to The Huffington Post.
The activists also delivered a real check for $471 to the appropriate office at Columbia following their demonstration at the president's office.
Students said they were initially told by a Columbia official they would have to pay at least $1,500, though the university told The Huffington Post it only had a record of a $471 charge. The student activists said they were not informed of the lower amount until the school sent a statement that appeared as an update in the Nov. 6 HuffPost article.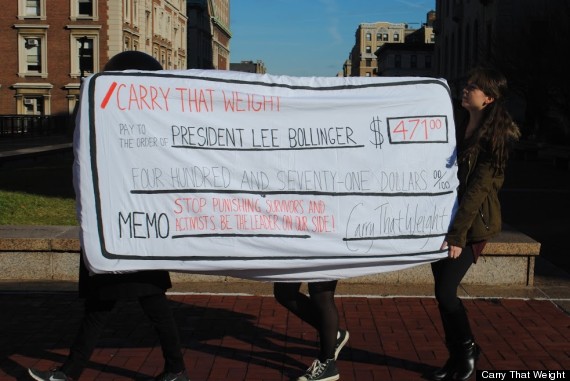 The students read from a prepared statement when they dropped off the mattress at Bollinger's office Monday:
We left 28 mattresses on your doorstep, representing the 28 students who filed a Title IX complaint against Columbia, and delivered a list of 10 demands. After months of inaction, we hoped you would take this opportunity to finally step up and address our urgent concerns. Instead, you threw our mattresses in a dumpster and slapped us with a fine for $471. The mattresses are a symbol of the burdens that survivors struggle to carry with them each day on this campus. This response makes your priorities abundantly clear: You value the reputation of this institution over the safety of your students, and would rather throw out survivors' pain than acknowledge the harm your administration has caused. President Bollinger, you are making us pay for the trauma that we have endured. This is reprehensible.
Columbia spokesman Robert Hornsby disputed the characterization that the student activists had been fined for the message.
"As we've said before, given our longstanding commitment to robust free speech, there is never such thing as a fine for any group because of its views and we support students in peaceful protest," Hornsby said in a statement to HuffPost. "These are entirely typical matters in apportioning direct costs for facilitating student events which student sponsors understood and acknowledged in advance. And, in fact, the University chose to underwrite the costs of the main campus cleanup."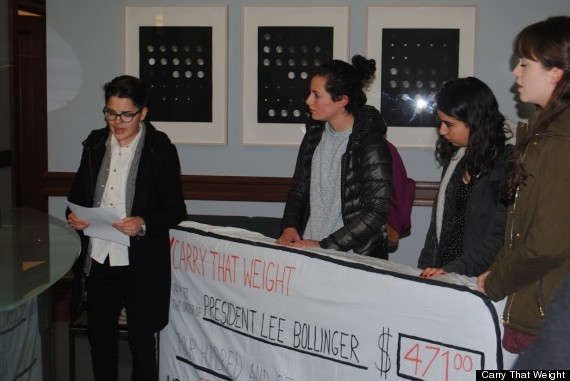 Columbia University senior Allie Rickard reads the letter addressed to President Lee Bollinger with fellow students Becca Breslaw, Michela Weihl and Zoe Ridolfi Starr.
Related
Popular in the Community