NEW YORK -- Posters were discovered Wednesday morning near the campus of Columbia University that accused graduating senior Emma Sulkowicz and actress Lena Dunham of being liars about rape.
Sulkowicz gained prominence in September 2014 when she began carrying a mattress around campus for as long as the male student she accused of sexual assault also attended Columbia. On Tuesday, she carried that mattress across the stage at a Class Day ceremony. Columbia President Lee Bollinger, who was shaking other graduates' hands, failed to shake hers. Sulkowicz told The New York Times that she had been asked not to bring the mattress on stage and declined that request.
The posters show an image of Sulkowicz with her mattress, the text "Pretty Little Liar" and the hashtag #rapehoax. Her name is misspelled. The Dunham versions are similar, though the main text is "Big Fat Liar" and they don't have spelling errors. The posters were placed along the street and in the subway, on street poles and traffic lights. Students and other passers-by started taking them down Wednesday morning, according to images posted on Twitter.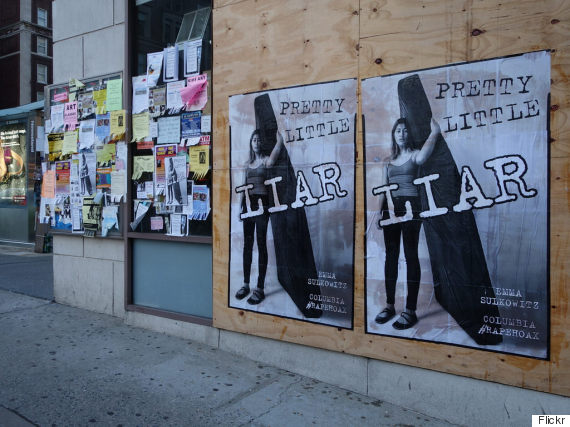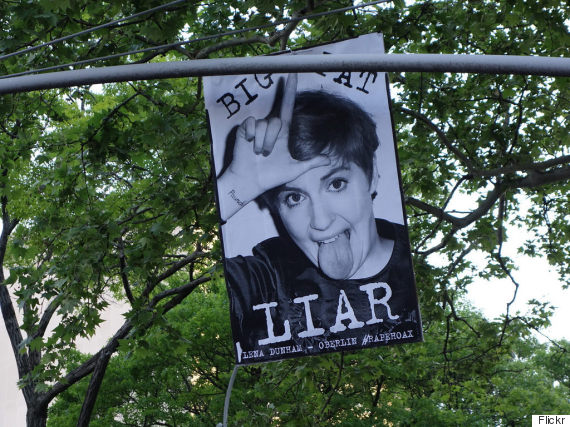 Sulkowicz told The Huffington Post that she'd rather not respond one way or the other to the posters.
"We have no information about these posters out on Broadway," said Victoria Benitez, Columbia communications director. "Our consistent message to our own university community has emphasized the importance of mutual respect for all graduates and their guests on these days of shared celebration."
No one has publicly identified himself or herself as the person behind the account @fakerape or the posters, though a Jezebel tipster suggested the posters looked similar to work done by right-wing graffiti artist Sabo. Many of the first followers of the Twitter account did not list an identity on their own profiles either.
The student Sulkowicz accused, Paul Nungesser, filed a lawsuit against Columbia last month accusing the school of facilitating harassment of him on campus by allowing Sulkowicz to carry her mattress on university grounds.
Columbia found Nungesser not responsible in Sulkowicz's case. He has maintained that he did not assault her and that they only had consensual sex. He has also offered up text messages sent to him by Sulkowicz that he says show his innocence.
Sulkowicz first began speaking to a handful of reporters, including from The Huffington Post and the Columbia Blue & White, in early 2014. At the time, she and two other women who also accused Nungesser of assault focused their comments on alleged failures in the school's investigations of their claims; the women declined to give their names at the time. It was only after Sulkowicz went public and reported Nungesser to the New York police in May 2014 that the Columbia Spectator became the first media outlet to publish his name.
In the past few days, Columbia Class Day speaker Eric Garcetti, the mayor of Los Angeles, and Barnard College Commencement speaker Samantha Power, the U.S. ambassador to the United Nations, have both received applause from students when they praised the mattress protest in their speeches. Both Columbia and Barnard, an affiliated school, are under federal investigation into how they handle sexual violence complaints.
Related
Popular in the Community