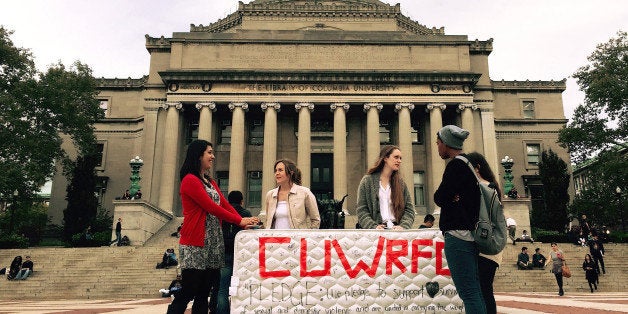 A student group at Columbia University said it is being charged at least $1,500 by the school in the aftermath of an anti-sexual assault demonstration last week.
Sulkowicz began lugging her mattress around campus in September as part of her senior thesis, titled "Carry That Weight," and as a protest against the school for not punishing the student whom she and two other women have accused of rape.
The protest on the Columbia campus last week entailed 28 mattresses being installed at different locations around the school, including around the iconic statue of Alma Mater.
At the end of the on-campus protest, New York magazine reports, students brought the mattresses to Columbia President Lee Bollinger's residence, where they chanted, "Presbo, Presbo, you can't hide ... Be the leader on our side."
Because No Red Tape is not an official student group, the Columbia group Student Worker Solidarity booked space on campus for the event on its behalf. SWS was informed late last week it would be charged at least $1,500 for clean-up for the event. Students with the group told HuffPost that they were told the charge is for removing the 28 mattresses stacked in front of Bollinger's home.
According to Michela Weihl, one of the SWS organizers, that the university threw away the mattresses seems more significant than the charge for their removal.
"The symbolism of them literally dumping the mattresses in the trash within an hour," Weihl told HuffPost on Thursday, "It's so indicative of how they handle sexual assault on this campus -- they literally throw out rape cases without a second thought."
The university did not have comment at the time of publication.
Photo of the mattresses in a large trash receptacle, where students say they were placed within an hour of the protest.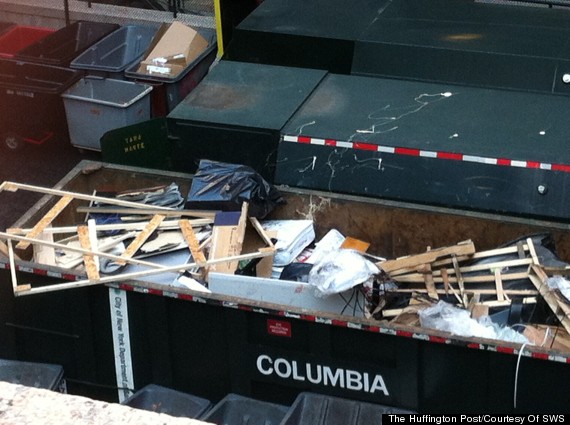 UPDATE: Nov. 8, 3:31 p.m. -- Columbia said Friday it only had records indicating that SWS's clean-up charges for the mattresses dumped in front of the president's home totaled $471, but the university did not say whether that would be the final charge. The student group has not yet received an official bill for the clean-up charges.
"These are entirely typical matters in apportioning direct costs for facilitating student events and, given our longstanding commitment to robust free speech, there is never such thing as a fine for any group because of its views," Columbia spokesman Robert Hornsby said in a statement to HuffPost.
Multiple students involved in SWS were told in an email from a university staffer on Monday that they believed the clean-up charge would be $1,500 at a bare minimum for the mattress protest, according to a copy of the email obtained by HuffPost. The university noted on Saturday that the charge was only an estimate, but would not say whether the $471 figure could increase.