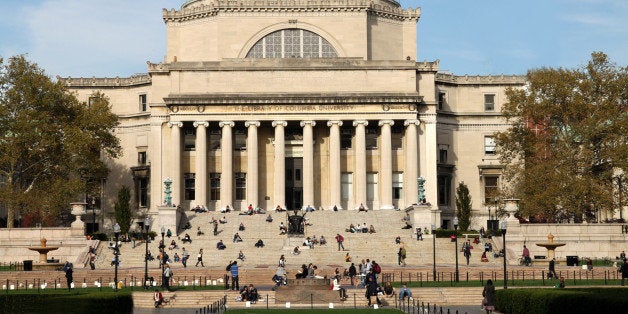 NEW YORK -- Ten Columbia University undergraduate students were accused of sexual assault in the 2013-14 academic year. None were punished.
Data released by New York-based Columbia on Tuesday disclosed for the first time that no student was found responsible for an infraction equivalent to the crime of rape from July 1, 2013, through June 30, 2014. Investigations or disciplinary proceedings are unfinished in four of the 10 assault cases, the school said.
"There were no findings of responsibility and thus no sanctions imposed in the category of Sexual Assault: Non-Consensual Intercourse," the report stated.
The Ivy League university announced in January that it would release the aggregate data, starting with the 2013-14 school year.
"Over the past year, the issue of sexual assault has gained a new level of attention and engagement on campuses around the country," Columbia Provost John Coatsworth said in an email to students. "We are committed to providing a national model of the best policies and practices to help ensure that members of our University community feel safe and respected. As one part of that commitment, we are publishing Columbia's first annual Report on Gender-Based Misconduct Prevention and Response."
Few universities disclose such information. Some Ivy League schools, including Yale University, Brown University and Dartmouth College, release data on sexual assault punishments in some form.
Columbia's data does not disclose details of any particular complaint, making it impossible to know whether a specific investigation identified a suspect who ultimately was judged not responsible. Students have accused Columbia of letting serial rapists off the hook.
The average time it took to fully investigate a sexual assault complaint was 91 days, not including appeal, the Columbia report said.
Two of the 10 complainants declined to identify an assailant or asked that no investigation or disciplinary process take place for "sexual assault: non-consensual intercourse," according to the report. One gave a statement and recanted. One complaint was resolved after a hearing, with a finding of no responsibility. Four investigations or disciplinary proceedings are ongoing.
Four students accused of "non-consensual intercourse," or "non-consensual contact" were either suspended for violating interim measures, like a no-contact order, or were not currently enrolled at the school, according to the report. Two of those violators were given two-year suspensions "requiring reapplication for admission before returning to the University," Columbia said.
"I'm glad to see this information is being released, but I don't think that this report answered many of the questions students had raised," said Sejal Singh, a senior who had pushed the school to disclose the data. She said it's not clear what sanctions the school imposed for specific acts of violence. Without that, she said, the release won't help survivors feel confident reporting sexual assaults to the university.
"Without information on the sanctions, there's no way to hold the university accountable," Singh said.
Coatsworth said future versions of the report will include the results of a survey "that will provide a deeper understanding of attitudes and experiences of students on our campus."
Related
Popular in the Community