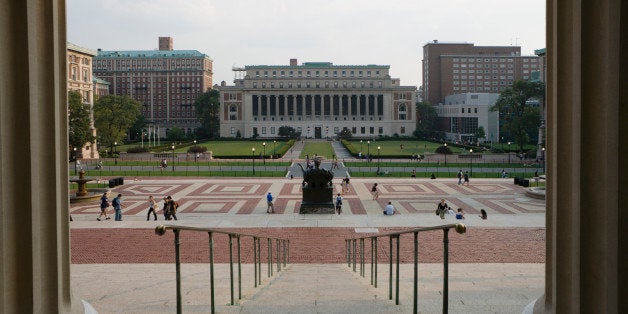 NEW YORK -- Columbia University President Lee Bollinger announced Wednesday the Ivy League school will release statistics about students who are punished for sexual assault.
"[A]ggregate, anonymous data related to sexual assaults and other gender-based misconduct will be released beginning with the current academic year," Bollinger said in a campus-wide email Wednesday morning. "This will require a delicate balancing of confidentiality and transparency. The release of such information will go beyond the annual reporting and publication of criminal complaints required by the Clery Act, a federal law serving as the national standard for disclosure."
Bollinger further stated that he supported a university senate review of the university's Presidential Advisory Committee on Sexual Assault, which handles sexual violence cases at the school. Students who have reported sexual misconduct to the school have criticized the committee for taking months to adjudicate cases (committee guidelines say the process should take no more than a month), and students at large have complained of a lack of representation in the committee's policies and composition. Bollinger said he supported greater transparency for the committee, so long as confidentiality of student records is preserved.
Marc Heinrich, a student senator who's worked on this issue, told The Huffington Post that until the senate gets the aggregate case data, it's hard to pinpoint exactly what reforms will be needed.
Heinrich applauded the CU Dems, because without them "or the survivors who had the courage to speak out about their stories and inspire this campaign," he said, "this would not have been possible."
Bollinger acknowledged that Columbia deans had received numerous messages from students requesting town halls to discuss sexual violence.
"They are in the process of considering how best to convene these discussions in order to reinforce a campus climate of trust and mutual support, and whether these forums are more effectively scheduled before or after a University Senate review of PACSA," Bollinger said. "It is a process I fully support."
CU Dems president Sejal Singh called Bollinger's statement "a major step towards transparency and accountability."
"There is more to be done, and we'll be working with the administration over the coming months on the next steps, but this letter demonstrates commitment to finding a solution at the highest level of the university -- and that united student voices can make a difference in their communities," Singh told HuffPost.
This was the first time the Columbia administration has directly addressed its handling of sexual violence at the university. The only previous statement had come from Melissa Rooker, Columbia's Title IX coordinator, to a student journalist who asked about a New York Post report on the university not punishing an alleged serial offender.
"I would encourage you not to believe everything you read," Rooker told the reporter, writing for Youngist.
Both Heinrich and Singh were pleased with Wednesday's announcement and that the administration is taking student concerns seriously.
The ultimate goal in working on reforms with administrators, Heinrich said, is to restore confidence in the system.