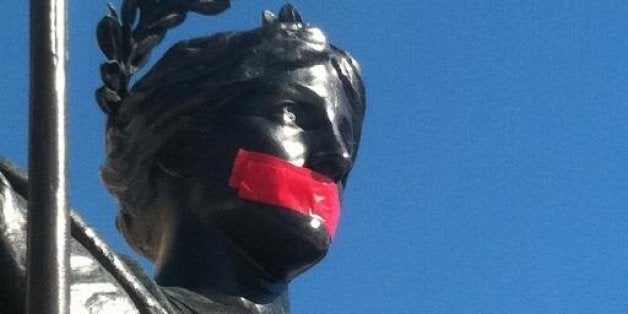 A student group at Columbia University, a school currently under fire for alleged mishandling of rape reports, claims administrators physically blocked them from entering a campus event Sunday.
No Red Tape, a group aimed at "fighting sexual violence and rape culture" at the Manhattan-based Ivy League university, showed up to a prospective students event with red tape over their mouths, ready to hand out letters about the school's handling of sexual assault cases. No Red Tape members told the Columbia Spectator they were "physically barred" from entering Roone Auditorium by admissions officers and security guards.
"Elevator opens, we put on our red tape and literally as we turn the corner, three or four guards and administrators immediately declare 'This is a private event,' while two other guys promptly run to shut all the entrances," Columbia senior Carmen Velasquez told Youngist. "It was also interesting how much they were speaking for the prospective students. They said, 'You can't hand these out' as if it was gonna freak them out," she added. "They were completely dictating what students are allowed to say to prospective students."
"It is estimated that nationwide 20% of women and 6% of men experience sexual assault or attempted sexual assault during their college years. Data reveal nearly 50% of trans people experience sexual violence. No matter the demographic, the most common type of sexual assault is not committed by a stranger but by someone known to the victim, typically a date or other acquaintance. It's become increasingly clear that colleges and universities are failing to prevent and respond to sexual violence on campus in a way that prioritizes students' safety.

"Columbia is not exempt from this. Here on our campus, we have completely inadequate prevention and education programming regarding consent, rape culture, and bystander intervention. Many survivors have had trouble accessing the professional health and counseling resources they need. Students found guilty of perpetrating sexual violence are frequently allowed to stay on campus and are not required to go through a meaningful education or counseling process to help prevent them from committing future violence."
Sen. Kirsten Gillibrand (D-N.Y.) spoke at the school Monday, saying American college administrations suffer from inadequate training when it comes to dealing with sexual assaults. She has asked for more than $100 million in federal funding to increase enforcement by the U.S. Education Department of laws regulating college sexual assault responses.
"America's colleges and universities are the best in the world. But it is simply unacceptable that they become havens for rape and sexual assault," Gillirand said. "It is time to take this crisis head on and end the scourge of sexual assault on our college campuses, hold offenders accountable, and keep our students safe."
And on Monday, in an email sent to all Columbia students, Bollinger announced the position of an Executive Vice President for Student Affairs, who will deal directly with claims of sexual assault on campus.
Related
Popular in the Community