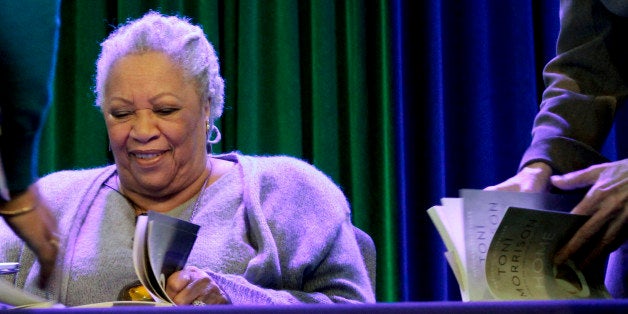 An op-ed in an Ivy League school's student newspaper was enough to incite a national debate on trigger warnings for classic texts, but not enough to sway school policy.
Members of Columbia University's Multicultural Affairs Advisory Board, a student group that works with the school administration, described in April how a survivor of sexual assault was triggered by reading a scene depicting sexual violence in Ovid's "Metamorphoses." The narrative poem is part of the syllabus for Literature Humanities, a yearlong course that is supposed to introduce students to the foundational texts of modern civilization.
The concern with "triggering" material is that students who have been through traumatic experiences might read something in the required texts that brings up these past events, causing undue harm and anxiety.
The Spectator piece led to a storm of national debate from both the right and the left, calling out coddled students and, naturally, Fascism. Peggy Noonan, former speechwriter to Ronald Reagan, called the op-ed "a significant and growing form of idiocy" in the Wall Street Journal.
Despite the debate over the student opinion piece, there is no plan to eliminate triggering texts or mandate trigger warnings, Roosevelt Montás, the director of Columbia's Center for the Core Curriculum, told HuffPost. The syllabus for the Literature Humanities course was updated earlier this month, following a routine review, and Toni Morrison's "Song of Solomon," selections by female poet Sappho and John Milton's "Paradise Lost" were all added. The April op-ed said Morrison's work "should be valued as founding texts of the Western canon."
The decision to add Morrison was driven by a desire to add a more contemporary author to the end of the syllabus, and "Song of Solomon" was chosen by a faculty vote, Montás said. Sappho and Milton have previously been included in the curriculum.
Columbia's choice to go without trigger warnings is representative of a larger trend, according to an online, non-scientific survey of members of the College Art Association and the Modern Language Association. Out of the 808 higher education faculty members who responded, just .5 percent said their school had a policy on trigger warnings. On an individual level, 42 percent said they had never used a trigger warning in class, while 12 percent said they did so regularly. Nearly 90 percent of respondents said that they had never had a complaint about not using a trigger warning.
There are several reasons for Columbia's decision, Montás said, including the unpredictability of classroom discussions, a dedication to protecting academic freedom and the need to confront difficult issues.
Literature Humanities classes are discussion-based, meaning that what gets discussed "depends on the themes that a class picks up on and the personalities, interests and investments of each class," said Julie Crawford, current chair of Literature Humanities. Thus, professors can't always warn students that a class will talk about sexual violence or other forms of oppression.
It is also important to offer autonomy to the professors teaching the courses, who come from across departments, Montás said. Aside from the texts and general themes, these teachers are free to focus on whatever aspects of the readings they choose.
"We are very zealous of guarding academic freedom and intellectual freedom of expression of professors," Montás said. "So we are very careful not to appear to be acting in a role of thought police."
Professors do receive guidance and support. Some instructors are graduate students, and they have a required class themselves on teaching Literature Humanities. For all instructors, there is a weekly lecture by an expert on the upcoming text. There are also frequent opportunities for collaboration, including workshops, recommended conferences and online resources.
"If you deal with that material in a way that alienates a student or alienates any portion of the people you are teaching, then to that extent you have failed as a teacher," Montás said. "So we want to have the kinds of conversations that equip instructors to do the best job with those texts."
Both Montás and Crawford said that discussing the difficult content in these texts is vital. Crawford spoke to the therapeutic qualities of literature as well as the power to build empathy and understanding. After 9/11, she told her Literature Humanities students that they could skip the upcoming class, or come but use it to discuss what had happened in the city. But, "uniformly my students wanted to come and talk about the book."
"One of the goals of the class that I think is really crucial is empowering students to say no text is too close to them and no text is about them," Crawford said. "They are empowered by this experience to pick up any book from any time and make their way through it in meaningful and rigorous ways."
Moreover, Montás explained, to avoid sexual violence and marginalization is to miss out on key parts of the growth of civilization.
"I don't see any way that you can deal with the history of thought and politics and literature that we deal with without those issues being salient," Montás said.
If a student is worried about being potentially triggered, Montás said, he or she should speak with the instructor directly, especially since each class is individualized. If a student feels he or she cannot speak with the instructor, Montás encouraged the student to speak with someone else, like an academic adviser, counselor or himself.
"But we have to find ways to talk about the difficult issues," he said. "We cannot simply shut down when we encounter them."
Last year, freshmen students wrote a similar article about confronting the sexual violence included in many of the texts. This is also far from the first time students have criticized the heavily Western, heavily male curriculum. It has been an ongoing debate, with ebbs and flows, for decades.

Calling all HuffPost superfans!
Sign up for membership to become a founding member and help shape HuffPost's next chapter