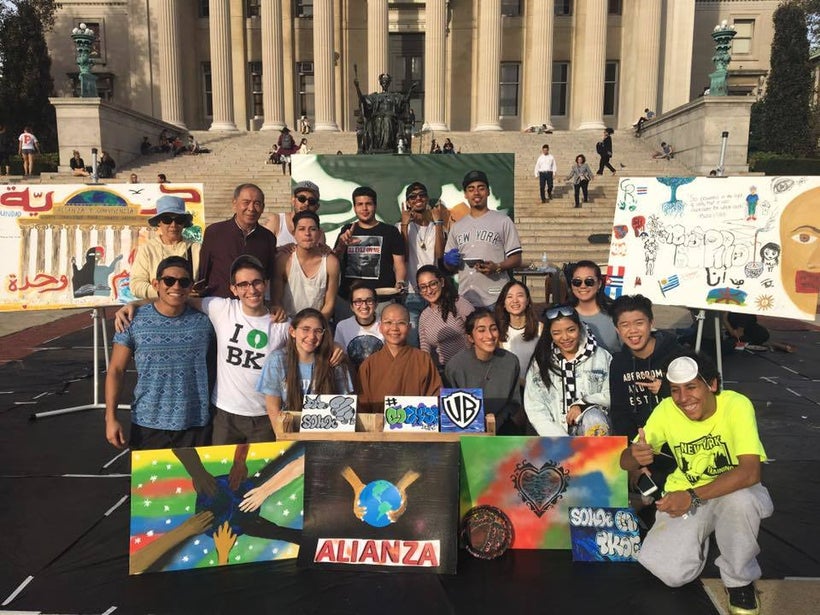 "It is not our differences that divide us. It is our inability to recognize, accept, and celebrate those differences." — Audre Lorde
Nuestra comunidad es nuestra familia within spaces where "ni de aqui, ni de alla" do we belong. Mobilization spaces are mediums for resistance, self-care, healing, and surviving within predominantly white institutions. Latinx students, in all of our intersections, histories, and narratives are inherently removed from, and within, the institutional, structural, and systemic design of Columbia University. To be a Latinx student at Columbia is to internalize imposter syndrome and stereotype threat, essentially our positioning as "Other" within the University. When Latinx students, and any other marginalized student for that matter, seek to exercise our agency in creating safe(r) spaces for our comunidad, it is met with denial. Thus, we are here to demand that Columbia University Alianza be recognized by the Activities Board of Columbia. It is essential to our survival and mental and physical well-being within a PWI. CU Alianza addresses the intersections of that Latinx identity: to be afro-latinx, to be queer, first-generation, undocumented, low-SES, disabled, immigrant — and ultimately, we deconstruct linguistic borders, amongst all others, in becoming inclusive of all our comunidad by the intentional utility of the word "Latinx". A number of universities recognize, support, and celebrate pan-Latinx organizations — we shouldn't we? It is critical that as much as we acknowledge our intersections within our identities, we must also recognize the power of unity within CU Alianza. Within a space where we feel the need to code switch our existences and bury our accents to become palatable, we still face institutional erasure. This cannot persist.
We, Columbia University Alianza, are reaching out to students and organizations in request for intersectional solidarity. We belong, and we matter — thus, we must continue to exist. Alianza is the only pan-Latinx organization on both Columbia and Barnard's campus that holds general body meetings and events for students from across all Latinx backgrounds while also holding its own mentoring initiative for low-income students from the Bronx and Harlem areas — communities that Columbia University has been complicit in geopolitically gentrifying; for many of us, these are our homes. For us — folks whose bodies occupy diasporas, borderlands, "ni de aqui, ni de alla" — to find a home through CU Alianza within the Ivory Tower is critical. As Cornell University professor Hector Vélez claims: "y de aqui, y de alla." We did not get to Columbia, just to get "to" college; we aim to also get through it. Alianza seeks to unify the underrepresented Latinx students on campus who feel that they do not inherently belong within the borders of the Ivory Tower.
Ultimately, we have been denied group recognition by the Activities Board at Columbia, and we are in the process to appeal. Your solidarity is critical. It is unfathomable that we would be denied the right to organize, to be funded, and to continue to provide a place for Latinx students at Columbia University to feel that we matter. Within a socio-political context, because our identities and narratives do not exist within a social vacuum, we already are deemed marginal within the confines of the United States. Now more than ever, and y'all know this. We should not have to perform the exhausting emotional labor of explaining our existences as they are now within this current climate so we will say this: Columbia University replicating this problematic dynamic within a supposed institution for higher education is antithetical to their mission; or perhaps it is not.
That we are intersectional Latinxs that cannot be removed from our contexts because the personal is political — these are the "differences" that Audre Lorde speaks of that we must recognize, not institutionally erase. Hence, Alianza. We deserve home, not displacement and erasure from the institution. Comunidad: it is our unity, our alianza, that makes us whole. We belong, and we are here to stay "by any means necessary." Through our alianza, through our collective solidarity, we matter.
"Alianza means a lot to me because it provides a forum for ALL latinx students to come together. I have never felt as supported on campus as I did during the general body meeting two weeks ago."
"Growing up, I never felt like I belonged anywhere; I was always being asked to choose between my many identities. Alianza not only gives a "home" to students like me, but to student populations that are too small to have an organization that is dedicated specifically to their needs."
"Alianza gives me a space in which I do not have to perform in order to exist. In Alianza, I find the intra-community support that helps me find purpose and energy at this university."
"Without Alianza I do not think that there would be another group on campus with which I could feel fully invested in."
"Alianza is a necessary group on campus because it captivates the voice I did not feel in class, at dining halls, nor through my professors."
To Whom It May Concern, We are writing this letter in support of Alianza because we fully believe that they should be a recognized group on campus. They serve an important role at Columbia as the most inclusive space for all members of the Latinx community to convene, explore, and express themselves. They create visibility for students who feel that their heritage is under represented on campus and give them a voice. They have and should continue to serve as a space where students can understand parts of themselves that they don't get to explore in the greater Columbia community in an official capacity. We also believe that their mentorship program has an important role in Columbia's stated commitment to include and nurture the underserved communities whose neighborhood our campus resides in. Mentoring low-income students and helping expand access for students of color is necessary work that can only be done most effectively with proper recognition and the ability to be able to move through the appropriate administrative channels. We are asking the Activities Board to reconsider Alianza's recognition for not only the Columbia community, but also for the impact they could have on the greater community around us. Best, Sabor: Columbia's First Latinx Dance Troupe
UPenn's Latinx Coalition:
The board members of the Latinx Coalition at the University of Pennsylvania would like to voice their support for recognition of Alianza at Columbia University in the City of New York. As the representative body for Latinx students here at Penn, we recognize the importance—and the necessity—of a group like Alianza. The importance lies in building and solidifying a community of students with both unique and shared experiences, all united by being Latinx. It is clear to us that Alianza strives to bring together all Latinx students, as is the goal of our organization.
We hope that the Activities Board at Columbia understands the importance of Alianza. We want to see continued growth of Latinx communities across all universities, and recognition of Alianza will only encourage that growth.
The Latinx Coalition of the University of Pennsylvania
The Columbia University Asian American Alliance officially stands in support of Alianza. We believe in the importance of having a pan-Latinx group on campus so that students' identities feel validated and supported. Our club is offering support for this group in light of their appeal process with the Activities Board at Columbia so that they may recognized as an official organization on campus. We hope this university will continue striving for representation and validation of all identities, especially those that feel marginalized in our community. Sincerely, AAA
The Bahá'í Club of Columbia University
The Bahá'í Club is writing this letter in support of Alianza. We believe that Alianza is a space that promotes unity, inclusivity, and diversity on campus. One of our Faith's central tenets is the unity of mankind; in this ever diversifying environment, we believe that organisations advocating for these values help to ensure peace and security not only on our campus, but in the greater society.
Alianza represents this vital message of unity by being the only pan-Latinx organization on campus. Their general body meetings and events speak to students from across all Latinx backgrounds and beyond. Alianza's mission to unify the Latinx community, especially those whose nationalities are underrepresented, allows for a wide array of thoughts and ideas that are all embraced in their variety. The Baha'i Club witnessed this all-embracing spirit at Alianza's event "Unity Through The Americas: A Live Mural Painting" last weekend, and we are sure many others would agree.
If we want our school to be a microcosm of an ideal world, providing a loving space where students are not assigned identities based on their national or socioeconomic background is vital.
Our prophet-founder, Bahá'u'lláh, says "So powerful is the light of unity that it can illuminate the whole earth." Alianza is enkindling this light, not only for the Latinx community, but for all who feel positively impacted by its work. We, at the Bahá'í Club, feel that this light should continue to illumine Columbia and Barnard's campus. We ask the Activities Board to reconsider Alianza's recognition.
The Bahá'í Club of Columbia University
Chicanx Caucus supports the recognition of Alianza by ABC. Our friends at Alianza have worked hard to create a space for Latinxs on this campus and in the broader NYC community that focuses on collective understanding of our identity of Latinx as a whole that isn't found in any other group on campus. They have put on events and held meetings that are meaningful and creative. We know their efforts will only become stronger with the support and benefits that come with being a recognized group. In a political climate such as the one that we are in now, where being Latinx is to be under attack, it is even more important to have spaces for Latinxs to discuss and to support each other, when no one else supports us. We wholeheartedly and unequivocally defend Alianza and call for their recognition.
Harvard University's Radcliffe Union of Students
We at the Radcliffe Union of Students strongly support Alianza's appeal for recognition on Columbia's campus. As Harvard's oldest feminist organization, we believe that all identities, especially those that have been historically marginalized, are valid and valuable. We urge the Activities Board to grant these students this space that so many have attested fills a need that is not currently being met– a space where students from across the Latinx spectrum feel welcomed and safe.
Radcliffe Union of Students at Harvard University
International Socialist Organization:
We in the Barnard Columbia International Socialist Organization wanted to reach out in response to Trump and the right's ongoing attack on immigrants. From the ongoing racist scapegoating, the reinstatement of the Muslim Ban, and the repeal of DACA, it is clear we must organize to fight back. We want to extend our solidarity to your group and to any members who have been affected by these decisions. Please let us know if there is any way in which our organization could offer its support and, if you are organizing in response to these events, we would love to join you in the effort. With the the far-right consolidating their power, we think it's important to build relationships so that we can come together and defend one another.
The Barnard Columbia International Socialist Organization
Mujeres supports Alianza. The group has been denied recognition as a club on Columbia University's campus and has a meeting to appeal today. Alianza's work is crucial and valuable on campus as a group that strives to ensure that all Latinx students have an open space to express their many different cultures, beliefs, and experiences. Alianza deserves to be recognized.
The Black Students' Organization is in firm support of Alianza's attempts to become a recognized university group. We cannot stress enough the importance of providing institutional support to Latinx students -- especially within the current sociopolitical climate.
As a community organization who too seeks to serve historically underrepresented students, the BSO truly believes in Alianza's mission to create intercultural dialogue and representation of all Latinx folks, regardless of creed, religion, or class.
Furthermore, we call on the Activities Board at Columbia, of which we are a part, as well as our fellow constituents to not only recognize the importance of the group's objectives, but also the immense amount of labor and funding that has gone into their programming already.
We demand that ABC perform in line with its mission of providing platforms for culturally competent community programming and officiate Alianza as a member of its constituency.
Columbia University Black Students' Organization
Harvard University Queer Students and Allies
We, the Harvard College Queer Students and Allies (QSA), support Alianza and its recognition. As an umbrella organization ourself, we understand the importance of more general identity groups that help unite more specific ones and act as a space where anyone of the identity can feel welcome and find community despite other intersections in their identity. Alianza and its goal of unification is one crucial to all identity groups.
The members of the Columbia College 2021 Student Council officially stand alongside Alianza in their efforts to obtain recognition as an official student group. Alianza is an organization that provides a necessary and valuable space for students of Latinx heritage, especially those who feel that they do not have a group on campus that encompasses or reflects their identities or experiences. In addition, it has demonstrated an ability to reach beyond the campus by incorporating mentoring initiatives for students in Harlem and the Bronx, as well as bringing artists to the campus who are representative of the many identities that Alianza supports. We firmly believe that the recognition Alianza desires would help them to reach more students and communities, as well as provide essential financial support in holding meetings and creating new initiatives.
In striving to serve and support not only members of our class, but the entire student body, we strongly encourage Columbia University to uphold Alianza's appeal to receive recognition as an official student group on our campus.
Members of the Columbia College 2021 Student Council
Harvard College Black Students Association
We, the Black Students Association of Harvard College, stand in solidarity with Alianza in their struggle to create a pan-Latinx space on Columbia's campus. Unity and intersectionality are paramount not only to the mission of BSA but also to the ongoing movement for racial justice. It is our firm belief that Columbia would be remiss to deprive its students this space for pan-Latinx organizing and for the affirmation of diverse Latinx experiences.
The Harvard College Black Students Association
As Barnard First Year Class President, and as an FGLI Latina student myself, a sense of community is needed to help First Years transition as smoothly as possible to the already rigorous, stressful, and isolating Barnumbia community. Additionally, observing that most of the student body Alianza attracts are FGLI, it is of utmost importance to legitimize a club that provides support for FGLI students, something that the university as a whole at times fails in providing and cannot replace the support a community of shared identity can contribute to this complicated experience. Although Latinx organizations already exist across campus, there is no Pan-Latinx organization that exists to help all of these moving cogs across campus come together to form a cohesive machine. Oftentimes, the disunity caused by not having a central organization for all Latinx clubs to turn to that meets as frequently as Alianza, causes for common goals to be slowly achieved since everyone is trapped in their own bubble. In a political and social climate where the Latinx identity is routinely being questioned, harassed, discriminated against, and stigmatized it is important for a club like Alianza to exist to remind Latinx students across Barnumbia that they are not alone in their fear, their discrimination, their experience. Conversely, Alianza serves as a space for Latinx students to also be reminded of the beauty that comes from an identity as diverse as this one. Being as diverse as we are, the Latinx community oftentimes falls victim to schisms within itself and the mission of Alianza, literally Alliance, serves as a reminder to our community of the greater goal we should aim towards: Unity. Regardless of race, social class, religion, nationality, whether someone says guagua, autobus, or omnibus, we are all apart of this greater community and should aim towards the increased support of one another. By establishing an organization like Alianza, Columbia will send a message of support towards not only Pan-Latinx unity, but it will set a precedent that Columbia acknowledges the need for a community all Latinx students could be a part of regardless of all aforementioned separate identities. As First Year President, I strongly urge for the legitimization of Alianza as an organization and I hope that it has become clear why students such as myself and across campus find a desperate need for an organization like this one. Sara Helena Morales First Year President
No Red Tape and Divest Barnard for a Just Transition
We fully support Alianza, the pan-Latinx identity group on campus. When we heard that the Activities Board had denied recognition of the group, we were extremely disappointed in Columbia.
Alianza occupies an essential space on campus as it is the only group that encompasses so many Latinx identities. Not only does it provide a space for students who do not see themselves recognized or represented elsewhere, but as a group Alianza provides mentoring to students who would not otherwise have access to such resources. They also host events, which could not occur without funding from the University.
We sincerely hope that you will reconsider your decision. Alianza is an important and necessary group and they deserve space and recognition on this campus.
No Red Tape & Divest Barnard for a Just Transition
Casa Latina advocates for the recognition of Alianza Latina as a student organization of Columbia College. We believe that their presence on campus has vitally contributed to the community of Latinx identifying students including many members of First in Family, FLIP, UndoCU, and CSA. Alianza Latina has co-sponsored two Casa Latina events this semester and we feel that our success and continuance is contingent on their support. As a meeting space for Alianza Latina's board I can speak first-hand to the commitment the organization has to the betterment of this campus as well as to the quality of their leadership. It would be a disappointment to the Latinx community of Columbia if Alianza were to not be recognized especially considering the political climate of today.
Calling all HuffPost superfans!
Sign up for membership to become a founding member and help shape HuffPost's next chapter
This post was published on the now-closed HuffPost Contributor platform. Contributors control their own work and posted freely to our site. If you need to flag this entry as abusive,
send us an email
.