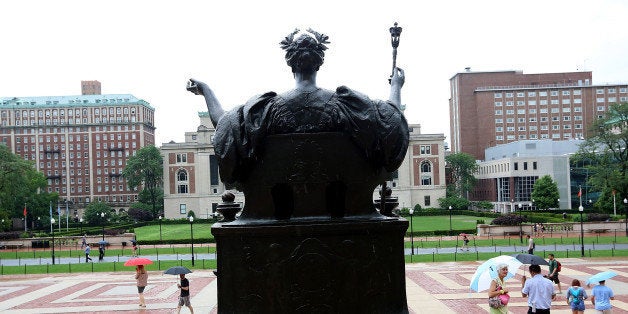 NEW YORK -- During first-year orientation at Columbia University in January 2009, Rosie attended a school event designed to help her meet other new students at an uptown bar called Pourhouse. She had a soda and a macaroni and cheese dish.
Rosie, who asked to be identified only by her first name, said another student later found her in the men's restroom, where she had been raped. She went to her family's home on Long Island the next morning, and her mother discovered bruises and abrasions on her thighs. A hospital emergency room doctor determined she had been sexually assaulted. Based on Rosie's statement that she had blacked out without drinking a drop of alcohol, the doctor surmised she had been drugged.
Classes started the following week. Rosie had transferred into Columbia's School of General Studies after taking time off from another college.
"Columbia was supposed to be my brand new start and it wasn't," Rosie said in an interview.
Rosie, now 24, remains a student at New York-based Columbia, 15 semesters later. She's a senior by credit. The post-traumatic stress, lack of academic accommodation and two forced medical leaves made it difficult for her to complete coursework -- grievances she said spurred her to add her name to a federal complaint accusing Columbia of mishandling sexual assault cases and not caring for the mental health of students.
The complaint was filed in April, with 23 people listing grievances that covered 100 pages. It now includes 27 complainants with 250 pages of accusations against the Ivy League school. The U.S. Department of Education's Office for Civil Rights has not yet decided to investigate.
Rosie said she pieced together the identity of her likely attacker after the orientation evening. A copy of her complaint, provided to The Huffington Post, alleges no one at the school told her how to report the student. She said she never heard of Columbia's Office for Gender-Based and Sexual Misconduct, which handles assault cases, until this summer, when she spoke with senior Zoe Ridolfi-Starr, the lead complainant in the Department of Education filing.
Ridolfi-Starr encouraged Rosie to add her story to the complaint against Columbia.
"We filed a complaint because things are seriously wrong and we are unsafe here," Ridolfi-Starr told The Huffington Post.
Columbia spokeswoman Victoria Benitez told HuffPost, "We believe every student and every member of the Columbia community should be safe and feel respected, and the University is committed to sustaining the effort needed to achieve this goal." She added that guarding student privacy prevented further disclosures. "These matters are extremely sensitive, and because we do not want to deter survivors from reporting them, as well as for considerations related to student privacy laws, the University does not comment on individual student's cases," her statement said.
Rosie said that when she reported her assault to administrators in February 2009, she was made to feel they didn't believe her. As she described the attack to two deans during a meeting, one blurted out, "Huh, what? Sorry, I wasn't listening," she said.
Rosie said the school made no accommodation to help her cope. When she emailed administrators in June 2010 about trouble she was having in class, she got a sudden reply placing her on medical leave without appeal, according to copies of the correspondence shown to HuffPost. She wasn't allowed to take another class until January 2011, and said she was later pushed into a second medical leave barring her from classes in summer 2013. She was warned of possible expulsion for trouble with classwork as recently as this year, her complaint says.
Some professors tried to help, Rosie said, but others made things worse. One instructor in a writing class, she recalled, accused her of using her assault as a "ploy" to "add interest" to her assignments.
"This isn't just an administrative issue, it's an issue at all levels of the university," Rosie said. "We're doing something wrong and we need to fix it."
Columbia's handling of sexual assault remains in the spotlight. Another woman who has filed a complaint against the school, Emma Sulkowicz, has been protesting by carrying a mattress around campus until her reported rapist is removed. Rosie was one of 50 assault survivors who spoke last week at a campus demonstration supporting Sulkowicz.
The growing number of people joining the Education Department complaint has likely delayed the federal decision whether to investigate. In making the decision, the Education Department's Office for Civil Rights must consider each allegation, determining whether it has the legal authority to investigate and whether the university has addressed the issue.
Ridolfi-Starr said the federal indecision leaves students in limbo.
"We can't be waiting a year for the federal government to be able to determine that our rights have been violated, and we are unsafe at this moment," Ridolfi-Starr said. "We don't have a year."
Ridolfi-Starr said campus activism has drawn out more survivors, including some with complex cases. In one involving domestic violence, for example, the university allegedly disciplined a woman for fighting back in a hallway, while the male escaped sanctions and graduated, Ridolfi-Starr said.
"He dragged her by her hair into the hallway and was beating her there," Ridolfi-Starr said. "How did they find her responsible? I don't know how those people came to that assessment. I can't fathom it."
Rosie said the campus still lacks support for survivors of all gender identities.
"Sexual assault is something that no college wants on their doorstep," Rosie said. She said "there isn't a unified effort between all of the departments at Columbia to address such a serious matter that is clearly happening frequently."
This story has been updated to include comments from Columbia.
Related
Before You Go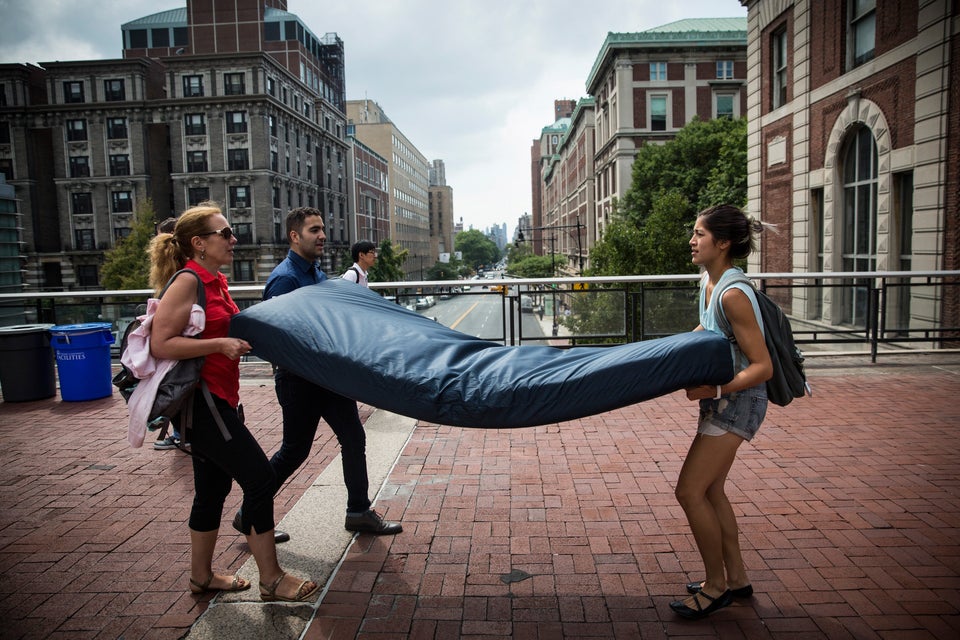 Columbia University Student Emma Sulkowicz And Her Mattress
Popular in the Community