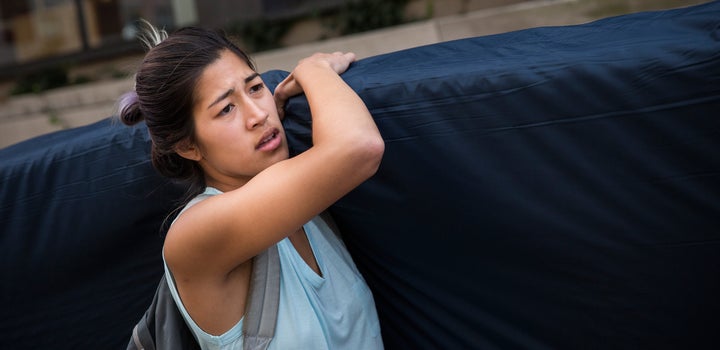 Columbia University has settled a lawsuit with former student Paul Nungesser.
In 2015, Nungesser filed a lawsuit against Columbia, claiming that the university supported an "outrageous display of harassment and defamation" after fellow student Emma Sulkowicz held protests around campus where people openly called him a rapist. The suit was dismissed twice before Columbia and Nungesser reached a settlement on July 13.
"Rape can happen anywhere," Sulkowicz said at the time. "For me, I was raped in my own dorm bed. Since then, it has basically become fraught for me, and I feel like I've carried the weight of what happened there with me everywhere since then."
"Columbia recognizes that after the conclusion of the investigation, Paul's remaining time at Columbia became very difficult for him and not what Columbia would want any of its students to experience," the statement reads. "Columbia will continue to review and update its policies toward ensuring that every student ― accuser and accused, including those like Paul who are found not responsible ― is treated respectfully and as a full member of the Columbia."
Nungesser's attorney, Andrew Miltenberg, issued a statement after the news of the settlement broke.
"Together with Paul and his parents, we have fought for three long years for a statement like the one Columbia released today," Miltenberg said, according to BuzzFeed. "It gives Paul a chance to go on with his life and recover from the false accusation against him. We hope that the resolution of the case also ensures that no student will ever have to endure what Paul went through after he was exonerated."
Sulkowicz has not commented on the news and is currently pursuing a graduate degree in studio art at the Whitney Museum of American Art's Independent Study Program.
The 24-year-old has created multiple performance art pieces since she graduated Columbia in 2015, including her first solo exhibition titled "Self Portrait: Performance With Object." The exhibition featured her standing on a podium and answering questions with a robot called "Emmatron." The performance was inspired when she was inundated with interviews (including The New York Times and New York Magazine) during her experience with "Carry That Weight." Her second performance piece, titled "The Healing Touch Integral Wellness Center," ran for two weeks at the Philadelphia Contemporary gallery in January.
Popular in the Community