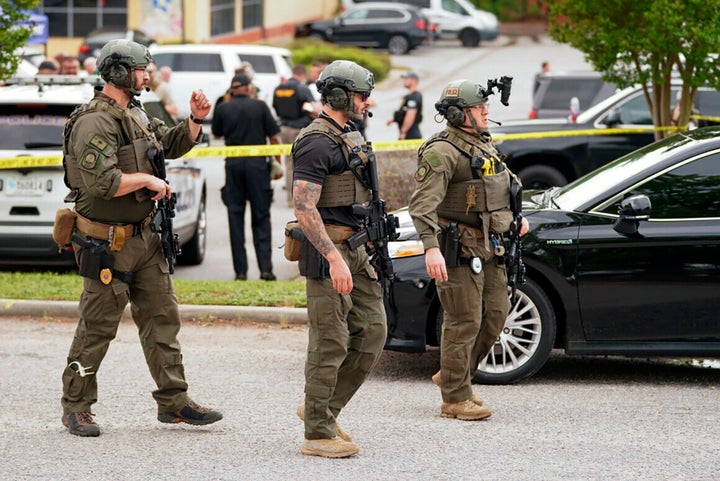 A suspect has been arrested in connection with a Saturday afternoon shooting that wounded 14 people at a mall in Columbia, South Carolina.
Jewayne M. Price, 22, was taken into custody and is expected to be charged with unlawful carrying of a pistol, while additional charges may be filed, Columbia Police Chief W.H. "Skip" Holbrook said late Saturday.
At least two other unidentified people who were seen with firearms at Columbiana Centre mall during the incident remain sought by police. Two males whom authorities had initially detained for questioning were released from custody after it was determined that they were not involved in the shooting, authorities said.
"After speaking with witnesses and reviewing surveillance video, CPD investigators believe that at least three suspects displayed firearms inside the mall," the police department said in a statement.
Authorities believe the shooting was an isolated incident between the suspects, likely stemming from an ongoing conflict. One firearm related to the incident has been recovered, though ballistic evidence taken from the scene indicates at least two different firearms were used by two people.
Of the 14 victims, ranging in age from 15 to 73, nine of them were shot and five suffered injuries including broken bones, cuts and a head injury while attempting to flee. Authorities had previously reported 10 shooting victims. All of the victims except the 73-year-old female had been released from a local hospital as of late Saturday night.
The incident began around 2 p.m. near a Gap store. A "hodgepodge of law enforcement" responded to the mall after emergency responders started receiving reports of a mass shooting, Holbrook said at an earlier press conference.
The scene was still under active investigation as of 5 p.m. Saturday as law enforcement worked to clear the entire mall, escorting people still sheltering inside to safety.
The Columbiana mall had been hosting photos with an Easter bunny for families on Saturday, the last day before the holiday.
Multiple people told the Charlotte News & Observer that they heard sounds they thought were raindrops hitting the roof before realizing it was gunfire. Some retail workers responded by swiftly locking up their stores and escaping through emergency exits with shoppers.
Popular in the Community