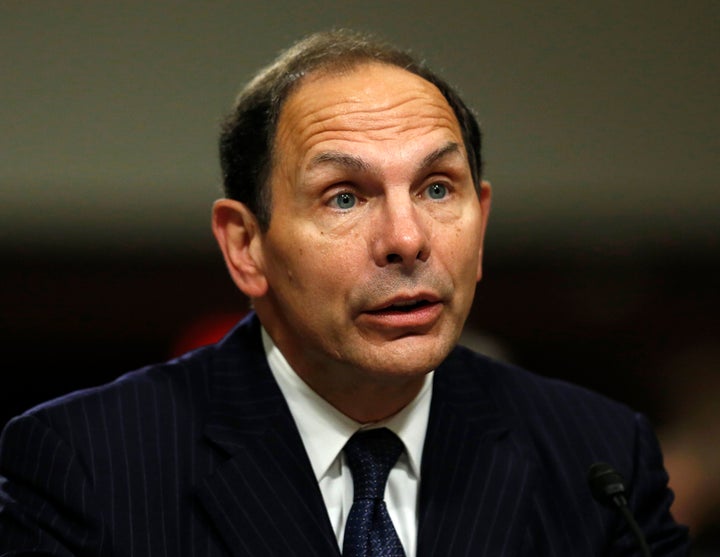 WASHINGTON -- It's been seven months since top officials at the Department of Veterans Affairs learned that tens of thousands of combat vets were being denied VA health care enrollment because of a computer system error. Not much has changed.
The Huffington Post first reported in August that more than 35,000 combat vets were missing out on health care because their applications had been mistakenly flagged as pending, simply because they didn't complete a so-called means test, which assesses their household income. Many vets have to submit a means test to enroll in VA health care, but not combat vets, who are automatically eligible for free insurance for five years after they're discharged.
The problem is that the VA computer system isn't set up to exempt combat vets from the means test requirement. So when a combat vet applies for VA care, unless he or she voluntarily fills out a means test, the application may end up in a backlog. Combat vets lose their eligibility for free health care after five years, so the longer the delay, the more it eats into their free coverage.
VA management says they first learned about the computer glitch in April. But there are signs that some at the agency were aware of it as far back as 2012. In a "report of accomplishments" from the VA's Chief Business Office sent out in the third quarter of that year, officials boasted of enrolling 10,163 combat vets who had been mistakenly listed as pending (see page 6).
All of the combat vets in a pending status served in Iraq or Afghanistan, and nearly half have been listed as pending for more than five years. The number is now at 29,000, and it hasn't changed since September.
VA spokeswoman Walinda West disputed the idea that senior officials could be moving faster to fix the problem. She said the agency conducted an initial review in August and, after reaching out through phone calls and letters, it was able to enroll 8,578 of these vets.
"VA is continuing to research Combat Veterans with expired eligibility in order to ensure appropriate remedies," West said in a statement.
But the problem runs far deeper, according to Scott Davis, a program specialist at the VA's Health Eligibility Center in Atlanta and a past whistleblower on VA mismanagement.
Davis said VA officials are intentionally slow-walking the process because enrolling all of the combat vets at once would force them to admit they made a huge mistake. More significantly, it could expose the agency as liable for compensating thousands of vets and their families for health care costs that should have been covered, had those vets been enrolled when they first applied.
"They're choosing to take the slowest route that's going to have the least amount of results," Davis said. "Any other time, they would have just enrolled them." 
The VA does seem to have the ability to quickly enroll large numbers of veterans in health coverage when there's been a mistake.
In 2013, the agency processed more than 11,000 health care applications that had been overlooked for months, according to a damning VA Office of Inspector General report released this summer. And in January, VA officials reviewed pending applications for 173,000 vets and found that nearly 18,000 of them should have been enrolled, according to an internal VA document obtained by The Huffington Post. All 18,000 were enrolled by April.
Rep. Jeff Miller (R-Fla.), the chairman of the House Veterans Affairs Committee, is among those wondering what the problem is. In August, he asked VA Secretary Robert McDonald for details on all combat vets listed as pending, including their names, contact information and a list of those who may have died.
He never heard back. So he wrote to McDonald again last week.
"Please provide the Committee with VA's plan for resolving these issues," wrote Miller. "Please be advised that neither a briefing nor an 'in-camera' review will be acceptable for this request."
The VA's current response strategy -- calling and sending letters to each pending combat vet, asking them to submit new information -- doesn't seem to be cutting it, particularly since the computer system is continuing to make the same errors. Case in point: During the same period this summer that VA officials enrolled the 8,578 combat vets, more than 2,000 additional combat vets were entered into the system as pending, according to Davis. 
He also noted that of the 8,578 combat vets the VA did enroll over the summer, 3,000 of them weren't enrolled as part of the phone and letter outreach campaign. They were directly enrolled into the system by staff at VA hospitals.
"That's 3,000 reasons we should be able to enroll all 29,000 of the veterans now," he said.
Davis says the easiest thing to do would be to collect the Social Security numbers of combat vets listed as pending and direct the computer system to enroll all of them immediately. He said McDonald has the authority to issue that order, and arguably a responsibility to do so given that combat vets have been legally entitled to special health care eligibility status since January 2008.
The computer system also needs to be fixed, obviously. A VA official put in a so-called "change request" in July directing their tech team to create a computer script to "automatically complete a means test" for all pending combat vets, but that hasn't happened.
West says McDonald doesn't have the authority to automatically enroll vets in health care. She wouldn't clarify, though, whether he specifically has the authority to direct the tech team to fix the computer system error, thereby clearing the path for combat vets to be enrolled.
"We are taking steps to contact and/or enroll combat veterans in pending status as quickly as possible to ensure all appropriate action is taken and resolved to the satisfaction of those Veterans for whom we are honored to serve," West said. "We sincerely apologize for the inconvenience that this issue may have caused our Veterans. We are working to get this right."
McDonald gave out his phone number at a Politico event in August, in response to a question from The Huffington Post about pending combat vets, and encouraged a personal call.
"I like to deal with specifics and not generalities," McDonald said at the time. "Customer service is about one-on-one care. ... You have my phone number."
The Huffington Post called McDonald in August and again last week to discuss the backlog. He didn't respond either time.
This post has been updated to include more details on enrollment efforts over the summer.
PHOTO GALLERY
Bryan Adams' Stunning Vet Photo Series
Calling all HuffPost superfans!
Sign up for membership to become a founding member and help shape HuffPost's next chapter