It's mixed martial arts with a distinct cultural nuance. It's combat sports, funneled through the idiosyncratic lens of Latino entertainment television. It's Combate Americas, and starting April 18, the nascent MMA promotion is going live on NBC Universo for its '30 Fights in 30 Days' campaign.
Launched in 2014, Combate Americas was founded by Campbell McLaren, a co-creator of the UFC, on the specific principle of discovering and fostering young and promising mixed martial artists from the Spanish-speaking Americas. Two years later, after several starts, re-starts, and network regime changes, the fledgling promotion is kicking off its 2016 calendar with a Monday-night fight series that runs through May 9.
"Combate is MMA with a Spanish flavor ... we've always said we're presenting a thoroughly authentic Hispanic product, and we stuck to that," explains McLaren. "I think there's just not a general regard for Hispanic fighters in MMA ... they shouldn't have any trouble entering into the mainstream MMA business, but yet they seem to."
One of those fighters is Erick Sanchez, who will headline Combate America's April 18 event at Exchange LA, a nightclub in downtown Los Angeles. The fight card will air live on both NBC Universo, in Spanish, and on the UFC's Fight Pass streaming service, in English.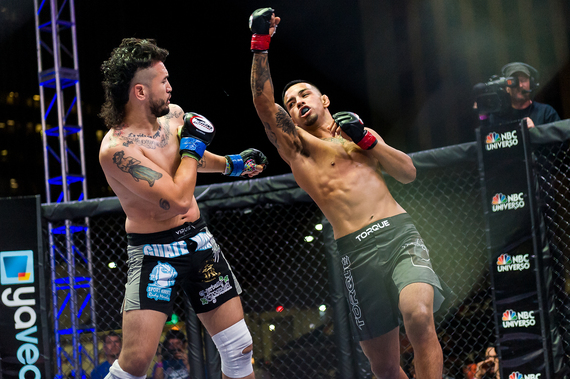 A promising featherweight, originally from León, Guanajuato, 240 miles from Mexico City, Sanchez, 25, moved to California when he was just five years old. And after relocating with his family from Fresno to Sacramento, Sanchez took up Brazilian jiu jitsu at a local gym, where he caught the attention of UFC bantamweight contender Urijah Faber.
"Erick Sanchez is what mixed martial arts is all about," comments Faber. "I recruited him out of a regular jiu jitsu class when he was 19 years old and ... he's been tremendous ... the sky's the limit for that guy and I'm excited to see him do his thing."
In Sanchez, Faber quickly recognized a talent for MMA. And under the guidance of Team Alpha Male, widely considered the premiere camp for fighters below 155 pounds, Sanchez has thrived, ammassing a 6-2 professional record, including a win inside la jaula, the official moniker for Combate's circular fighting surface and cage.
A regular training partner of top featherweights Chad Mendes, Andre Fili, and Lance Palmer, Sanchez has all the credentials and makings of a top tier mixed martial artist; his association with Team Alpha Male, a trusted camp that regularly sends prospects to the biggest shows, should, in theory, also create a clear-cut path to the UFC. But when the call came from Combate Americas, Sanchez was quick to sign.
"I feel like Combate ... reaching out to the Hispanic community, it's smart business wise," offers Sanchez. "I feel like there's not a lot of Hispanic or Latin viewers ... because there's not a lot of [Hispanic] fighters ... so I want to be part of that, I want to be part of that growth."
Sanchez's sentiments about fighting for a uniquely Latino audience are echoed by Combate's April 25 headliner John Castaneda, a first-generation American from Minnesota, born to immigrant parents from Mexico.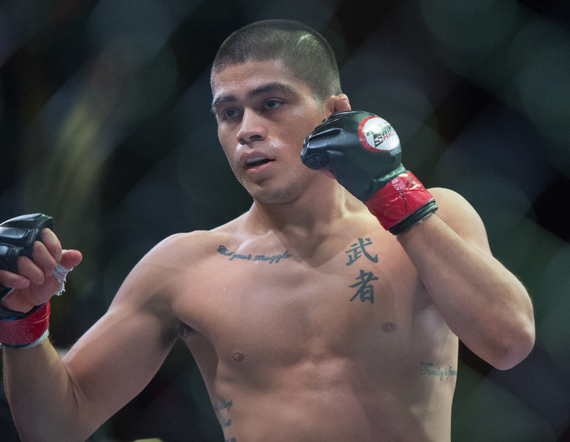 Known professionally as the "Sexy Mexy," Castaneda, 24, has already recorded two wins inside la jaula, using a refined skillset that includes wrestling, boxing, grappling, and striking. The highly touted bantamweight is 9-2 overall in MMA competition.
"It's representing Latinos and targeting the Latino community, and it's showcasing us to the Latino community, which is, in a sense, trying to build a good fan base with our own people," offers Castaneda, who opted for a career as a professional fighter, despite his dual degrees in criminal law and Spanish language. "I personally take a lot of pride fighting for this company ... it's making some huge strides in the MMA community."
The April 25 card will mark the second main event for Castaneda under the Combate Americas banner. Joining him on the card will be Kyra Batara, who has quickly become Combate's "it" girl.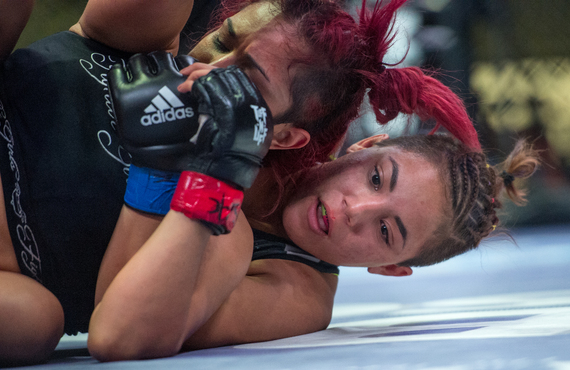 A grappling specialist who fights out of Las Vegas, Nevada, Batara, 21, was not among Combate Americas' initial signings. Formerly linked to women's MMA promotion Invicta FC, Batara, who is half Mexican and half Filipina, originally had her sights set on Singapore-based ONE Championship, as her 105-pound, atomweight class is not offered by many promotions. But when a short-notice offer materialized in September 2015, Batara capitalized on the opportunity to fight on live television. She has since gone 2-0 inside la jaula.
"I wasn't supposed to be one of their fighters. I came in on 10 days notice," states Batara. "But then when I got approached by Combate ... I [felt] like this is the organization I have to fight for ... I just want to be the best, I want to go against the best in the world."
Combate Americas and NBC Universo are already positioning Batara as a star, aggressively marketing her in commercials. McLaren is hoping the vibrant athlete, whose signature buzz cut and toothy smile are indeed infectious, will catch on with viewers despite her lack of Spanish fluency. And while McLaren is honest about his eventual hopes for Batara to become Combate's very own Ronda Rousey - a female mega star that can transcend sports, entertainment, and popular culture - he understands it will take some "time and more seasoning."
Batara, along with Castaneda and Sanchez, are all a part of Combate America's "Road to the Championship," the promotion's second incarnation after its original television partner Mundo was rebranded in 2015 as NBC Universo to concentrate on more sports and entertainment properties. But before any of these athletes signed with Combate, bantamweight Ricky "El Gallero" Palacios was already a mainstay with the promotion.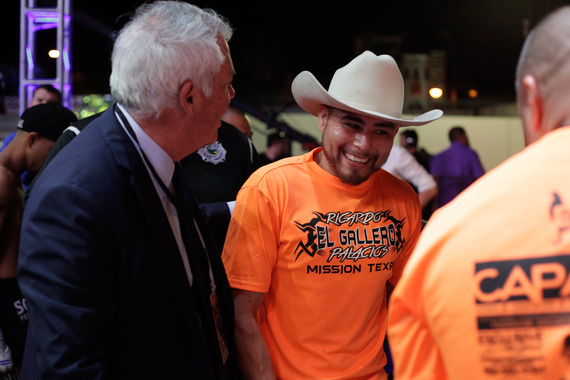 Set to headline the May 9 card, Palacios, 28, first appeared under the Combate America's banner in 2014 as a contestant on the promotion's short-lived reality competition program. And despite finishing in last place on the TV show, which was not solely comprised of fighting competitions, Palacios, a "perennial underdog" as McLaren describes him, became the only fighter to survive the cut after the network rebranded.
"People stereotype us as construction workers and we work in the fields, but we work with every opportunity that we have," offers Palacios, who sports his signature Mexican "kicker," a white, hard-shelled Cowboy hat. "Combate gives us more opportunities to show the stuff we got ... instead of being one of three or four hundred fighters, and not get known, we're actually the front page of this company."
Hailing from Mission, Texas, Palacios is a former regional, amateur MMA champion. And while he popped up on the Combate Americas radar shortly after going professional, Palacios would likely still be fighting on the regional circuit if not for Combate, partially due to his geographical origins, away from MMA hot spots like Las Vegas, Florida, and California.
Now, after three wins inside la jaula, Palacios is just one win away from a shot at the Combate Americas championship belt.
"This is a very rich territory that others aren't looking at ... what we're doing that nobody else is doing is we're looking in other areas that other's aren't," comments McLaren. "We're going after the best new Hispanic fighters ... we think we have some real potential stars here."
With their roster of talent set for the upcoming fight series, McLaren and Combate are constantly scouring Latin America for new prospects, placing an emphasis on young fighters. And while the competition side of the promotion will predominantly feature Latino fighters, there is also an entertainment portion to the program, loaded with big names.
Enlisting a host of celebrities to endorse Combate Americas, names like Daddy Yankee and Chino Y Nacho, a Grammy-winning duo from Venezuela, McLaren is banking on a synergy between pop culture and sport. The narrative runs all the way into the NBC Universo broadcast booth, where popular television host Andrea Calle will call the action.
"It's an important promotion because it's targeting a very specific group that is just starting to grow and it has so much potential," explains Calle, who occasionally works alongside WWE star Rey Mysterio and Konnan, known as the "Mexican Hulk Hogan." "Latinos love boxing. We've been boxing fans forever, and most of us love MMA, so I think it's just the beginning of amazing things for Latinos in the MMA community."
Combate Americas airs live on NBC Universo April 18, April 25, May 2, and May 9.
Popular in the Community