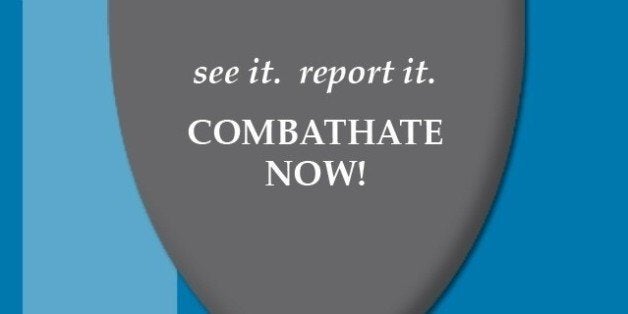 (RNS) Students advocating for a Palestinian state scream "baby killer" and hit a Temple University Jewish student in the face.
Members of a Jewish fraternity at the University of Oregon awake to find swastikas painted on 11 Jewish students' mailboxes.
Fliers at the University of California, Santa Barbara, declare that "9/11 Was an Outside Job," with a large blue Star of David.
These are a few of the rising number of anti-Semitic and anti-Israel incidents at colleges and universities in recent years, according to watch groups that track these trends.
Now the Simon Wiesenthal Center, one of the nation's pre-eminent organizations fighting anti-Semitism and bigotry, has developed a "CombatHateU" app to deal with the problem.
"CombatHateU," which the Wiesenthal Center recently released with Alpha Epsilon Pi, the nation's largest Jewish fraternity, allows students to report an incident in the time it takes to text to a friend. The goal is to connect campus authorities, law enforcement and counselors with victims.
"We hope students download it, and we hope they never have to use it," said Rabbi Abraham Cooper, associate dean of the Wiesenthal Center.
The app "is someplace to go" for students who often don't know what to do in the aftermath of an anti-Semitic incident, whether it's verbal, graffiti or a physical assault, said Jon Pierce, spokesman and past president of AEPi. Although young people might not immediately think to call the Simon Wiesenthal Center, college administrators or the police, the app will be right there on their phones, he said.
With the war in Gaza last summer and the rise of the Boycott, Divestment and Sanctions movement, which aims to pressure Israel to leave Palestinian land in the West Bank, came a spike in anti-Israel protests on campuses. Too often, Cooper said, BDS protesters question the right of Israel to exist, hurl anti-Semitic slurs and physically assault Jewish students.
As one University of Maryland student describes in a video produced by AEPi on the subject, anti-Israel protesters have covered campus bathrooms with graffiti and shouted at Jewish students: "Go back to Palestine, you f***in' Jews."
Cooper and Pierce said the app is not designed to go after peaceful protesters of Israeli policy, but to flag violent or incendiary speech. "We're not the thought police about the Middle East," Cooper said.
To use the app, a student taps the shield in the center of the screen. Questions pop up, asking "when it happened" and "where it happened" and whether faculty, the campus administration, campus police and the media have been alerted. The app also wants to know if Hillel, the largest campus Jewish organization, or other groups have been contacted. A student then hits the "report it" button, and the details are sent to the Wiesenthal Center for evaluation.
In the weeks since the app was first offered, the Wiesenthal Center has confirmed hundreds of downloads, and a half-dozen legitimate reports.
"Most are graffiti-related. All but one have been off campus property near AEPi houses, and a couple have been very serious in that they are swastikas carved into or painted on vehicles," said Cooper.
Students at the City University of New York, Ohio State, Yale and the University of Pennsylvania are among those who have filed reports with the app, he said.
CombatHateU is modeled after a high school version of the app released earlier this year called "CombatHate," which was also developed by the Wiesenthal Center. Both apps are free and available for iOS and Android.
Jewish groups are not the only ones using technology to counter hate speech.
After the disputed 2007 Kenyan election, in which more than 1,000 people died in ethnic violence, a group of Kenyan software engineers and bloggers developed an Internet platform that allows instant sharing of violent incidents through Facebook, Twitter and other websites to help communities protect themselves. Its developers called the platform Ushahidi — Swahili for "testimony."
It has since been adapted for use in other regions.
Support HuffPost
The Stakes Have Never Been Higher
Related
Popular in the Community