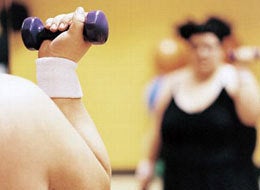 We're fat and it's killing us, according to the American Cancer Society. Yet every cloud has a silver lining. Case in point: experts suggest that the rising rate of obesity will translate into shorter life spans, which in turn will keep the Social Security system solvent. But what a price to pay!
Dr. David S. Ludwig, director of the obesity program at Children's Hospital Boston, states, "There is an unprecedented increase in prevalence of obesity at younger and younger ages without much obvious public health impact. But when they [people] start developing heart attack, stroke, kidney failures, amputations, blindness and ultimately death at younger ages, then that could be a huge effect on life expectancy."
Not all experts agree with his dark prediction. Critics argue that medical advances will offset the rising incidence of Type 2 diabetes, heart disease, kidney failure and cancer, which are striking people at younger and younger ages.
Based on the medical tools we have available today, however, the predictions seem sound. In a study presented to the International Congress on Obesity in Stockholm, researchers found that men who are obese at age 20 died an average of eight years earlier than other men. Medical researcher Esther Zimmermann based this conclusion on the military records of 5,530 Danish men, starting at age 20 and ending at age 80. For 70 percent of the men, the excess weight plagued them throughout their adult years, and they were twice as likely to die in any given year as their slim counterparts. Moreover, few survived to age 80.
Since most people seem unable to lose weight on their own, despite the popularity of dieting and lower-calorie food products, the medicalization of obesity is rapidly occurring. Fueling this development is the growing demand for surgical and chemical solutions. The difficulty with this approach, however, is that the body does what it is intended to do--store surplus calories as fat. Storing fat is a natural process, unlike an illness, tumor growth or liver failure. Any medical solution must make the body work in a way that was never intended, hence the difficulty in engineering a safe and reliable medical solution.
Moreover, even though individual weight loss transformations have been popularized by "The Biggest Loser" television program, changing one's lifestyle by adding exercise and removing surplus calories is too difficult for many.
Yet some individuals do succeed.
My nephew, Leif, beat the odds. Leif was overweight growing up, and after high school graduation he packed even more bulk on his five-foot-ten frame. His weight approached 300 pounds. Leif finally decided to lose weight and started walking, then running. He didn't have surgery; instead, he eliminated carbonated beverages and began drinking water and eating fruits, vegetables and lean meats. He completed army basic training in 2008, and today he weighs under 180 pounds.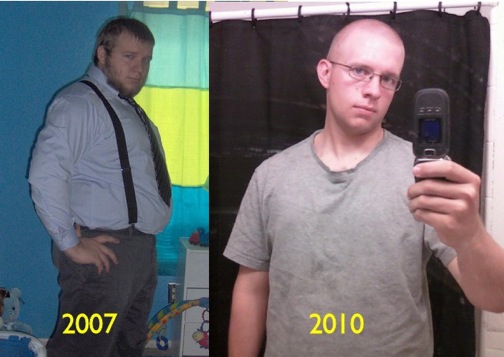 Photo courtesy of Leif Briddle
Leif improved his odds of living to 80 by electing--at a young age--to make healthful lifestyle changes. He is also an exception in terms of overall population trends.
The Centers for Disease Control and Prevention report 30 percent of the residents of nine states are now obese. Ten years ago, no state reported this level of obesity among residents. Among children, the rate of childhood obesity has tripled in the past three decades.
Certainly, the rising incidence of obesity argues for intervention at the community level. We can't simply stand by and hope for spontaneous transformations like Leif's. We need tools and programs with proven results and the resources to implement them. Employing role models and mentors is proving to be an effective strategy. Another increasingly popular tool is group weight-loss programs implemented in local communities and through online coaching.
Eight years ago, our small northern California community pioneered a group weight loss event, the Nevada County Meltdown, where over a thousand people lost nearly four tons in eight weeks. (You can watch the video here.) Even more impressive, however, is what happened since.
As a result of increased awareness, education, programs and leadership, our community has lowered the incidence of children at risk for obesity from 33 percent, the national average according to the American Heart Association, to 15 percent. Beyond our borders, dozens of on-the-ground community-based group weight-loss events, similar to the Nevada County Meltdown, are occurring daily across the country.
In addition, dozens of virtual communities have been created to offer free weight loss support for members. SparkPeople.com is one of the most popular, and I coach the AARP Fat 2 Fit online community, whose membership has quickly grown to 17,000. The Fat 2 Fit community is free (membership in AARP is not required) and welcomes all ages.
Further evidence that we are finally tackling the issue of obesity at the community level is the creation of First Lady Michelle Obama's highly visible Childhood Obesity Task Force.
The agenda of the task force is far-reaching: provide better prenatal medical care; introduce more nutritious school lunches; offer healthier children's menus at restaurants; reduce junk food marketing to children; increase physical exercise during school hours; replace food deserts in inner cities with food oases, where fresh, affordable and nutritious food is accessible; and expand public health information on key issues, such as drinking water instead of sugared soda.
To succeed in reversing the trend of increasing obesity, we'll need to introduce and use all of these tools and programs as well as many more. We will also need to borrow freely from successful models for changing behavior, such as Alcoholics Anonymous. In explaining why Alcoholics Anonymous works, Brendan Koerner writes, "Psychologists have long known that one of the best ways to change human behavior is to gather people with similar problems into a group, but researchers continue to be surprised by just how powerful this effect is."
The spread of obesity and its massive implications for our nation's health, wealth and security demand a group solution with a powerful effect. Can we harness the power of group genius to address the issue? With so many of us working in creative collaboration in so many venues and across so many disciplines, surely we'll find strategies to restore the likelihood of a long and healthy life for future generations.