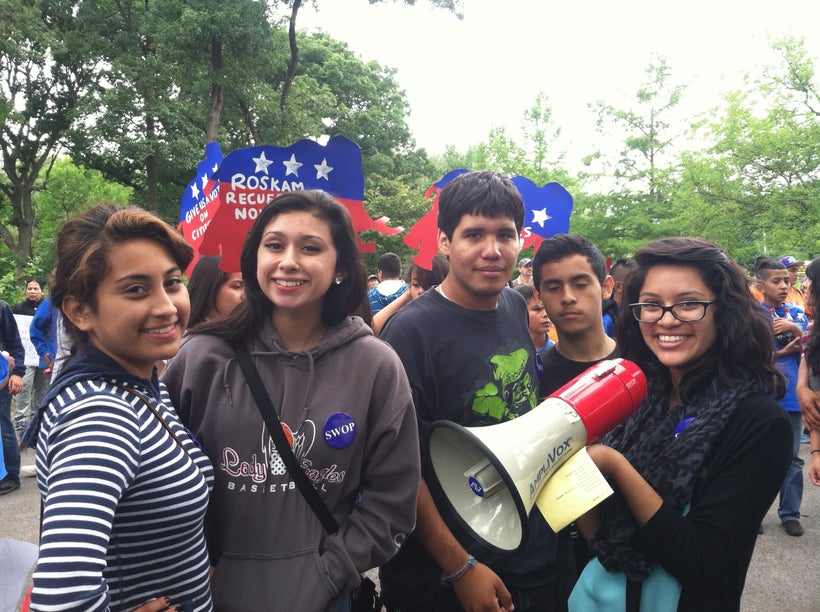 This is the second in a blog series about the teaching of Judy Ellsesser and Cyndy Hykes at South Webster High School, in South Webster, OH. It is based on a conversation with their high school students earlier this year. Read the original blog and listen to the NPR story that followed. Betty Hale, Coordinator of the Institute for Educational Leadership's Appalachian Higher Education Network assisted with this blog.
Learning matters when it is personal and when students have an opportunity to use or share what they are learning and what they know. They want to examine the issues that affect their lives and they want to learn more. My belief in the power of learning that is focused on real issues in young people's lives is being confirmed by juniors in high school and their teachers at South Webster High School in the Bloom-Vernon School District in Appalachian Ohio.
This perspective on learning is broader than today's typical definition of personalized learning – an instructional approach that is optimized to meet the needs of each learner and that uses technology as a key component. This approach is important, but it is not sufficient as a strategy to engage young people and to educate them for jobs and civic life. Ellsesser and Hykes are focusing on the "4 C's of 21st Century Skills": creativity, collaboration, critical thinking, and communication.
The students at South Webster High School are using a problem-focused approach to learn about the opioid crisis in their community. Working with their teachers, they are reading Dreamland, an award winning analysis of the opioid epidemic, following current media, meeting with local officials, exploring policy solutions, and talking with their parents and friends. Equally important, the students are identifying ways they can play a role in addressing the crisis in their community.
The students now have a more sophisticated understanding of the opioid issue as both a national problem and a problem right in their backyard. They know about doctors who overprescribe opioids, in part to help people avoid any pain; they know about the role of "pill mills," and they recognize that opioids have led many people toward heroin or to other drugs that can take its place – the deadly drug fentanyl in many cases.
They have learned about the role of pharmaceutical companies and television advertising, and as their teachers explained, they have learned that no other country advertises drugs the way the U.S. does. They recognize the role of the controversial study of 38 patients in Massachusetts. They now know that there were no double blind studies on the effects of opioids and realize that you have to be careful about data and information and thoughtful about what it means to you.
The students have gained a broader understanding of the nature of this specific addiction and realize that it is not solely about a lack of will power. They understand that most adults think that young people cannot handle the truth about opioids and many other issues, and they must lobby the adults to let them experience the world in which they live.
When asked about their high school experience, students often use terms like "boring" or "not meaningful." When the students at South Webster are asked this question, they talk about what they are learning and its relationship to their lives:
We are not just reading a book to learn about the addiction crisis, we have lived here our whole lives and have seen the addition problem. This class has informed us about an issue and prepared us to think about making changes.
This class is different because the issue is different for us – we have dealt with addiction and now we are learning that it is happening everywhere; we are getting at root of the problem.
Cyndy Hykes, the students' Government teacher, shared a variety of great drug prevention ideas the students have developed. Soccer, basketball, and cross country teams are talking about working with elementary schools in after-school programs already targeted to at-risk students. Some students are planning what they are calling a "big buddies" program to "adopt" an elementary student in the afternoon program (copied from Big Brothers/Big Sisters). They are also talking about hosting book clubs in the library for adults based on Dreamland as a way to educate and engender discussion. Some students want to start a Facebook/social media site dedicated to cataloging resources for teenage addiction problems and to provide messages of hope and to share local success after addiction. Other students want to foster a grassroots campaign to get a rapid response team in the county to serve overdose victims.
As one of the students said, "Students today should see how much they can do and how much of a difference they can make. I'm a high school student and I can make change."
Our society has no shortage of challenging issues that relate to our students' lives and communities and belong in our nation's classrooms. What are the boundaries of free speech? What changes should our cities make to respond to the threat of hurricanes? Why do individuals choose to be first responders? Are there ways to bring people together to limit violence? How is immigration changing our community? And the list goes on….for our schools are ultimately about preparing individuals to actively participate in civic life and our democracy.
Calling all HuffPost superfans!
Sign up for membership to become a founding member and help shape HuffPost's next chapter
This post was published on the now-closed HuffPost Contributor platform. Contributors control their own work and posted freely to our site. If you need to flag this entry as abusive,
send us an email
.