The University of Pennsylvania is renowned (among many other things) for its excellence in research and academics, its passionate student body and its integration of academic life with social and extra-curricular activities. Often underappreciated, however, is the typical Penn student's wardrobe.
Founded in 1740, the University of Pennsylvania exists as one of the oldest universities in America. With approximately 10,000 undergraduate students, half of whom are minorities, the school attracts a largely diverse student population with an equally diverse fashion sense. International students introduce global fashion and culture to the campus, while more local students flavor their wardrobes with glimpses of home-life. Across all spans of students, however, exists the common thread of professionalism and class within a student's wardrobe. While students across all schools and backgrounds contribute to the variety of styles prevalent on campus, the typical Penn student always looks polished and professional.
Penn's valued heritage and tradition also seem to play a large role in fashion at the University of Pennsylvania. Students update classic, preppy looks with their own modern, trendy twists. Either through accessorizing or through an article of clothing's subtle details, a student can update his or her look to render it unique.
While students at the University of Pennsylvania are passionate about their academics, their passions extend far from the classroom and into their extracurricular activities, hobbies and other daily activities. While the wardrobes of many students include professional pieces that can be styled into classroom-appropriate looks, one walk down Penn's scenic Locust Walk will also reveal the wide range of Penn students' interests. While members of Penn's hip-hop dance team might be seen on Locust in urban-inspired streetwear, it would not be shocking to likewise see students in full suits on their way to a business competition on an interview.
This Wharton student perfectly embodies the typical Penn student's form of dress. A chambray shirt layered under his class Ivy sweatshirt adds an unexpected twist to his outfit while maintaining his classic, polished look. This modern twist to his outfit updates its classic appearance and adds a sense of contemporary trendiness to his timeless look. His khakis likewise contribute the perfect touch of casual elegance to his daytime look. A pair of distressed leather combat boots completes the outfit by adding a slight edge to his look while being practical for any Philadelphia winter day.
While the Penn student is passionate about learning, Penn students also value their time off. Penn's prominent social scene allows students to experiment with trendier fashions and more "scene-y" looks. Just as University of Pennsylvania students likewise take pride in their ability to "work hard, play hard," Penn's college students frequently find ways to wear outfits that can easily transition from day to night. This Fashionisto's classic look can be easily taken into the night with the removal of his sweatshirt and a change of shoes.
Even with such a largely diversified student body, fashion at the University of Pennsylvania has the ability to show the commonalities between all of Penn's students. The Penn student's commitment to his or her academics, passions and advancement is clear through the students' wardrobes. Penn fashion is more than what the students wear; it is also who the students are.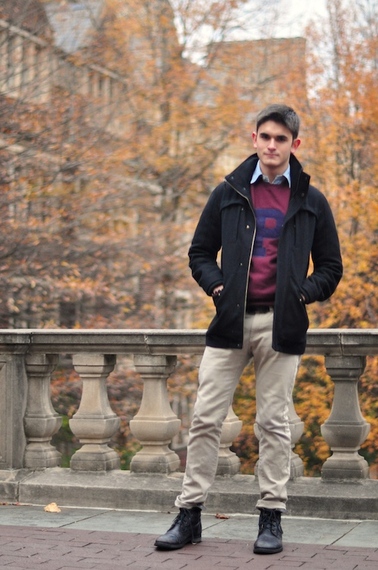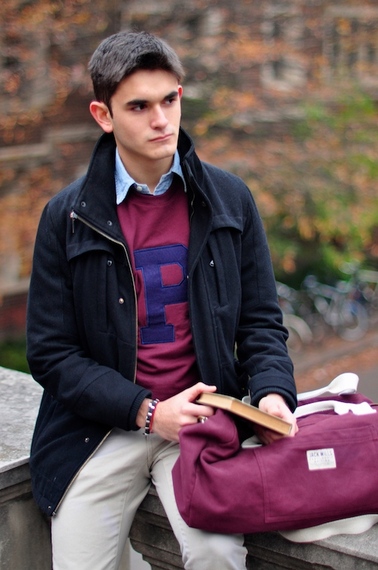 Monika Haebich is a sophomore at the University of Pennsylvania majoring in English and minoring in Fine Arts and Consumer Psychology through the Wharton School of Business. Black coffee powers her through her days, and she spends her time laughing with friends, dreaming of an even larger shoe collection, reading about fashion theory and struggling to resist eating everything salty in the pantry.