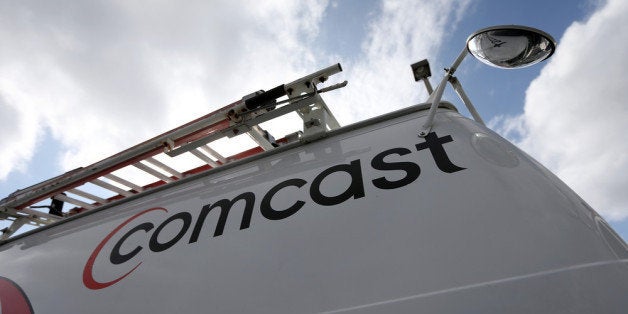 (Changes Time Warner to Time Warner Cable in headline and paragraphs 4, 6, 7)
WASHINGTON, Feb 14 (Reuters) - Comcast Corp will again be working with its longtime antitrust counsel at Davis Polk & Wardwell, as the communications and entertainment group seeks to navigate the U.S. approval process to merge with rival Time Warner Cable Inc.
Comcast has used the New York-based law firm repeatedly for antitrust matters, most notably its successful bid beginning in 2009 to buy a majority of NBC Universal from General Electric Co . A team of Davis Polk lawyers helped win U.S. Justice Department approval for that deal in January 2011.
The two cable giants are proposing a $45.2 billion combination that is likely to face scrutiny from antitrust enforcers because of the deal's potential to reshape pay TV and broadband markets in the United States.
In a news release, the companies said that Comcast's legal advisers were Davis Polk as well as Willkie Farr & Gallagher and that Time Warner Cable's legal advisers were Paul, Weiss, Rifkind, Wharton & Garrison and Skadden, Arps, Slate, Meagher & Flom.
The firms all declined to comment on their roles.
Two of the firms worked with the same clients in at least one past lawsuit. In 2006, the America Channel, a cable network dedicated to telling the personal stories of Americans, sued Comcast and Time Warner Cable alleging that they violated federal antitrust law by refusing to carry the channel.
A U.S. District Court judge in Minnesota dismissed the suit the next year. Davis Polk represented Comcast, while Paul, Weiss represented Time Warner Cable.
Davis Polk has also worked for Comcast in an ongoing antitrust class action in federal court in Philadelphia, where local subscribers have accused the company of running an illegal monopoly. Last year, the U.S. Supreme Court vacated an order for class certification and sent the case back to U.S. District Court, where a new motion for certification is pending.
Arthur Burke, a partner at Davis Polk in New York, has most often been involved in Comcast's antitrust cases, including the 2011 settlement with the Justice Department over NBC Universal. He did not respond to a request for comment on Thursday.
Another lawyer who worked on the Comcast-NBC deal was Bill Baer, who at the time was a partner at Arnold & Porter representing General Electric, the seller of NBC Universal to Comcast.
Baer is now the assistant attorney general in charge of the Justice Department's Antitrust Division, setting up a potential reunion at the negotiating table if the Justice Department turns out to be the agency that reviews the latest Comcast deal.
The Justice Department shares antitrust review authority with the Federal Trade Commission and the Federal Communications Commission. While the FCC is almost certain to be involved, it was not certain on Thursday which of the other two would be.
Baer listed his involvement in the 2011 settlement as one of his "significant legal activities" in a questionnaire he filled out for the U.S. Senate Judiciary Committee before his confirmation to the Justice Department post. He assumed his office in January 2013.
Lawyers with expertise in conflicts of interests said on Thursday that Baer's work on the Comcast-NBC-GE deal was unlikely to require his disqualification now. His client in the earlier matter was GE, which is not a party to the proposed merger.
Government lawyers are generally prohibited from working on matters that they handled while in private practice.
"The GE work - selling NBC to Comcast - is a different matter than Comcast's acquisition of Time Warner Cable. So I don't see any problem," Stephen Gillers, a law professor at New York University, said in an email.
The Justice Department declined to comment on Baer's role. (Additional reporting by Diane Bartz and Nicola Leske; Editing by Howard Goller and Alden Bentley)
Calling all HuffPost superfans!
Sign up for membership to become a founding member and help shape HuffPost's next chapter