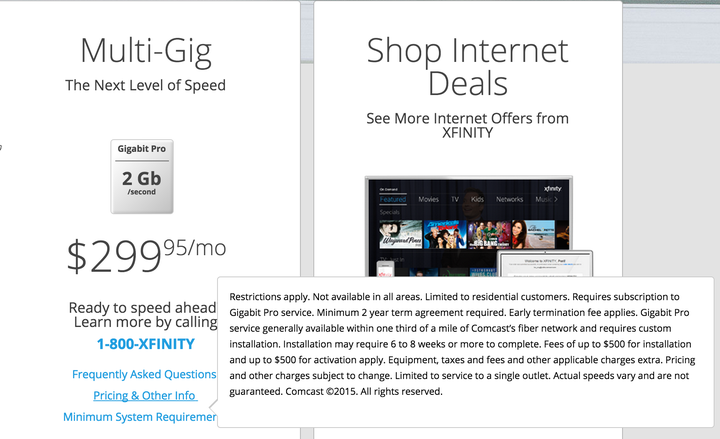 For just for the broadband service, customers will be charged $299.95/month. While Gigabit Pro is twice as fast as Google Fiber's top advertised speed, that price is more than four times the $70/month charge for Google's broadband only service. Even when you get Google Fiber's bundle with TV service, you're only looking at $130/month, less than half the cost of Gigabit Pro alone.
And then there's the install cost. Want Gigabit Pro? Be prepared to pay up to $500 for an installation that may take 6-8 weeks to complete (and that's according to Comcast's estimate, so take it with a huge grain of salt).
But wait! The fine print also says you could also be on the hook for fees of "up to $500 for activation," bringing the total to $1,000 before you've even checked your e-mail on your super-fast connection. Google waives its construction fees for customers signing up for commitments of one year, half the required time to get the Comcast pricing.
And then there's a few final kicks in the butt from Comcast: "Equipment, taxes and fees and other applicable charges extra." For $299.95/month, the least Comcast could do is not nickel-and-dime you further for equipment fees.
As DSLreports.com notes, canceling your Gigabit Pro service would hit you for an early termination fee that could be in the thousands of dollars.
Calling all HuffPost superfans!
Sign up for membership to become a founding member and help shape HuffPost's next chapter