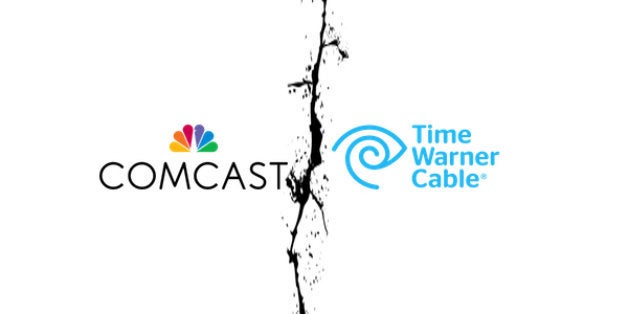 Comcast said Friday that its controversial deal to merge with Time Warner Cable was dead after regulators came out against it.
But as the cable industry continues to consolidate, don't expect the nation's two biggest cable and broadband providers to stop making deals.
Philadelphia-based Comcast may start by buying up smaller companies with a focus on content.
"They'll probably avoid any U.S. acquisitions in cable distribution," Mike McCormack, managing director of the investment bank Jefferies, told The Huffington Post on Friday. "It'll probably be more on the content side than the cable plan."
Last year, the company gained a grip on in-home video streaming with the acquisitions of two tech firms, PowerCloud Systems and Freewheel Media.
On Thursday, Fortune reported that Comcast recently held acquisition talks with Vox Media, the publisher of digital magazines Vox, The Verge and Polygon. The deal fell apart last month. Still, Comcast Ventures remains one of Vox's chief investors. Vox Media did not immediately respond to an email requesting comment on Friday morning.
In March, Comcast set up a new $4.1 billion investment venture that could be used to gain an even stronger foothold in the digital media market.
Comcast may also look to invest in content companies abroad, McCormack said.
"They've got their eyes on the international side," he said. "And on the international side, the interest is more in content because they don't want to run a cable plan in another country."
Comcast declined to comment.
For Time Warner Cable, the goal may still be to sell.
Before Comcast made its $45.2 billion offer last year, Time Warner Cable was in talks to merge with Charter Communications, the country's fourth-largest cable provider. But it was outbid by the industry's goliath.
Last month, Liberty Media CEO Greg Maffei said "there'd be a ton of reasons" for Charter to pursue Time Warner Cable if the Comcast deal crumbled. Considering Liberty is Charter's dominant shareholder, that's a strong endorsement.
"There's a very high likelihood that there will be an acquisition by Charter," McCormack told HuffPost.
Combined, Charter and Time Warner Cable would have 15 million video customers and 16.5 million Internet subscribers, according to the Associated Press. That's still dwarfed by Comcast, which alone has 22.4 million video subscribers and 22 million Internet customers.
Neither Time Warner Cable nor Charter immediately returned calls for comment.
The mega-merger of Comcast and Time Warner Cable collapsed this week after the Federal Communications Commission joined the Department of Justice in opposing the deal, which they argued would hurt consumers and stifle competition.
Calling all HuffPost superfans!
Sign up for membership to become a founding member and help shape HuffPost's next chapter