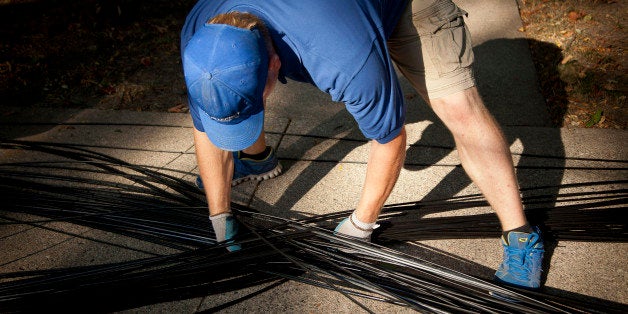 When Comcast announced its planned $45 billion merger with Time Warner Cable Thursday, the company cited the emergence of a new competitor as one reason that regulators should approve the deal: Google.
But some are questioning whether Google's new ultra-fast Internet service, Google Fiber, presents enough of a challenge to justify dramatically increasing Comcast's market power.
In a blog post, Comcast Executive Vice President David L. Cohen cited Google's new role as an Internet provider as one reason why Comcast could not become too dominant. "Comcast believes that there can be no justification for denying the company the additional scale that will help it compete more effectively," Cohen wrote.

Yet Google has only announced plans to introduce its fiber-optic broadband service in a small handful of cities, including Kansas City and Austin. While Comcast and Time Warner Cable own about a third of the broadband market, Google is projected to hold 2 percent market share by next year.
"Google doesn't have the resources -- staffing as well as money -- to do more than 5 percent of the country for years," Dave Burstein, editor of the telecom industry publication DSL Prime, told The Huffington Post. Building a network of fiber-optic cables to deliver broadband to tens of millions of customers nationwide "takes a long time."
"So while [cable companies] are very aware of Google, it's not much real competition," he said.
Karl Bode, a telecom industry analyst and editor of the blog Broadband Reports, added it was "very unlikely at this pace that Google Fiber will ever see any real national scale."
"In other words," he told HuffPost, "Comcast's falsely claiming that Google Fiber will keep them competitively honest, when the cable company knows full well they'll hardly ever run up against them in direct competition."
When seeking regulators' approval for a merger, telecom companies often claim that healthy market competition exists. Consumer advocates often counter that most people have just one or two choices for Internet service, creating little incentive for their providers to offer them cheaper, faster speeds.
The question of whether Google can compete and force those companies to boost speeds and slash prices comes as consumers demand faster service to stream Internet video, and studies show that many Americans pay more for slower broadband connections than residents of other countries.
Customers who subscribe to Google's one-gigabit-per-second web connection -- which costs $70 a month and is up to 100 times faster than what many Americans receive -- no longer wait for videos to buffer or websites to load and can share large files instantaneously, according to the company.
While Comcast cited Google Fiber as an example of how the current broadband market is competitive, Comcast and Time Warner Cable executives have appeared to dismiss Google's service in past statements, arguing there was not enough consumer demand for Internet at such lightning-fast speeds.
Yet in some cities, Google has appeared to pressure Internet providers into improving their offerings.
For example, not long after Google began offering its service in Kansas City in 2012, Time Warner Cable lowered prices and boosted Internet speeds in that city. And shortly after Google said it would enter the Austin market last year, AT&T announced plans to build its own one-gigabit-per-second network in that city to match.
Google, however, has remained quiet about whether it plans to expand to other cities. On Thursday, some consumers reacted to the news that Comcast and Time Warner Cable plan to merge with a plea for the search giant to come to their town.
As one Twitter user wrote on Thursday, "so now that my terrible Cable Provider/ISP has been bought by another pretty bad Cable Provider/ISP… where's my Google Fiber?"
Popular in the Community