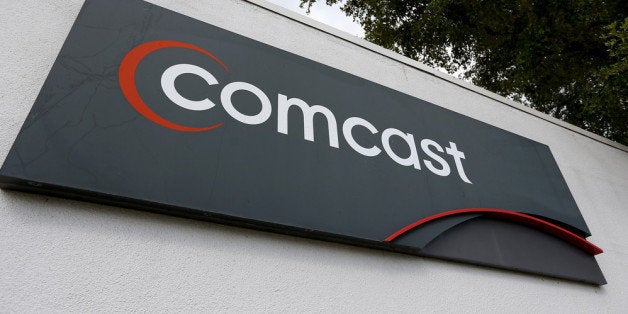 Over the last several years, the two telecom giants have also contributed millions of dollars to "honor" members of Congress and congressional caucuses. The biggest recipients of this money have been nonprofits linked to minority lawmakers, traditionally some of the most progressive members of Congress.
Disclosure of so-called honorary contributions -- ostensibly philanthropic gifts that go to organizations tied to congressional lawmakers or events designed to honor politicians -- became mandatory starting in 2008. In the years since, Comcast and Time Warner Cable have directed more than $3.7 million to celebrate lawmakers. Nonprofits affiliated with the Congressional Black Caucus, the Congressional Hispanic Caucus and the Congressional Asian Pacific American Caucus have benefited the most.
Now Congress is jumping into the debate over the planned Comcast-Time Warner Cable merger. The Senate Commerce Committee and both Antitrust Subcommittees have said they'll hold hearings. Public interest watchdogs worry that lawmakers' oversight could be influenced by all the past largesse.
"You see their presence is major -- the presence of these major corporations," Joseph Torres, senior external affairs director at the communications public interest group Free Press, said. "It always makes me worried about the influence of all this money and the access that this affords them to lawmakers."
The caucus-affiliated nonprofits, however, deny that donors receive any unusual access to members of Congress. They insist they focus on using those contributions to provide scholarships, fellowships and other opportunities to members of the African-American, Hispanic and Asian-American communities.
"The mission of the Congressional Black Caucus Foundation, Inc. is to develop leaders, inform policy, and educate the public," spokeswoman Shrita Sterlin-Hernandez said in an email. "We have been fortunate over the years to earn the support of an array of sponsors who believe in our mission and have partnered with us to achieve it. Any suggestion that our partners seek special access denigrates their contributions -- and is patently false."
Congressional Hispanic Caucus Institute spokesman Scott Gunderson Rosa said that its donors "have as much access as anybody else." He added, "Our message, in any form, is really just about our students."
The Comcast executive in charge of its lobbying office in Washington said that the company has a 20-year history of making contributions to invest in communities where its employees live and called any "cynical" accusation that its donations are in the service of influence-peddling "insulting" and "inaccurate."
"We can be criticized for a lot of things," Comcast's David Cohen said, "but criticized for investing in quality internship programs and criticized for investing in quality mentoring programs, criticized for investing in programs doing cancer research in a rural state, criticized for investing in programs and getting behind them that are increasing tolerance between African-American and Jewish teenagers -- you got to shake your head and say, 'Why would anyone criticize those types of investments?'"
Comcast and Time Warner Cable have earmarked past donations to go to internship programs and scholarships. But much of the money given to these caucus-affiliated nonprofits actually ends up paying for lavish conferences and galas that bring together the corporate and political worlds.
Since 2008, Comcast and Time Warner Cable have contributed more than $990,000 to the Congressional Hispanic Caucus Institute, more than $180,000 to the Congressional Hispanic Leadership Institute, nearly $800,000 to the Congressional Black Caucus Foundation, $135,000 to the Congressional Black Caucus Policy and Leadership Institute, and $281,000 to the Asian Pacific American Institute for Congressional Studies.
Lobbyists and executives for Comcast and Time Warner Cable also occupy seats on the boards and corporate advisory councils of these organizations.
Juan Otero, a top Comcast lobbyist, sits on the boards of the Congressional Hispanic Caucus Institute and the Congressional Hispanic Leadership Institute.
Another Comcast lobbyist, Earl Jones, has a seat on the corporate advisory council at the Congressional Black Caucus Foundation, as does Gray Global Advisors' Justin Gray, an outside lobbyist hired by Comcast. Jones is also a "platinum member" of the Congressional Black Caucus Policy and Leadership Institute's 21st Century Council, while Comcast's Rudy Brioche and Time Warner Cable's Howie Hodges both sit on the council's executive committee.
Comcast's Susan Jin Davis chairs the board at the Asian Pacific American Institute for Congressional Studies.
Torres at Free Press suggests that all these corporate connections and contributions from Comcast and Time Warner Cable have encouraged members of the Congressional Black Caucus and Congressional Hispanic Caucus to adopt pro-industry positions, which now could undermine vigorous oversight of the merger.
"The CBC and CHC have not been the greatest champions on making sure these companies are not getting bigger and in securing the future of an open Internet," Torres said.
It's true that many African-American and Hispanic lawmakers have taken pro-industry stands in the past, siding with more conservative members of the Democratic Party.
In 2009, 72 House Democrats sent a letter to the Federal Communications Commission asking the agency to tone down its efforts on net neutrality. Of the lawmakers signing the letter, 26 were members of either the Congressional Black Caucus or the Congressional Hispanic Caucus, with the rest coming from the conservative Blue Dog Coalition.
Back in 2004, when Congress discussed the possibility of a la carte pricing for cable subscribers, Congressional Black Caucus members wrote a letter to the House Energy and Commerce Committee that echoed industry talking points opposing the practice, according to a report by the Center for Public Integrity.
A 2013 report on policy prescriptions produced by the Congressional Black Caucus Policy and Leadership Institute's 21st Century Council supports numerous pro-industry positions. In particular, it touted a Comcast program providing low-cost Internet to families with children who receive subsidized school lunches. Others, including the Roosevelt Institute and the New America Foundation, have criticized the program as designed less to provide Internet access to the underserved and more to expand the company's consumer base.
"Given the dynamic and complex nature of our business, we value our teams around the country who help us work constructively with policymakers at all levels of government," said Time Warner Cable spokesman Eric Mangan. "Our partnerships also enable us to create internship programs, and support technology centers around the country where people get free access to computers and the Internet, and partake in activities like citizenship classes."
Torres argues, however, that lawmakers' support for big telecom works to the detriment of low-income minority communities, who face difficulty in affording the high cost of cable and broadband Internet services. Torres said these communities would be better served if their representatives focused on increased competition to lower costs and supported net neutrality rules to ensure that people can communicate online without worrying that providers will limit their reach.
Beyond the major donations to nonprofits linked to the minority congressional caucuses, Comcast and Time Warner Cable have also honored specific minority lawmakers with their contributions.
Time Warner Cable gave $20,000 in September to the League of United Latin American Citizens (LULAC) to honor Rep. Joaquin Castro (D-Texas) and $25,000 in June to the National Association for Multi-Ethnicity in Communications for an event that honored Rep. Doris Matsui (D-Calif.) and Comcast NBCUniversal. Comcast has donated $170,000 to the National Association of Latino Elected and Appointed Officials to honor Reps. Nydia Velazquez (D-N.Y.), Lucille Roybal-Allard (D-Calif.) and Mario Diaz-Balart (R-Fla.), among others.
The two companies have also contributed money to nonprofits founded by members of Congress. These include $165,000 to the Elijah Cummings Youth Program in Israel, which is tied to Rep. Elijah Cummings (D-Md.), and $40,000 to the James E. Clyburn Research & Scholarship Foundation, which is affiliated with Rep. James Clyburn (D-S.C.).
Cummings, the ranking Democratic member on the House Oversight and Government Reform Committee, voted in favor of net neutrality in 2011, but was also one of the Congressional Black Caucus members signing the anti-net neutrality letter to the FCC in 2010. He told The Huffington Post that he only serves as an honorary board member of the youth nonprofit and that "there is no connection between the organization" and his congressional office.
"My role as a Member of Congress is to serve my constituents and, more broadly, the American people, and I can say unequivocally that their best interests are my only consideration with every vote I take," Cummings said in a statement.
Cohen, the Comcast executive, said that the company's funding for the youth program was sparked by his personal interest based on his prior work with a similar initiative in Philadelphia and was not driven by the connection to Cummings.
CORRECTION: A previous version of this article identified Mario Diaz-Balart as a Democrat. He is a Republican.
Popular in the Community