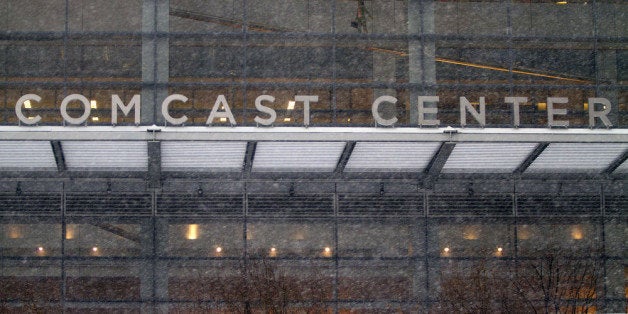 It's been more than 100 years since the U.S. Supreme Court determined that one of the biggest companies in the world, Standard Oil, was an illegal monopoly and would have to be broken apart.
The size of the company didn't automatically violate antitrust law, the court ruled. Rather, it was the way it wielded that size that was a problem. The oil behemoth forced railroads to slash prices and agree to preferential deals to ship its products, driving smaller competitors out of business. Standard Oil came to control 90 percent of U.S. oil production through these methods, and the court determined that this led to higher prices and less oil, harming the overall market.
The antitrust laws the court used to decide the century-old case will be tested again in coming months, as regulators take a close look at Comcast's $45 billion offer to acquire its smaller rival Time Warner Cable. The deal would make Comcast, the largest cable company in the country, even bigger. The new communications giant would also control broadcast and cable television networks, movie studios and theme parks that Comcast has swept up in past acquisitions.
"It just creates this massive player -- this one entity that sits at the crossroads of everything," Michael Weinberg, a vice president at Public Knowledge, said in an interview last week. "They don't just dabble in it. They dominate it."
Comcast is not Standard Oil -- it isn't accused of sending thugs to intimidate rivals, for example, as Standard Oil's founder John D. Rockefeller is alleged to have done -- but there are enough similarities between the companies to give consumer activists, and potentially regulators, cause for concern.
Like Standard Oil, which began as a small Ohio concern, Comcast emerged from obscurity to dominate its industry. In 1990, Comcast was a Pennsylvania company with $657 million in annual revenue. In the years since, under the leadership of CEO Brian Roberts, the company has swallowed cable providers and TV networks, among other businesses, around the country, and revenue has swelled to more than $64 billion.
In some of the markets in which it operates, Comcast is the only entity that offers cable and broadband service, to the great frustration of many customers who say this veritable monopoly starves them of choice, and leads to higher prices. The Time Warner Cable acquisition would further expand the company's reach -- Comcast would have about a third of broadband subscribers and 30 million pay TV subscribers in the U.S.
A Comcast-Time Warner Cable behemoth could use its muscle -- not unlike Standard Oil -- to wield power over related industries, potentially starving competitors of resources, antitrust experts said.
A stronger Comcast could charge higher rates to deliver streaming video from companies like Apple, Netflix, YouTube or Amazon, though it pledged to hold off on doing so until at least 2018 under its agreement to acquire NBCUniversal. TV networks may also be afraid to strike deals to sell their shows to online streaming services out of fear Comcast would retaliate by giving them unfavorable positions in Comcast's TV channel lineup.
Content creators just couldn't afford not to do business with a company as powerful and far-reaching as a Comcast-Time Warner Cable giant, Weinberg said.
Antitrust lawyers say the Comcast buyout poses a deep challenge for the Justice Department and the Federal Communications Commission, the two federal agencies that enforce antitrust law and will decide if the deal can proceed.
The Standard Oil case, by today's standards, was cut and dry. In the early years of the 20th century, a muckraking journalist wrote an exposé on how the company used its massive clout to bully railroads and pipeline companies into lowering prices, then undercut competitors to such a degree they were forced to sell out, or go under. In one instance, Rockefeller used the threat of a secret alliance with railroads to intimidate more than 20 Cleveland refiners to sell out to Standard Oil at bargain prices, an event known as the "Cleveland massacre."

The Justice Department then launched an investigation under newfound authority granted by the Sherman Act, an antitrust law passed in 1890 to broad acclaim.
Antitrust reviews have expanded over the years to include deals that would combine two or more existing companies, with the goal stopping monopolies before they happen. The measuring stick authorities use is whether the formation of the new company would "substantially lessen competition."
This is something of a soothsaying exercise, said antitrust experts.
"They are trying to predict the likely effect of something that hasn't happened yet," said Spencer Waller, the head of the Institute for Consumer Antitrust Studies at Loyola University in Chicago.
This task is made more difficult by the special circumstances posed by the Comcast deal. Unlike most mergers and buyouts, such as the proposed takeover of T-Mobile by Sprint that the Justice Department has signaled it will oppose, Comcast and Time Warner Cable don't compete head-to-head in any market.
Comcast has also said that the combined company's cable TV customers will represent 30 percent or less of the market. That is the maximum market share allowed under an older Federal Communications Commission rule, which is no longer in place. In 2009, it was struck down by an appeals court, which declared it "arbitrary and capricious."
Sena Fitzmaurice, a vice president of government affairs at Comcast, said that existing Time Warner Cable customers would benefit from Comcast's innovations. As examples of past efforts, she cited the company's robust video-on-demand service and said Comcast has increased broadband internet speed 12 times in as many years.
"Additional consumers would get to benefit from these innovations as a result of the transaction," she said in an email to The Huffington Post.
A new megacompany would have powerful control over the cable grid and over content providers, Waller said. "This is very troubling," he said -- but also very difficult for federal authorities to evaluate.
Comcast is certain to argue that its competitors encompass far more entities than traditional cable providers. As evidence of that, the company can point to the national trend of declining cable subscriber rates, which many attribute to increased competition from satellite providers like DirectTV, from streaming video companies and even from Internet portals like Google.
This is boilerplate merger and acquisitions strategy, Waller said. Companies that seek to expand their holdings typically argue that they face competition from as wide array of entities as possible.
But that argument is not airtight. The companies Comcast mentions as potential competitors do not yet offer near the breadth of services sold by the company, even in its present form. Sports coverage is a prime example. Comcast owns NBC, which paid $4.4 billion to broadcast the 2014 Olympic Games in Sochi and three subsequent Olympics. By way of comparison, that is a significantly greater sum than Netflix plans to allocate for its entire 2014 programming budget.
It will be up to the Justice Department and Federal Communications Commission to determine whether given these market realities, existing competitors offer services that are reasonable substitutes, said Herbert Hovenkamp, an antitrust law professor at the University of Iowa. "Substitutes have to be sufficiently robust to keep services down near cost," he said.
In Comcast's favor, as it makes its case, is an unbroken track record of success before regulators, most notably its 2009 acquisition of NBC Universal. "I think their experience with getting previous deals through, particularly the NBCU takeover, has to be helpful," Stifel Nicolaus analyst David Kaut told the Wall Street Journal last week. "They know the ropes. And they seem to do a good job of getting out in front of some of the antitrust/regulatory objections by offering commitments that soften up the resistance."
Comcast, for its part, has cast the combination of the two companies as favoring consumers. "It will provide exciting consumer benefits" and "deliver better services and technology to Time Warner Cable's subscribers," the company said.
But to many current subscribers, these claims are hard to swallow. The company charged roughly $156 per month per customer last year, and cable companies consistently rank at the bottom of customer satisfaction surveys. The average cable TV bill -- not including taxes, fees or promotions -- has increased 97 percent over the past 14 years, according to SNL Kagan, a media research firm.
High prices, ultimately, are what led to Standard Oil's demise. The movement that led to the investigation was sparked by farmers, who were outraged by the huge cost they had to pay to get their crops to market.
Antitrust experts said regulators will try to gauge whether a combined Comcast and Time Warner Cable would face enough competition to keep prices in check.
Last week, in a conference call with reporters, Comcast Vice President David Cohen fielded a question about what the Time Warner Cable buyout might mean for cable and Internet bills. "The impact on customer bills is always hard to quantify," he responded. "We're certainly not promising that customer bills are going to go down or even increase less rapidly."
Related
Popular in the Community