When my wanderlust sets in, and I find myself in a cafe on Bourbon Street or sipping a martini on Duval in sunny Key West, the strangers there inevitably ask me where I am from. Detroit, I will tell them, knowing where this conversation will lead us.
Detroit? But not really, right? Nobody lives in Detroit anymore.
And I cringe into my cup, with the knowing tone that is in their voice. Of course, there is some truth in what they say. Because while there are people living in Detroit, people loading up U-hauls, moving in to the city, moving out, moving across town. While there are stores opening and businesses booming---Detroit, the old girl, she is not what she used to be.
You're right, I live a few miles out of the city. But I spend a lot of time in Detroit these days. It's making a comeback, I say, as though the city were a high school basketball team, running the pick and roll offense with fervour after an inspiring half time speech. A comeback. Come back, Detroit.
My father had an apartment in the Park Shelton apartments, right on Woodward in the 80s. I watched the Thanksgiving Parade from behind a window, my nose pressed to the glass. On Saturdays in summer, we'd cross the MacArthur Bridge to Belle Isle. We'd eat Strawberry Shortcake bars from the Good Humor truck and ride the yellow slide tandem on a burlap bag.
He moved from Detroit before I was ten.
But the memories and the love affair remained.
Detroit is a shell of broken and heart breaking things. There are vacant lots and burned down frames. There are churches closed and decaying, with all of some God's light still streaming in. Who goes to pray over those fractured pews? There are fractured souls with no homes. There are dinosaurs, looming train stations, impossibly ruined---a kind of porn for those who want to pray, to prey at the alter of decay.
But Detroit is a living being, too. And it's growing.
I take my children now. And we go and feast on old paintings at the Detroit Institute of Art. I press my fingers into the fleshy tomatoes at Eastern Market and bring home basil grown on a rooftop in Midtown. I take them to bump, bump down the Giant Slide of my earliest memories on Belle Isle.
I step across the bricks on Michigan Avenue, into Astro Coffee and a bearded man in suspenders will slow pour my coffee. I come back after dark and a few doors down, drink an old fashioned at Sugar House in lemon-limelight. Drink, this. Speak, easy, the city speaks in hushed and promising voices to everyone who will listen. Bring your date, your lover, bring your children.
Come back, come back. Come back.
-------------------------------------------------------------------------
I was born to love you, Detroit.
I want to kiss you full on the mouth, breath in your shattered spirit and indefatigable hope.
I want you to hold me in your reach, Detroit. I want you to bring me nearer to you, to convince me to stay the night and let me sleep in your arms.
--------------------------------------------------------------------------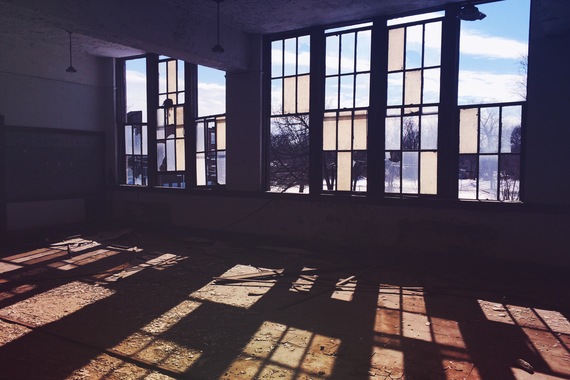 Photo Credit: Cora Capler
We drive home from the Science Museum, my kids, my husband and me. The museum holed up in the heart of down town Detroit right near where my father used to live.
And all the way home, my little boy wanted to talk about all the things he had seen. All the things he had seen, and none of them in the museum at all.
He was looking out the window of the car.
"Why are there so many broken buildings, mama?"
There used to be more people that lived in Detroit, but they moved away. They aren't there to take care of those buildings anymore.

"Where did they go?"
I guess they live where we live now, close to the city but not inside it anymore.
I guess they were looking for something else, something Detroit wasn't able--didn't want to--give them anymore.
"If people came back, if they lived there again, they could take care of the buildings. "
"I will go live there, when I get older, mama."
I will come with you, buddy. We will go together.
And contented, he looked out the window as graffiti artists and ancient architecture danced a swooning two-step.
And I looked out the window too. I looked forward and back behind me.
And then I grieved a love affair with a city that once was.
And then I rejoiced in a romance for a city that is again. On the edge, looking for a comeback, a full and glorious blooming.
Check out Nicole's Facebook page at https://www.facebook.com/momof4istired for more writing on Detroit, disability and divorce (among other things).
Calling all HuffPost superfans!
Sign up for membership to become a founding member and help shape HuffPost's next chapter