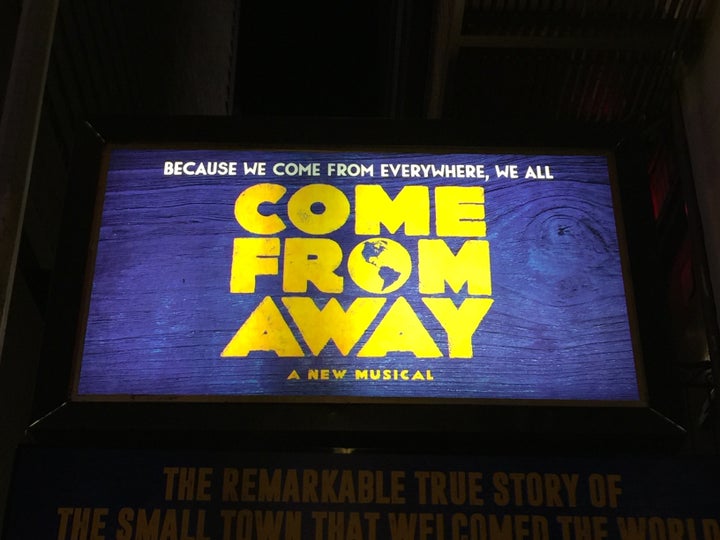 A Broadway Review by Dr. Lloyd Sederer
Human kindness seems in far too short supply in recent months.
If you looking to rediscover the power of human kindness, you can do so in a resounding way in about 90 minutes by seeing the new Broadway one act play, Come From Away, playing at the Schoenfeld Theatre.
After the planes struck New York City, The Pentagon and went down in Pennsylvania on 9/11/2001, the airspace into the United States was shut down. Planes enroute were ordered to emergency land in available airports distant from our borders. The town of Gander (population 11,254 at that time) on the northeast tip of Newfoundland had a huge airport, a remnant of when transatlantic jets needed to refuel there to make it to American destinations. Thirty eight passenger planes, with near to 7,000 children and adults of every age, race and religion, from many countries, as well as cats, dogs, and a couple of baboons (enroute to a zoo) were grounded in Gander, which, incidentally had about 500 hotel rooms and was under a bus strike.
The people and planes were stuck, as was the town, for an unforeseeable number of days as they turned on their TVs and witnessed the heartbreaking news about the terrorist attacks on the United States.
So begins Come From Away, where a cast of 12, all playing more than one role, and an onstage 8 piece band (conducted by Ian Eisendrath, who also played various keyboards) sang and danced into our hearts and souls. A musical about 9/11, you may ask? Indeed, and it worked in so many ways, thanks to the brilliant writing and composing of Irene Sankoff and David Hein.
The story line, taken from those actual five days in Gander, reveals how a community can find its compassion and unbridled generosity, and deliver to 7,000 frightened and angry people - 'from away' - the care they needed. The town (and other towns nearby) housed, fed and comforted more than a 50% increase in their population for 5 sleepless days and nights.
The ensemble was pitch perfect. They were choreographed to move, often in dance and always with gracefulness, from planes, to buses, to shelters, to bars, to neighborhoods and to homes. They never strayed from acting as one collective group, portraying the community's commonly felt anguish and the wellspring of tenderness in their hearts.
The singing was lovely, with group and individual solos that will transport you. I thought the show's musical high point was by Captain Beverly Bass (Jenn Colella), the first woman commercial pilot and among those on the Gander tarmac. She takes a seat center stage and, with up-tempo music and lyrics, sings "Me And The Sky", flying us to the heights of the courage and grit needed for a woman to break the glass ceiling of commercial airlines and become a jumbo jet pilot for American Airlines. And with pathos that spread throughout the theatre was another remarkable, though tragic, solo by the Hannah (Q. Smith), the mother of NYC firefighter, who sang us "I Am Here". Mayor Claude Elliott (Joel Hatch) showed us, with song (leading "Welcome To The Rock" and other numbers) that resolve and leadership can bring a community together, acting as one and putting their needs aside for the sake of others.
But it was the play's message that had me walk out onto 45th Street in tears and with hope: When something is lost something can be gained.
When you have had enough of the endless media stories of the dark days we are in and need a hearty dose of human kindness and hope, get yourself to this play.
………..............................................................................................................................................................................
Dr. Lloyd Sederer is a psychiatrist and public health doctor. The opinions offered here are entirely his own.
His latest books are Improving Mental Health; Four Secrets in Plain Sight (2017) and Controversies in Mental Health and the Addictions (2017).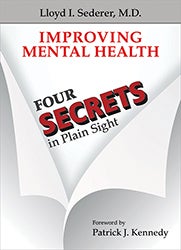 Related
Popular in the Community