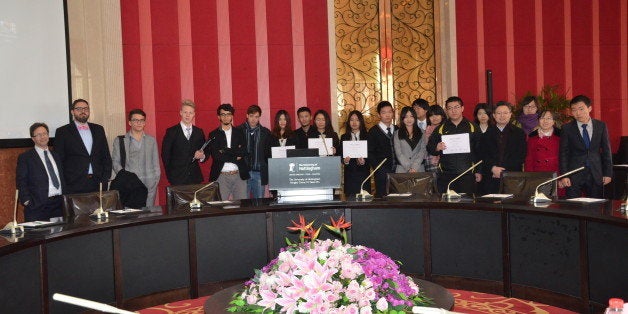 First, who is an entrepreneur?
Is it someone who runs a business or company? The leader or founder of an organization or start-up?
Yes and no. An entrepreneur is someone who views himself as a variable instead of a constant, someone who is self-motivated and strong-minded instead of indifferent and impressionable, and someone who embraces change instead of closing the door.
It is not the position that counts, it is your mind and action that matter.
But what makes a social entrepreneur more than that is its wide influence. The difference lies in subjects of impact. While entrepreneurs can generally raise the welfare of citizens and benefit stakeholders, social entrepreneurs focus more on a vulnerable and isolated group to help them keep pace with, and even reduce the gap with the civilian society, both on living standards and modern education.
Therefore, it demands a lot -- bravery, creativity, management, money and the most important component: commitment. And that's the most exciting part of the Hult Prize challenge. It is the largest student competition and start-up platform to address the most pressing issues in the world. In partnership with President Bill Clinton and the Clinton Global Initiative, the winning team is funded with USD 1 Million to make real changes in the world! It is more than a case competition, in that teams are asked to build an enterprise and implement your solutions. That's the most difficult part, but also the most meaningful.
In September, I applied to be a campus director of "Hult Prize@," the program that gives students the tools to run a Hult Prize competition on their campus. And I swore that my time as the campus director of my school, the University of Nottingham Ningbo China, would be one of the most impressive experiences of my life. We managed to get the event organized and promoted, thanks to a community coming together, and all the support from the business school and the societies, professors and friends, without which we would have failed halfway. And thanks to the winning team, to Jonah Oswald, Abdullah Almiqasbi, Jon Pascal Wiemert, Kolja Oswald, Rytis Kumpa, EduCare is one of the most innovative idea I have ever seen, I believe you are the best and capable to make a difference!
But can we call it a success yet? Negative.
It is not enough. Undergraduates here still have vague ideas about social entrepreneurship, and the post-grads refuse to spare so much time. What they prefer is a pleasant experience serving as a supported teacher in a remote village during the winter vacation. They, as well as the rest of us, still lack a clear and profound understanding of entrepreneurship.
In 2015, the 38th year since the policy Open and Reform, more private companies are springing out and modern entrepreneurs are emerging. Not only in terms of their wealth, but also their management and philosophy. Entrepreneurs like Jack Ma, Wang Shi (Chairman of Vanke) and Lei Jun (CEO of Xiaomi), are conducting and concluding their own philosophy towards customers, staff, products and the sophisticated relationship with the government. This philosophy, slowly in a subtle way, is transforming the concept of boss to entrepreneur, and transforming the concept of business to enterprise. In the gradual shift from the traditional image of a cunning businessman in blind pursuit of profit, to an entrepreneur shouldering social responsibility, there is still a long way to go.
Without a clear understanding of entrepreneurship, social entrepreneurship would lose its ground. People fear the risk of business and disrespect businessman for traditional concept. Nowadays, China has more and more start-ups created by children of the nineties, whose vision is not restricted by money. They have the passion to purse their dreams, and meaning for existence. EduCare is a case in point. Upon the release of this year's Hult Prize challenge "early childhood education in urban slums," EduCare discussed and revised again and again, and even visited similar local neighborhoods to get data. They developed the philosophy that value should be subtracted from things that are commonly considered worthless and decided to provide early childhood education in exchange for recyclable waste instead of money.
"Social enterprise is something new for China, but we are seeing more young people show enthusiasm to give it a try and become social entrepreneurs," said Xu Yongguang, vice-president of Narada Foundation. Although China's new social enterprises still lack investment, and have the problem of small scale and low efficiency, with the help of social media, internet and the party's new policy, it is expected that China's social enterprise will take off in 2015.
This is your time! You can be China's next generation of social entrepreneurs!
This post was produced by The Huffington Post and the Hult Prize Foundation Hult Prize@ program, in which teams of college and university entrepreneurs compete for funding for compelling social business ideas, including a grand prize of US$1,000,000. The posts are written by student campus directors of "Hult Prize@," the program bringing the competition directly to campuses around the world. To learn more about the Hult Prize Foundation and how you can become a campus director, please visit hultprize.org. Read all the posts in the series here.
REAL LIFE. REAL NEWS. REAL VOICES.
Help us tell more of the stories that matter from voices that too often remain unheard.