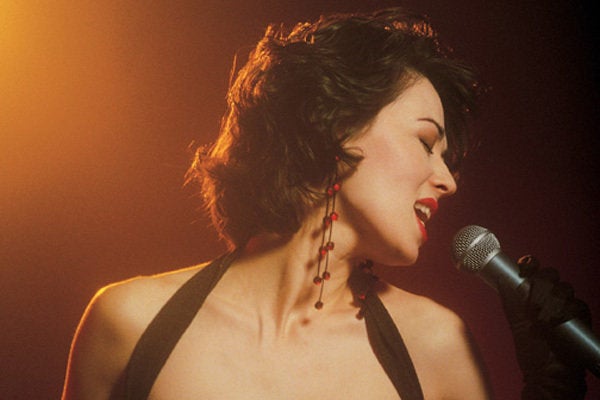 For decades during the 20th century the legit theater was described with melancholy as "the fabulous invalid." It's a phrase you don't hear these days, because there's lots of theater around and not only in the expected big cities but in more and more regions--much of it luring young audiences.
But the phrase may have a germane use: for cabaret--an entertainment genre that has fallen on hard times. These days fewer clubs across the country support intimate rooms where singers can ply their wares for eager and appreciative audiences. Though venues are fewer, however, there appears to be no shortage of talented performers wanting a career while not aware of the immense luck needed to attain that career.
Fortunately, there are places where encouragement (false hope?) is given. One is Manhattan's Metropolitan Room. There, for the second year running owners Chris and Steve Mazzilli have offered what they've called "The MetroStar Talent Challenge." Nothing should be held against them for dreaming up the competish to fill the room for eight consecutive Mondays in the dull days of summer. Plenty can be said for their committing to bring attention to new and not-so-new-but-not-yet-recognized talent.
The contest's finals were held only a few days ago (Monday, August 31), and of 60 entrants--winnowed over the weeks by audience votes and a shifting panel of judges--the first and second runners-up were newcomers who sizzled during their two-song last efforts like steaks on the grill.
First runner-up Danielle Grabianowski is one of those performers who can remind a listener of many predecessors. Yet she instantly seems newly-minted, someone you haven't seen before. Grabianowski has a cute face and flowing hair that might remind older spectators of Mary Pickford romping across the silver screen. She has a tremolo not unlike that of Adriana Caselotti, who provided the voice for Walt Disney's "Snow White and the Seven Dwarfs." So yes, there's something of a dated charm about Grabianowski, but at other times--particularly in her saucy second song "Bumble Bee"--she evoked Janis Joplin as the late rock 'n' roll blues icon might have warbled after downing one or two Quaaludes. You could say that--chanting confidently with a twinkle in her eyes and ready to goose innuendoes amusingly--Grabianowski suggested someone so steeped in a pop-singing past that she registers as unique. You could say she's in the Kristin Chenoweth tradition. But that would type her, and, really, she already defiantly resists being fitted into anyone else's mold.
Second runner-up Carole Bufford was right on Grabianowski's heels. Not much bigger than a minute and sporting a helmet of black hair over pert features, Bufford sang as if she was damned if she'd be limited by her petite appearance and suburban drinks-party demeanor. For her first number, she sang Bessie Smith's "You've Been a Good Old Wagon," which continues with the jibe, "But Daddy you done broke down." She was as brazen with it as would please the toughest Jazz Age critic.
Switching from a song about, as she put it, "dumping" a lover to one about being dumped, she slipped slowly and gingerly into "Someday (You'll Want Me to Want You)." Emotionally intelligent, Bufford began the ditty with the air of a loser, but as she worked through it, she located the undercurrent of anger in the wounded words. When she reached the concluding tables-turned lyric that goes "Though you don't want me now, I'll get along somehow, and then I won't want you," she repeated the final dismissal several times as if delivering a witch's curse.
Incidentally, the contest was won by the more than competent Liz Lark Brown, who unlike the two whom the judges placed after her, is more familiar to local cabaret goers. She's so well known that she's served as a back-up singer for last year's winner, Anne Steele. Curiously, in a release issued about the results, the Brown win is dubbed "a sweet twist of fate."
But many observers may decide the outcome wasn't so much a twist of fate as something else, something having less to do with chance. You see, last year's winner Steele was also one of the judges at the this year's finals. That this year's MetroStar Talent Challenge victor has worked closely with one of the judges has an iffy ring to it--at the very least. It gives an impression you'd think the contest holders would work diligently to avoid. As it was carried out, the contest results all but invite charges of favoritism.
Nevertheless, Grabianowski and Bufford had their chance to shine and undoubtedly will continue to do just that when they alternate as the opening act during the week-long Metropolitan Room engagement that Brown nailed down--as well as other helpful amenities--with her (tarnished?) MetroStar Talent Challenge triumph.
Calling all HuffPost superfans!
Sign up for membership to become a founding member and help shape HuffPost's next chapter