As we head back to school, I wanted to start a series of blog posts focusing on media (books and films) I have found tremendously helpful in trying to construct what I describe as a third way of thinking. Much of the controversy and dissension that takes place in the public sphere concerning public education hinges on the importance of understanding the intersection between education reform, race, gender and equity. I strongly believe that a significant amount of the misunderstandings, fears and contentiousness that take place stem from many people reading, seeing and believing only what they want to read, see and believe. Hopefully this series of mini book reviews, will help to contribute to bridging the gap and finding more common ground.
I'm commencing this series with five books that were written specifically about what takes place inside the classroom or a particular school environment. Ironically in creating this list by their year of publication rather than their importance, significance or impact to my own educational journey, I found that three of the first five books take place in Los Angeles, and only two authors are current or former educators.
Let me preface by saying that this list is by no means exhaustive, comprehensive or even a third of the books I know that exist on this subject. Specifically, also know that there are a few very well noted and well-publicized books that do not find their way onto this list. I encourage everyone to please add their own favorite 5 or 10 books on this subject in the comments section.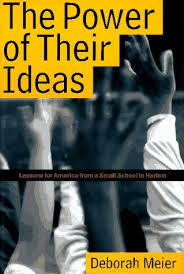 1) The Power of their Ideas (1995) by Deborah Meier was written long before most participating in current debate around charter schools even knew what they were or that they even existed. Dr. Meier highlights the struggles she endured when she started her own school, Central Park East in NYC in the 1970s. Because Dr. Meier founded this school in an era in which "school reform" was not as prevalent as it is today, much of her subsequent success at not just Central Park East, but also in opening another school gives her the cache to be such a well-regarded advocate for education equity. Included in among her prescriptions for what constitutes a "good school" includes; smaller sized schools (as opposed to the factory model schools with populations of 1000 or more that continue to permeate large school districts such as New York, Chicago and Los Angeles), autonomy at the site level and student choice. While these three directives today are almost universally accepted, at the time, she was considered groundbreaking. In my mind, she still is.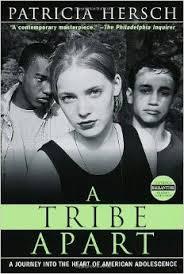 2) A Tribe Apart (1999) by Patricia Hersch is a book that garnered some critical acclaim, but received very little notice from many in the educational establishment, perhaps because Ms. Hersch was a former contributing editor to Psychology Today and not a classroom teacher or in higher education. Ms. Hersch examined the lives of eight teenagers for three years as they navigated their way through a suburban Northern Virginia high school. This ethnographic approach highlighted the humanity and commonality of teens and their acceptance of complex issues many adults, even today over fifteen years later, still grapple with -- namely race, class, gender and sexual orientation. While this book does not focus specifically on "urban" (e.g. students of color) students, it is an important text because of the clear articulation of the many similarities that exists among all teens and their complex and oftentimes misunderstood educational journeys.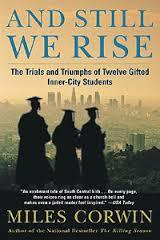 3) And Still We Rise (2000) by Miles Corwin addresses the very students A Tribe Apart does not, namely inner city urban teens who attend a large comprehensive high school in a major city. And Still We Rise inserts Corwin, a Los Angeles Times reporter, for a year in a south-central high school, Crenshaw High School within the Los Angeles Unified School District. This book examines in an ethnographic style, the "positive students" in the gifted program where he highlights that "98 percent" go onto college. This, statistic both as a researcher and a former LAUSD teacher, is, even fifteen years later, an aberration not just in a high school in South-Central, but in many neighborhood schools within in LAUSD. This was one of the first books to shed an optimistic perspective on the positive students that "made a way out of no way." That this book is still used by many educators in their own classroom speaks to the universality of the experiences of these students, not just to other students in Los Angeles, but across the nation.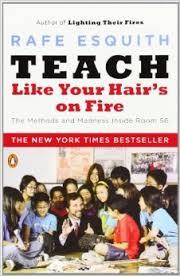 4) Rafe Esquith is an award winning teacher whose first book; Teach Like Your Hair is On Fire (2007) highlights the "positive students" who achieve under difficult circumstances.Mr. Esquith, a fifth-grade teacher in South-Central LA, teaches his students English through using Shakespeare and other "nontraditional" methods -- meaning methodology usually reserved for students who are not primarily Black and Latino. This work, unlike the previous two, is teacher focused rather than student focused. It is an excellent compliment to the first two books that take place in the same local, and an affirmation to teachers across the country, especially those who doubt that in this era of "high stakes testing," that nontraditional methodologies can (and should) endure in urban public school classrooms.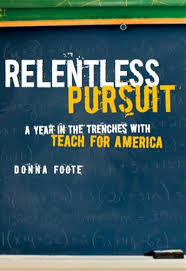 5) Relentless Pursuit (2009) by Donna Foote is a book that focuses on the first year teaching experience of four Teach for America participants. Unfortunately, the mere mention of Teach for America on the cover, I am sure, turned off a few people to this book. That is part of why it is so important that people read this text. Just as in A Tribe Apart and And Still We Rise, Ms. Foote's educational lens was as a Newsweek reporter and not a classroom teacher. To some, her perspectives may not carry the same weight as Dr. Meier, Mr. Esquith or other educators (and who populate the second half of this top ten list) who have significant experience in the public school classroom, but by no means should we ignore her conclusions and observations.
Sometimes it takes the perspective of "outsiders" to highlight problematic things that have existed under our noses for a long period of time. "Outsiders" also have the potential to offer insightful solutions we in the trenches may not have imagined. The narrative that Ms. Foote constructs in this book is all at once depressing, uplifting and authentic. The most important thing to take away from this book is that she humanizes the real lives of teachers who are often "dehumanized" and dismissed as "teach for a minute" or worse. Often when we are in the throws of critiquing an institution, especially one as controversial at Teach for America, we forget that within the make-up of any complex organization lie multifaceted, emotional, living human beings.
Stay tuned for the second five books of this list, as well as future lists which focus on the sociology of education and society, and videos and DVDs on these issues.
What are some of the books you find most important in your own learning of, or when talking about education reform?
Related
Popular in the Community